Sometimes, when I'm impatiently waiting for the "walk" sign on Fifth Avenue, I'm aware of a dozen out-of-towners standing alongside me, dutifully patient. I peer down the blocks and see a parade of people. And I turn to my wife and say, "These people traveled thousands of miles to be right here. And we walked five blocks from home."
And then there are the times we go to Florida.
We go there not to bask in the winter sun, not to see the inhabitants of the Florida Exotic Bird Sanctuary ("Adopt a Special Needs Bird," pleads the website), not to go to spring training. We go there because our older son lives there with his family. We see that they have a wonderful life there—great friends, outstanding private school, lots of tennis. And once the weekend is over, and it's Monday, and the grandchildren are off to school and my son and daughter-in-law are off to his office, my wife and I look at each other.
"Now what?" we ask each other.
For the truth is, there is nothing to do there. They live in Boca Raton, in a gated community. You must go to the car, turn the key in the ignition, and drive out, far out, to get anyplace. If you don't have the key to the car, you're nowhere.
I remember when we decided to leave Long Island 12 years ago, and told people we were moving. "To Florida?" they invariably asked. "No," we replied, "we're retiring to Manhattan."
---

I felt liberated with my first experience walking to get take-out food—where did I want to go? Chinese or Thai a block away? Turkish two blocks west? Pizza halfway up the next block?
It is, quite simply, a terrific place to be retired (those readers who live here already know what I'm talking about). To think we can simply walk to Central Park, or take a bus to Lincoln Center, or stroll to one of three—count 'em, three—frozen yogurt places within two blocks. Well, yeah, I'm showing off. But the truth is, we've been to the three museums in Florida (are there more?). Oh, yes, I think there is an outdoor art show somewhere. Also, no state income tax.
Sometimes, we say, embarrassed, "O.K., let's go to the Boca mall." No, we don't go there to exercise, although there are cadres of mall-walkers who get their aerobics in doing just that. We go to the mall because it gets us out of the house. And so we see these free-standing little stalls, selling things you never knew you wanted, the kinds of things they advertise on channel 243—"But Wait—There's More! If You Order Within The Next 30 Minutes We'll Send You A Second Pair of Lint Remover Mitts Absolutely Free!…"
We have many friends who have moved down to Florida, and, when we're finished with dinner at 5:30 in the evening, it hits me—they're here because it's cheaper than up north. They become early birds because the food is a bargain. Because it doesn't cost $30 to have your shoes soled. Because practically any place you want to park is free.
And I don't want to seem (or to feel) smarmy. Yes, there is golf, and a couple of guys I know fantasized they'd move to Florida and play golf as often as they liked. Then they got hip problems. End of links dreams. There are libraries and they cater to people with time on their hands. I was asked to speak at one of them.
"The people come in on Wednesdays at 11 in the morning," a librarian told me. "They don't know who's speaking, most of them. They just want to get out."
As for me, living in the city has exceeded anything I had imagined. It wasn't just that first snowfall after we moved in 11 and a half years ago. I saw the flakes falling outside my bedroom window and I thought, "It doesn't matter. I don't have to shovel." And then I went for a walk, in the snow, which was practically dissolved as soon as it fell.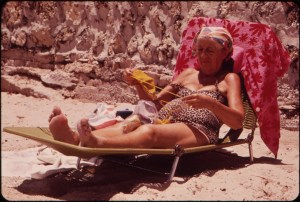 And I felt liberated with my first experience walking to get take-out food—where did I want to go? Chinese or Thai a block away? Turkish two blocks west? Pizza halfway up the next block?
I recall, now with nostalgia, when our grandson Corey stayed with us when we lived in Roslyn, L.I. He was a city kid, living on the west side. He was about 5 years old and our doorbell rang.
"It must be Chinese delivery," he said. The default reason someone rings your bell on West End Avenue.
I try to be a better person, and try not to let being an urbanite puff me up. But I guess my attitude shows through. My wife and I were sitting on a Central Park bench the other day.
A couple of teen-aged girls sat on the bench to my right and started to talk about the sights. I figured they were high school seniors on a class trip, maybe, or college freshman playing hooky for a day or two.
"Are you an out-of-towner? I asked one.
"Is that a pejorative?" she replied.
I couldn't answer that honestly.