Many years ago, legendary San Francisco Chronicle columnist Herb Caen described his city as "the only city in America that boos Willie Mays and cheers Khrushchev." Kentucky Senator Rand Paul is hoping San Francisco is about to buck that legacy. The logic behind Republican Presidential candidate Rand Paul's recent decision to open a campaign office in San Francisco is not difficult to understand. Mr. Paul is betting that the essentially Libertarian ideology of the new tech economy will soon have a political impact in San Francisco, a city that for decades has generally been understood to be the most left-of-center metropolis in the country. Mr. Paul's gamble has implications for other cities as well, not least New York.
One way to understand Mr. Paul's vision of how San Francisco and New York can become more conservative is to ask what the political impact of years of populations changes in neighborhoods like Bernal Heights, Hayes Valley, the Mission, and many parts Harlem of Brooklyn in which working class, often non-white residents are being replaced by wealthy, young white tech workers, will be.
Median rent in San Francisco in now approaching $3,500 a month for a one bedroom apartment. The city is now so expensive that stories of evictions  and escalating costs of housing have become commonplace. This is not the kind of economic environment and demographic change that is usually friendly to progressive politics.
San Francisco is also a city with a history of rapid political transformation. For example, in 1964 Barry Goldwater, a man who at the time was viewed as being on the far right of mainstream politics, was nominated for President at a Republican convention in San Francisco. By 1968, it would have been unimaginable for the Republicans to hold their convention in the city that had become the epicenter of the new left. San Francisco may be about to begin another political transformation, which could benefit libertarian Republicans.
These changes, despite Mr. Paul's hopes, will not happen quickly enough to help his 2016 bid for the White House. Should he be his party's nominee for President, the Senator from Kentucky would be drubbed by likely Democratic nominee Hillary Clinton, and perhaps fare even worse against long shot progressive Democratic alternative candidate Bernie Sanders, among voters in San Francisco. Nonetheless, some of the ideas he promotes will resonate there in coming years.
For much of the late twentieth century, conservativism in urban America were expressed through white backlash politics and politicians. Mayors like Rudolph Giuliani in New York, Frank Rizzo in Philadelphia and even Frank Jordan in San Francisco fit this description. These politicians appealed to white voters who felt left out by progressive and African American-led coalitions, were concerned about taxes, welfare and high crime rates and opposed socially progressive legislation that, for example, provided rights and protection to LGBT residents of their cities. Their support skewed older and often was strongest in ethnic neighborhoods like South Brooklyn in New York or the Excelsior in San Francisco.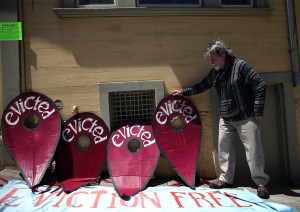 Those candidates, and that kind of urban conservatism, are firmly in the past, which Mr. Paul seems to understand. The issues that mobilize conservatives in other parts of the country do not play in places like San Francisco or New York. In that respect, at least, Harvey Milk and his generation of social liberals won. Marriage equality, marijuana legalization, the value of walkable neighborhoods, bike paths and the like are no longer contested. Thus Republicans can easily support these policies while focusing their attention on a different set of conservative goals that are consistent with Mr. Paul's Libertarian core message against taxes, government regulation and federal meddling in the economy. This is precisely what conservatism looks like in Silicon Valley today, where Libertarianism is the dominant ideology.
The Kentucky Senator clearly understands his potential resonance among the Bay Area tech sector. "The interesting thing is that when I meet the people in Silicon Valley, the first thing they tell me is that they're more fiscally conservative than most Democrats — and more socially moderate than most Republicans. So I think, really, many people in Silicon Valley would actually be better described as libertarian." However, these changing demographics, and the ascendancy of what many in San Francisco call technolibertarianism, has not been the death knell for progressive politics in San Francisco.
In the last several years, in the midst of the tech boom, progressives have won several important victories in San Francisco on issues, such as limiting waterfront development, increasing the minimum wage and mandating paid sick leave. Clearly, Rand Paul's libertarian revolution has not hit San Francisco yet. Counterintuitively, San Francisco has remained a progressive city despite becoming less African American, less Latino and less LGBT than a decade or two ago. New York has similarly recommitted itself to progressive politics, not least through the election of Mayor Bill de Blasio in 2013.
Richard de Leon, an emeritus professor of political science at San Francisco State University, noted that in recent years there has been "No real shift in partisan registration of Democrats and Republicans (in San Francisco)." Mr. de Leon added that in his view, San Francisco has not become more conservative, pointing to recent progressive legislation and voting patterns. Mr. de Leon explained this by differentiating between the tech billionaires and tech workers. Mr. de Leon argued that the latter group have "hardcore material interests around affordable housing, office space, minimum wage … As they settle in, they become acculturated to the local political culture and traditions."
The constant drumbeat of technolibertarianism in Silicon Valley gives cover to conservative policies in San Francisco today in a way that was not the case in the late 20th century. While progressives may still be winning elections, high profile cases like the battles in both New York and San Francisco over issues like AirBnB, Uber, and Google buses, are framed by proponents as forward-looking innovations, but they double as efforts to cut government services and protections. For example, in San Francisco, tech company buses have dampened the demand for decent public transportation or a comprehensive traffic plan for the region. So, while Google buses remain convenient and comfortable for those who have access to them, the rest of the region struggles with aging and inadequate public transportation and worsening traffic. This is a triumph of the conservative small government agenda, but a victory that even its beneficiaries are unlikely to recognize as such.
San Francisco is not ready to embrace Rand Paul yet. The progressive history is too strong to simply fade away in the face of a decade of sustained economic growth, increased housing costs and young tech workers moving in. However, it is clear that among today's Republicans candidates for President, Senator Paul is the only one who could find any meaningful common ground with the new face of San Francisco.
Lincoln Mitchell is national political correspondent at the Observer. Follow him on Twitter @LincolnMitchell.