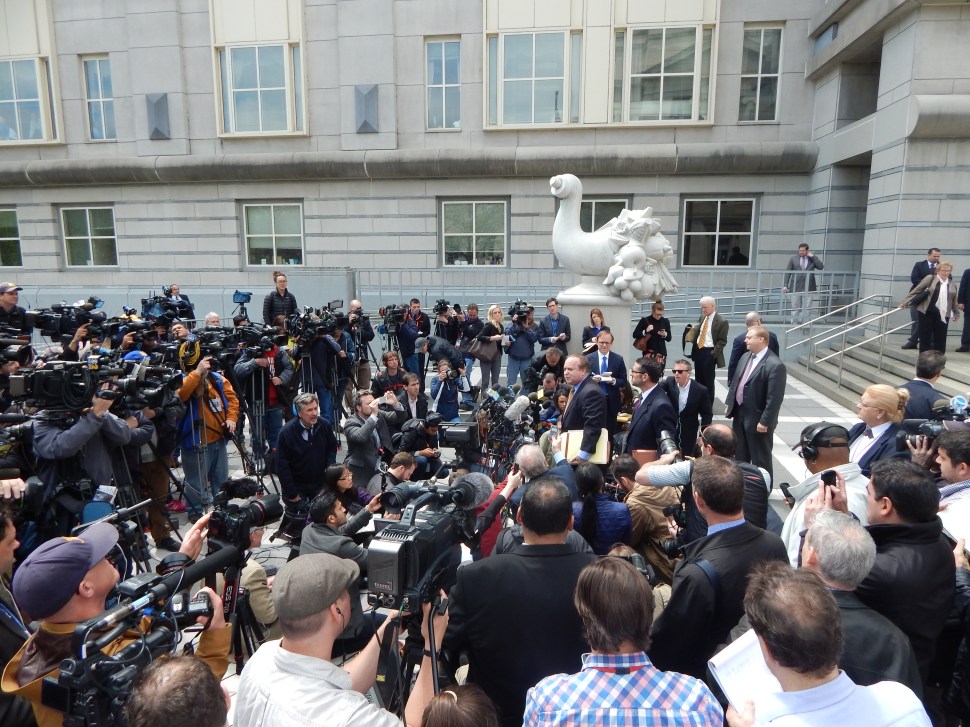 NEWARK — The attorney of former Port Authority official  David Wildstein said today that his client "deeply regrets" his involvement in the closing of commuters lanes at the mouth of the George Washington Bridge in September 2013 — and later alleged that there is evidence Gov. Chris Christie, who appointed Wildstein to his post at the bi-state agency, knew about the incident as it was happening.
Speaking to a crowd of press outside the federal courthouse where Wildstein plead guilty to his involvement in the closures, Alan Zagas said that Wildstein "regrets what was done" but has now "agreed to fully cooperate" with U.S. Attorney Paul Fishman's office as the case unfolds. Fishman left the courthouse moments before Wildstein and Zagas addressed the press.
"There is a lot more that will come out," Zagas said, adding that he is "unfortuantely not in a position" to comment further.
Wildstein, who did not speak during the presser, admitted to a judge this morning that he had helped ochestrate the lane closings along with former Port Authority executive Bill Baroni and former Christie staffer Bridget Kelly as retribution for Fort Lee Mayor Mark Sokolich's refusal to endorse Christie during his 2013 election campaign. Kelly and Baroni are exepected to recieve indictments in the case as well.
Asked — via shouts from clamouring reporters — whether "Chris Christie" knew about Wildstein's decision to shut down the lanes, Zaga said only that the Republican "knew of the lane closures while they were occuring" — a claim Wildstein reportedly made earlier in the investigation.
Fishman is scheduled to hold a follow up press conference at 1pm in his office where he is expected to make further announcements stemming from the investigation.