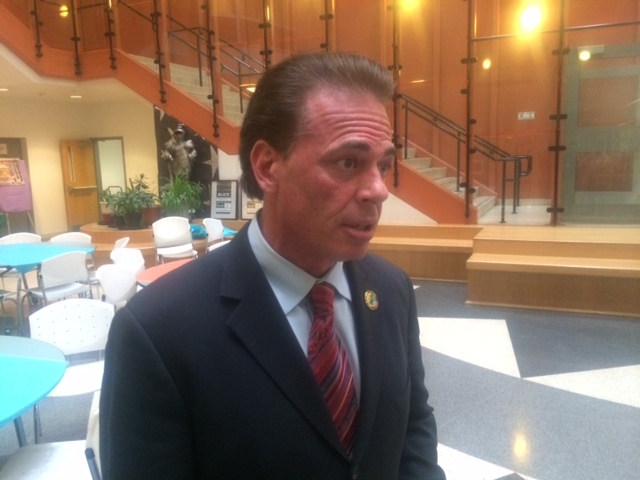 WEST NEW YORK – Commissioner Count Wiley, the opposition mayoral candidate reportedly at the center of an alleged Election Day incident in which he struck incumbent Mayor Felix Roque's son, strode with a smile into the polling stations lined up in the West New York Middle School and denied that he was the aggressor, instead accusing the mayor's son, Joseph Roque, of instigating the alleged street fight.
"[Opposition commissioner candidate] Myrli Sanchez was walking down 57th Street to the corner of Jefferson Street. She felt a Roque sign was too close to the 100-yard mark where people can't campaign anymore, so she tore it down," Wiley said. "Joe Roque turns out, goes running across the street a hundred miles an hour, shoves her, grabs the sign and screams at her.
"I jump out of the truck, tear the sign out of his of hand and say 'What the hell is wrong with you?' And then [Roque] flips out," Wiley continued. "I say to him that I can rip down any sign that I want here. I go over to some other signs, and then he's bumping me, saying to me 'You're not going to tear the signs down.' I say to myself this isn't working, I go to leave, but before I go, I turn to tell him 'Listen, your father, I'm getting rid of him, he's out of here. Then when I walk the block, Joe yells out 'You hit me!' I'm like, are you f****** kidding me?"
Wiley told PolitickerNJ that he has two witnesses who are willing to be listed on a complaint that both he and Sanchez will file after Tuesday's election.
Asked about the effect of this morning's incident on today's election in the waning hours of his campaign, Wiley shrugged.
"It's political nonsense," Wiley said, showing his hands to PolitickerNJ to prove that there was no blood on them, attempting to disprove accusations made by the Roque camp that Wiley's blood was on Joseph Roque's shirt. "I'm in the street. The Roque people don't have any more signs out, and their corner people have diminished to next to nothing.
"I think I saw a bus leaving for Newark already," added Wiley, a jab at volunteers brought in from New Jersey's largest city by Roque campaign manager Pablo Fonseca. "My people are out there working harder. Felix Roque has lost this election already."