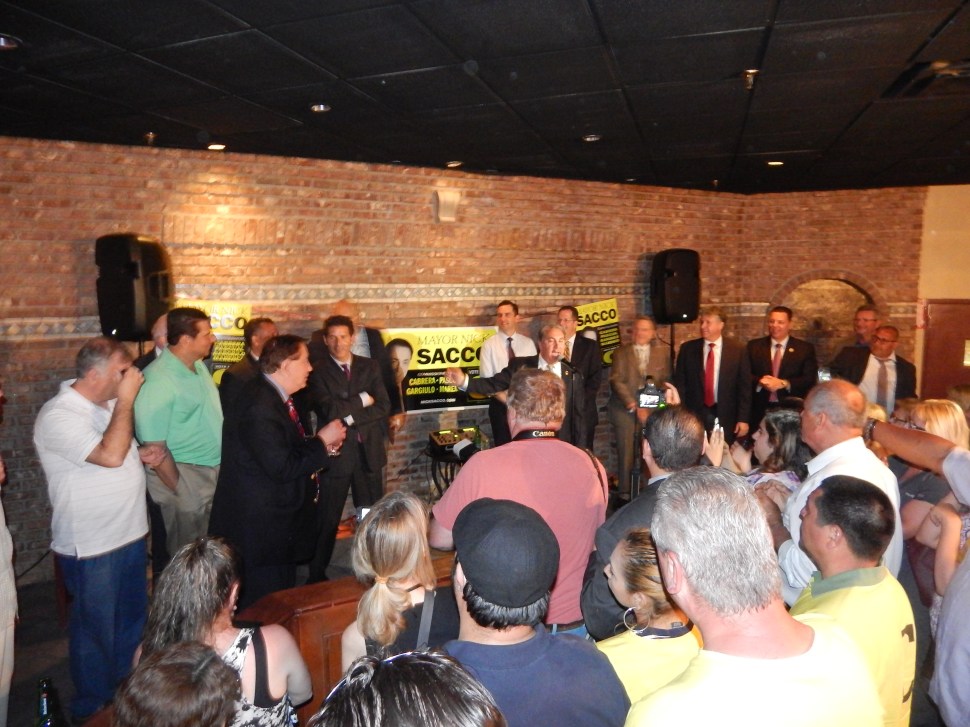 WINNERS
Pablo Fonseca
The two-fisted political operative from Newark took charge of West New York Mayor Felix Roque's campaign and propelled the incumbent with a turbulent political history back into power. In a preposterously low-turnout election, Roque (leading his entire commissioners' slate to victory) won with 2,871 (10.96%) votes to rival departing Commissioner Count Wiley's 2,144. Schooled on the streets of Newark elections and the bulldog behind the citywide wins of then-Newark Mayor Cory Booker, Fonseca boosting the historically complex Roque (and last night on the heels of solid wins in last year's freeholder contests), prompted the question: what else might the operative attain? At the very least, the consummate Essex County product proved his staying power in Hudson.
Paul and Phil Swibinski
The father-son Vision Media team put together a functioning game plan that won Mayor Nick Sacco of North Bergen reelection. Yeah, we know. Bosses aren't supposed to have their backs against the wall, and the fact that challenger Larry Wainstein could force Sacco to a 2-1 margin of victory equals a loss for the boss of North Hudson. It's true there were signs of complacency from the incumbent, who's been mayor since the early 1990s. But he still won. Last term? Maybe. People getting their heads chewed off behind closed doors failing a 90% victory? Assuredly. But for now, a win's a win.
Brian P. Stack
No, he wasn't on the ballot. But Sacco at less than lock-down strength and having broken an Election Night sweat to get back in power reawakened the political operations drive of the mayor of Union City, who now likely has his eye on that coveted 10,000-vote total and can't wait for – when is it again? – 2018. Oh, and he also has to run for reelection in 2017, another opportunity to prove North Hudson dominance.
Cosmo Cirillo
The classy aide de camp to Speaker Vincent Prieto (D-32) was on the successful commissioners slate of Mayor Felix Roque, winning elected office for the first time in his political career.
Keith Furlong and Henry de Koninck
The operatives (Furlong mail and de Koninck general consultant) teamed up behind the Verona challengers Alex Roman and Michael Nochimson, both of whom won municipal seats. Roman won 1,376 or 26.77% and Nochimson won 1,418 or 27.59%, ousting incumbents Frank Sapienza and Rich Williamson.
Harry Kumburis
Backed by Assemblyman Tom Giblin (D-34) and Freeholder Lenny Luciano, the Democratic challenger in Cedar Grove shocked the local Republican organization by unofficially knocking off GOP candidate Michael Maffucci: 753 to 744 votes.
Gary Schaer
The powerful chairman of the Assembly Budget Committee shepherded dominant low-turnout wins for himself and allies in the Passaic City Council elections to maintain control of the Route 21 city.
Chris Siciliano
The Ocean municipal candidate, a Democrat, beat Republican Bob Angelini (husband of Assemblywoman Mary Pat Angelini). Siciliano swamped Angelini – the likely GOP pick for mayor had the Republican slate won – with 3,001 votes to his rival's 1,246 votes.
Daniel Gonzalez
The Perth Amboy attorney and campaign manager for Fernando Gonzalez successfully helped his father secure a four-year council term in last night's special election in his hometown.
LOSERS
Joe Mocco
Indicted for corruption in the 1980s, the former township clerk affiliated with Larry Wainstein had to hear his name dredged up and ignominiously dragged around town again, consigned by the establishment to bogeyman land, as his favored candidate lost.
Wlida Diaz
It seems unfair to put the mayor of Perth Amboy in the losers' column when she already has a 4-0 edge on the city council, but her candidate, Sergio Diaz, lost last night to Diaz nemesis Fernando Gonzalez. While a close election, Diaz and state Senator Joe Vitale (D-19) shared a disappointing showing by their ally.
Count Wiley
The West New York commissioner is now a lame duck after having broken from Roque and run against him. Given his lack of financial resources compared to the effort put forth by Larry Wainstein in neighboring North Bergen, Wiley can hold his head up high in loss – but he must also now ask himself "what if?" What if he had the resources to summon a better campaign and hire someone as resourceful and aggressive as Fonseca?
Larry Wainstein
He made 'em sweat and looked good doing it – and maybe that's enough. He gave North Hudson a brutal challenge for the history books but finally spent untold dollars and came up short. Still – is there a future for the bruising challenger? Time will tell. Maybe he accomplished what he needed to have a foundation to force Sacco out come 2019.
Michael Maffucci
The Democrat vying for a seat left vacant by the retirement of the seat held by state Senator Kevin O'Toole's (R-40) father unofficially bit the dust in last night's Cedar Grove council elections.
Bob Angelini
The husband of Assemblywoman Mary Pat Angelini (R-11) went down in defeat last night in Ocean Township.
Emily Hynes
The poorly financed attorney lost (badly) in a match-up with winner Sheena Collum (30-70%) for South Orange village president. Collum, for her part, with the win fairly established herself as a rising star in the Essex Democratic constellation and will be the first woman prez of South Orange when she assumes the oath of office.
The Founding Fathers
What rank injustice to even invoke their memory at a moment like this, but we hardly think Jefferson and Madison are doing jumping jacks in politics heaven over the machine bludgeoning going on in Hudson, where every circus act connected to City Hall goes bonkers, leaving, in a mangled rephrasing of W.B. Yeats, the best lacking "all conviction." Having said that, it sure in hell was fun!