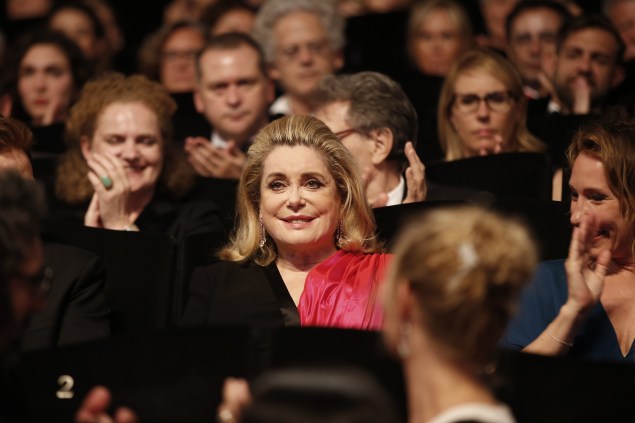 CANNES, France — Ladies first, s'il vous plaît. Women are the toast of the 68th Cannes Film Festival, with this year's opening night film, Emmanuelle Bercot's Standing Tall, marking only the second time a female director has been given that berth (and the first since Diane Kurys' A Man in Love, in 1987). "Cinema est une femme," cooed a nattily coat-tailed Lambert Wilson at the black-tie opening ceremony, encouraging everyone in the audience to close their eyes and ponder their favorite Cannes image (many surely thinking of multiple attendee Catherine Deneuve, co-star of Standing Tall, as she herself sat among them looking blissfully somnambulant.)
The almost feverish attempt to idolize women then reached a somewhat alarming apex when Lambert introduced a ballet tribute set to Bernard Herrmann's score from Hitchcock's psychosexual monomania Vertigo. Seeing a male dancer swoon obsessively over two ballerinas—one blonde, one brunette, both wearing a matching variation of Kim Novak's iconic grey dress suit—seemed a bit more fetishistic than celebratory.
Then again, when aren't women the embodiment of Cannes? Ingrid Bergman's face is beaming down from the facade of the festival's bunker-like headquarters and peering out from storefront windows all across town, since her visage is part of the official poster—an honor already given to Faye Dunaway, Marilyn Monroe, Juliette Binoche, Maggie Cheung and Monica Vitti just in the past decade alone. (And Bergman has already appeared once before, with Cary Grant, in 1993.)
Even this year's complementary satchel given out to journalists, usually a nondescript zippered tote for lugging laptops, press kits and local editions of Variety and the Hollywood Reporter, has gone haute couture: this year, it's a dashing blue pleather purse fastened with metal buckles and just large enough for a few festival catalogues and a pack of gum. Fashionable? Absolutely. Feminine? Mais oui. Functional? Not so much. "It's very trans," vamped one journalist as he slung it over his shoulder.
The best reason to celebrate talent—regardless of gender—is when the talent is worth celebrating, and Bercot's Standing Tall is one of Cannes' stronger opening night selections. A social realist drama about France's social workers, the film has a riveting central performance from teen actor Rod Paradot playing a ferocious wayward youth who practically sweats testosterone from every pore. His seething, feral turn gives the movie a reckless swagger that adds volatility to even the quietest scenes. A nuanced look at France's justice system that unfortunately climaxes in a bit too much self-congratulatory uplift, Standing Tall is still full of enough ugly truths to keep it weighted in reality. The film isn't feminine, to be sure. It's something better: it's human.
Earlier in the day, the festival's jury—headed for the first time by a duo, Joel and Ethan Coen—convened to meet the press and talk about being selected to be so selective. "It was great timing," said Joel, who pointed out that, for once, they weren't submitting a film or in production on anything (their latest, Hail Caesar!, just wrapped production and is due next February). "It was an opportunity to come to the festival and actually watch movies, which has not been our experience before here ever." When prompted to elaborate on his brother's remark, Ethan wryly replied, "Yes. That."
Jury member Guillermo del Toro echoed the Coens' remarks, and then added a personal note about his zaftig size. "I had been asked before," he said, "but I was waiting to get thinner and fit into my old suits. And now I have no hope, so I decided I would have to buy some suits and come over."
"I was just thrilled to think about seeing films before anyone else in the world will see them," said fellow juror Jake Gyllenhaal. "And for free!" del Toro added gleefully. "And for free!" agreed Gyllenhaal. "I'm going to borrow some of Guillermo's old suits."
The jury press conferences are usually genial affairs with softball questions, but one journalist struck unexpected pay dirt when he asked them to follow up some negative comments they made a few weeks earlier in a foreign interview about television programming. "I'm not sure we said," Joel started, choosing his words carefully. Then he laughed. "Well, OK. You can't fight City Hall."
"It's not that I don't like TV," said Ethan. "I just don't watch it. I haven't watched a television show in decades. It's not that I don't have a position on it. I don't think either of us do."
"In our minds, it's not better or worse. It's just different," added Joel. "You're going to get me in big trouble, by the way, because my wife just did a miniseries for HBO." His spouse Frances McDormand is probably happier to be at home this weekend anyway, considering that the season finale of Mad Men is on Sunday.