Real heroism was on display at Citi Field last Saturday. (No, the Mets weren't playing.) It came from a group of injured warriors as they competed in a Reebok Spartan Sprint.
The Spartan is a 3.5-mile obstacle course and race. Some 5000 participants ran up and down the stadium steps, climbed over walls, crawled under low-hung netting, carried 50 and 75-pound weights, threw spears, crabbed-walked across the asphalt parking lot, and did lots push-ups and "burpies." (If you have to ask what a burpie is, you can't handle the truth.) In short, it looked like enormous fun – at least for the super-fit. Most of the people there – and it was about one-third women – had participated in other challenges like this one including CrossFit, Tough Muddersand "rucks" (hikes wearing full military gear.)
Among the repeat participants were the 60 members of Team Oscar Mike; I was there to meet them.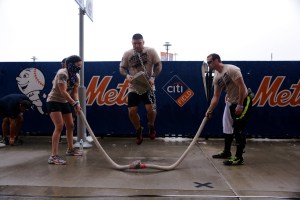 Oscar Mike ("On the Move") is a four-year-old non-profit organization dedicated to helping injured servicemen and women utilize their full potential. They do this by providing funds to disabled veterans to participate in events like Spartan races and adaptive sports competitions. Research has shown that disabled people who engage in adaptive sports – and receive other therapies – live more rewarding and productive lives.
My niece told me about Oscar Mike. She knew about my recent pro-bono legal work on behalf of enlisted soldiers and Marines, and still questions whether my Navy service 45 years ago –where the furthest I got from stateside was a cruise to Scandinavia – really "counted." She thought I'd be interested in meeting the man Oscar Mike was honoring that day: Army Staff Sergeant Earl Granville. She was right.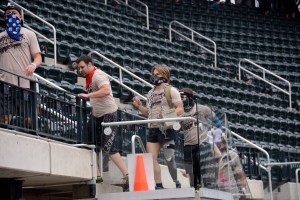 Earl is a 31-year-old college student entering his senior year at the University of Scranton where he is majoring in counseling and human services. He is a big, beefy guy, and on first meeting him I focused on his bushy beard, infectious grin, and the black kilt he was wearing and would run the race in. I didn't even notice his prosthetic leg.
Earl's leg was blown off by a roadside bomb as his convoy returned to its forward operating base in Zormat, Afghanistan, on June 3, 2008. Two fellow soldiers in the vehicle were killed.
But I did notice that Earl was carrying a 40-pound cinder block which he secured around his shoulder by a heavy metal chain, and which added another ten pounds to his load. He has nicknamed the block Cindy, and Earl runs all his races carrying it. It represents the burden that many veterans bring back with them from war as they re-enter civilian society. Other Oscar Mike teammates carried a second cinder-block-and-chain in solidarity. They call theirs Mindy. ("We're from the Midwest," one of the participants explained.)
Earl's burden stems less from his missing leg than from the loss of his twin brother Joe. Earl and Joe were bunkmates during boot camp, and deployed together twice to Afghanistan. It was on Earl's third combat deployment – his first without his brother — that his MRAP vehicle hit the IED. Joe was devastated by his brother's injury blamed himself, and soon after committed suicide.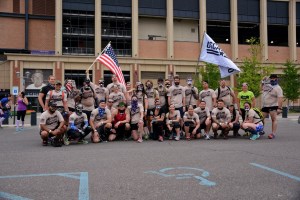 When I first arrived at Citi Field early Saturday morning, several hundred competitors—the "elite" runners—were already completing the course. Finding the small contingent of Oscar Mike team members was easy: they all sported the same T-shirt and had two large flags with them: a team flag and an American flag, each on a large pole that would accompany them throughout the race.
Some of the team members were in wheelchairs, and disappointed they couldn't "run" this race because so much of it involved climbing the stadium's steps. But they would cheer their teammates on from strategic vantage points all along the course. It was then that three very sweaty participants – two men and one woman — arrived and donned their Oscar Mike T-shirts. They were elite competitors who had just finished the race – in about 30 minutes, about one-third of the time it takes able-bodies athletes. They were now going to run it again to help the disabled Oscar Mike members.
I was chatting with several of the team members including Noah Currier, Oscar Mike's founder. Noah, a former Marine, had returned from Iraq whena trucker fell asleep at the wheel and smashed into his car, paralyzing him from the waist down. It took Noah six years "to get out of his funk." He did so by getting back into competitive sports. And then he recognized the benefit of helping others do so as well. He formed Oscar Mike on Veterans Day 2011: 11/11/11.
Noah was disappointed that he couldn't compete in this race – he is in a wheelchair – but said to me, "Why don't you run with us?" At age 63 I benefit from the wisdom of experience over enthusiasm, and had the good sense to say not this time; not without training. But I did agree to walk the entire course and climb all the stairs.
My guide along the course was Aaron Matthews, the team photographer. I didn't realize we'd be sprinting ahead of the pack in order to get better shots. Aaron is a former Navy electronics technician who also suffered a severe spinal injury and had to completely re-learn how to walk. Clearly he learned; I had trouble keeping up with him.
For nearly three hours we walked the course as team members took on more than 15 different obstacles. And at each station, I witnessed simple yet profound acts of bravery. I watched men and women help their brothers and sisters surmount each challenge. They would get down on all fours to allow another runner to climb on their backs to scale seven-foot walls. They would carry Mindy and stabilize Earl as he struggled up a 30-foot rope. And each "disabled" runner, as he completed a task, turned and helped the next person. It didn't matter whether the person was able-bodied or disabled: everyone pitched in, and everyone shared the burdens.
At the conclusion of the race – which every Oscar Mike team member completed – Earl was presented with a special T-shirt in his honor. It wasn't merely symbolic, but was the first of Oscar Mike's "Heroes series" series of apparel. The Oscar Mike Foundation is able to donate 100% of the funds it raises to veterans because it covers its overhead – a four-person staff – with proceeds from the sale of T-shirts and other gear. Currently, the merchandise can only be purchased from the Oscar Mike website www.OscarMike.org, but they are looking for retail distribution.
Earl's T-shirt—he had a hand in its design—features a small image of Cindy on the front. And on the back was a larger image plus the words: "Fight the Good Fight." I don't think I've ever seen a more inspiring logo; or group of people doing just that.
Steve Cohen is an attorney at KDLM in New York. He is a former member of the Board of Directors of the United States Naval Institute.