If you enter the Frieze Tent from the South Entrance, one of the first things you'll see is Linder's blazing light box work, Untitled (1977), a collage of an oiled nude female with an iron for a head and lipsticked mouths for nipples, set against a soft pink wall. It's bold, it's uncensored, and it was just one of a number of works by female artists that mixed pornography and social commentary at the Frieze New York.
London Gallery Stuart Shave/Modern Art at Booth C55 is doing a solo presentation of the 60-year-old, Liverpool-born artist. On view is mix of older pieces from the 1970s and fairly recent works that range from large-scale light boxes to small photo collages. According to a gallery representative, she was once a friend and photographer of the musician Morrissey, and weaved in and out of the music, fashion, and art worlds for years.
The gallery rep explained that the x-rated work is comprised of images from porn glossies and house and home magazines, the combination of both a commentary on the vastly different content accessible to men and women in the 1970s and 1980s. Her more recent works lean toward surreal, focusing on the "alien-like" shaved and oiled figures of modern porn stars, a stark juxtaposition with the au-naturel look that dominated the earlier decades.
He noted that while well she is known in Europe, she isn't as known to U.S. audiences. She did, however, have a retrospective exhibition at MoMA PS1 in 2007, was included in MoMA's "Designing Modern Women 1890-1990" show, and her most recent stateside gallery show was with L.A. outfit Blum & Poe in 2013. Works at the fair will run collectors between £5,000 and £38,000.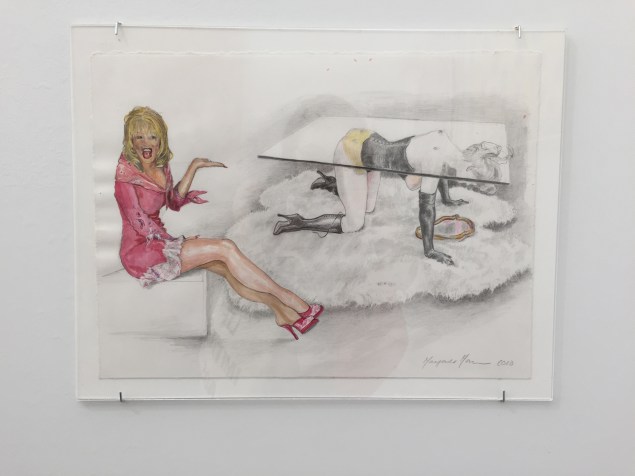 Then, just around the corner at German gallery Silberkuppe in Booth D32 is the work of Margaret Harrison. A prominent British feminist, Ms. Harrison's drawings and paintings touch on similar issues of gendered marketing and lack of access. Watercolor and pencil works on paper combine figures from porn magazines with food items and pop culture characters like Mickey Mouse.
Fortunately, the artist happened by the booth as we were admiring the work. Inspiration for the pin-up figures also came from gritty porn magazines of the era, she told us. And they weren't very easy to obtain as a woman.
"I would send my male friends into the shop and say, 'just buy a bunch for me,'" she said. "It would have been quite odd to go in myself."
Drawings and paintings by Ms. Harrison are priced between $16,000 and $20,000.