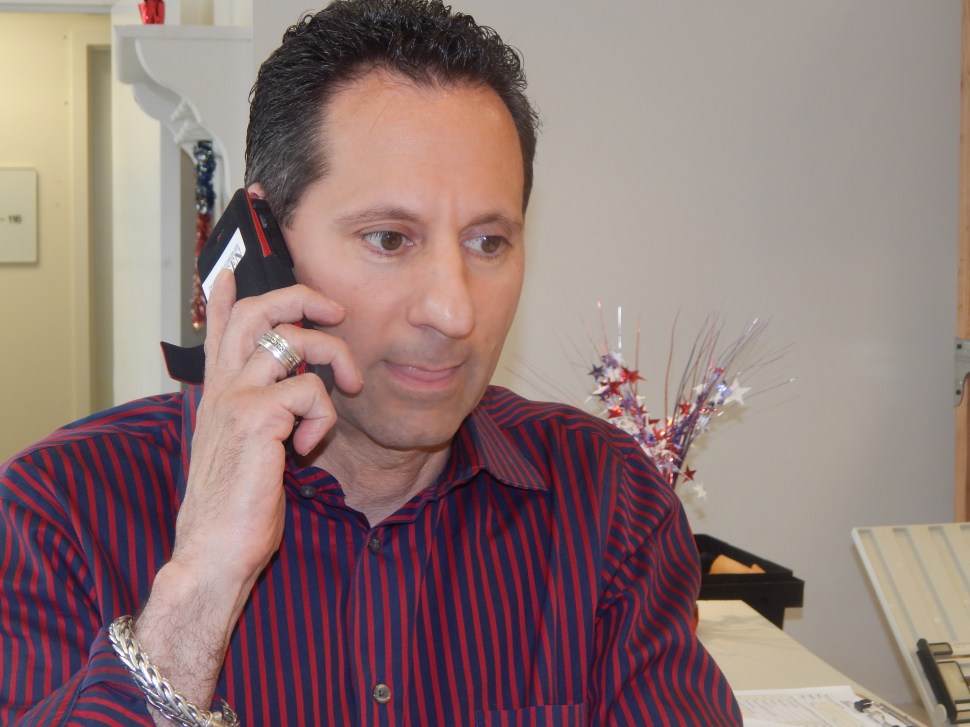 MORRIS PLAINS – Bludgeoned by mail in the closing days of this closely watched, politically emblematic Morris County Republican Primary, Freeholder John Krickus and his running mates went to Parsippany, home of their onetime running mate turned renegade leader of the opposition ticket.
Freeholder John Cesaro was the top vote-getter when Western Morris brand names Krickus and Freeholder Dave Scapicchio ran with him three years ago. Now – backs against an IE wall – they want to make sure they don't lose the regional battle in their reelection war even as they all but concede an air, sign and body war that lopsidedly favors the labor-connected Cesaro.
"We extensively walked Parsippany this past week," Krickus told PolitickerNJ, adding wryly, "It's like Ronald Reagan campaigning in the final days in Massachusetts.
"The reaction we go there was the same we get when we've walked any other town. You see FOX News on the big screen TVs and not one person pushed back in defense of the home town guy. I've gone to a couple hundred doors and not one person pushed back. I've been surprised."
While there are 10,242 registered Republican voters in Parsippany-Troy Hills, compared to 4,390 in Washington Twp., where Krickus served as mayor, Krickus denied the preeminence of Parsippany-Troy Hills as the deepest-throated decision-maker of GOP elections.
"There are factions within Parsippany," confirmed Republican operative Chris Russell, who's working for the Krickus Team. "It's not like the entire weight of the town is behind one candidate. There are people who have an open ear and they did have a good response there." Simultaneously, Krickus' side of the county is deeply conservative and home to a different kind of voter, many of whom proudly bear arms and naturally gravitate toward primary fights.
"Parsippany punches under its weight from a GOP Primary standpoint," insisted Krickus. "Parsippany voted for Obama, while Washington Township voted two and half to one for Romney. In a Republican Primary, Parsippany is more like the 400 pound as opposed to 800 pound gorilla."
All day today, Cesaro's chief campaign strategist King Penna sat in a busy campaign headquarters on Route 10 as college-aged campaign allies came, stocked up with signs and mail and went, cross-crossing the movements of labor walkers who likewise vigorously hit the doors of targeted GOP voters.
For their part, the Krickus Team has other resources: namely up-and-coming Freeholder Hank Lyon, who's campaigning hard in his hometown of Montville for the ticket. That's also the home base of state Senator Joe Pennacchio (R-26), who's lined up behind Cesaro.
Speaking on condition of anonymity, a GOP source said the politically hyper-kinetic Lyon could bubble to the surface as a future legislative candidate sooner rather than later if the scars of this freeholder war spill into the next election. The considerably well-prepared Assemblyman Jay Webber (R-26) has stayed out of this primary contest that pits Pennacchio against state Senator Tony Bucco (R-25) and his son Assemblyman Tony Bucco, Jr. (R-25). Might Lyon be the Buccos' pick to challenge Pennacchio and/or his slate come 2017? It won't be Scapicchio, who lives in LD24; or Krickus, who resides in LD25.
Or will the war subside over the next two years?
Those kinds of questions seem relevant in a charged atmosphere altered by the presence of labor and labor and Democratic-affiliated political action committees (PACs) backing the Cesaro ticket. Insiders anticipate the Cesaro cause to spend in the range of $250,000 to $300,000, versus $90,000 to $100,000 by the Krickus/Scapicchio team.
"This is no longer a freeholder race," said Morris County Republican Chairman John Sette. "This is a race for the Republican Committee in Morris County." Trying to drive that narrative against the wave of labor force on the streets of Morris today, Sette and the Buccos appeared on weekend mail pieces in support of Krickus/Scapicchio.
Sheriff Ed Rochfort and former Freeholder Bill Chegwidden of Wharton disagree with the chairman's statement, maintaining their Republican ientities while standing in support of Cesaro and company. Having been bumped by Scapicchio three years ago, Chegwidden is arguably Team Cesaro's answer to Lyon, a western county soldier in enemy territory, albeit longer in the tooth than Lyon and arguably on the downside of his political career and not the upside like the Montville comer.
"I'm still very confident – with the one caveat," Krickus said. "When someone is throwing $100,000 in the closing days of a freeholder campaign – that kind of tsunami is unprecedented. If it was $50,000, that's one thing. But $100,000 – that's the one wild card. Having said that, there are several factors making us feel really good right now, including the Sette endorsement, which was covered by everyone. I give credit to the media; they have covered it straight. The question the chairman asks is pertinent: what are they getting in return for this money? So I continue to have a high degree of confidence that the average Republican Primary voter is not swayed by thousands of signs on every block."
In the face of quite, off-the-record hand-wringing from allies who fear an all-out swamping by the labor-connected independent expenditure cash, Krickus and Russell remain convinced that their message will penetrate.
"From the start of the year, in our reorganization speeches, our focus has been smaller government focused on the essentials," Krickus said. "Our fear early on was that they were going to mimic that we were doing, and then we were pleased as punch when they talked about additional revenue. There is no doubt this is why this election is so important. We will lose something if this turns into an independent expenditures arms race. I raised $15,000 in first freeholder race, compared to Joe DiVincenzo in Essex County, for example, who raised $1 million for an uncontested election. I could win with $15,000 because I hit doors. Freeholder is one of the last levels of government where you can go to town events and parades and newspaper editorial offices and be true to your values. Here's why we can't lose this: for me to raise $300,000, if we have to go to that level, it will always have to mean an increase spending on projects in order to generate that kind of money. If I have to get $300,000 from outside groups, how is it that I will not become part of the feeding frenzy for fundraising that has gotten New Jersey into the mess we're in?"
In between phone calls in his office next to Planet Fitness, Penna brushed aside the Krickus as Jimmy Stewart narrative.
"The Morris First team [Cesaro's slate] has earned the support of Republicans from all walks of life–nurses, firefighters, carpenters, and white collar professionals–due to its positive campaign message of leadership, economic growth, and ethics in government," he said. "This hypocrisy has got to stop. The finger pointing is nothing but phony political posturing and whining by the Krickus, Scappicchio, and Smith campaign because they have nothing else to offer the citizens of Morris County."
On Tuesday, the voters will size it up and decide.