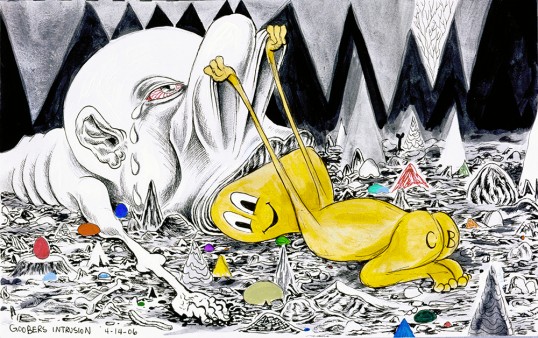 TUESDAY, JUNE 16
Talk: "LIVE from the NYPL: Werner Herzog" at the New York Public Library
One of our favorite filmmakers, Werner Herzog joins "LIVE from the NYPL" host Paul Holdengräber for a conversation about Ancient Greek literature and history. Having interviewed Mr. Herzog for the Observer in 2011, I can truly say that to be in his presence and hear his distinctive voice is certainly worth $25 several times over.
New York Public Library, Fifth Avenue at 42nd Street, New York, 7-9 p.m., $25
Performance: "Sabisha Friedberg: The Hant Variance" at Artists Space Books & Talks
A South African sound and installation artist, Sabisha Friedberg makes ambient music that's not only heard but also felt by the body of the listener. It's both hallucinatory and penetrating. Tonight Ms. Friedberg presents a live mix of the third and final movement of The Hant Variance—a double LP of haunting sounds that she recorded with musician and artist Peter Edwards in 2014—as a quadraphonic experiential piece, presented by Issue Project Room.
Artists Space Books & Talks, 55 Walker Street, New York, 8-10 p.m., $10
WEDNESDAY, JUNE 17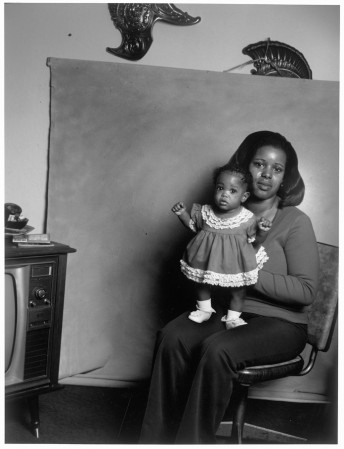 Opening: "Leon Borensztein: American Portraits" at Foley Gallery
A gorgeous show. Israeli-born photographer Leon Borensztein got his start in the States as a traveling portrait photographer, making up to 30 portraits a day of people in their homes. After taking the mandatory color photographs for his employer, he would shoot black and white portraits of the subjects for himself. Here, the gallery gathers together a succinct selection of his fascinating photos, which were shot between 1979 and 1989, of ordinary people who—after the passing of time—look extraordinary.
Foley Gallery, 59 Orchard Street, New York, 6-8 p.m.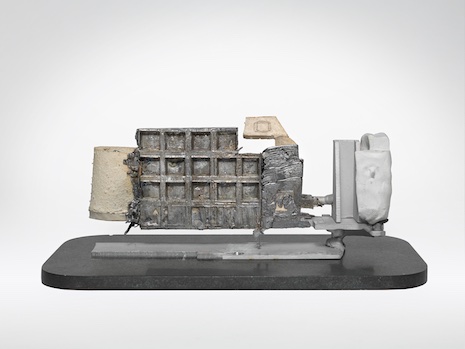 Opening: "JJ Peet: Magicstance" at On Stellar Rays
Working with the manifesto "From brain to hand to object," JJ Peet makes objects and images that allegorically reference global and political incidents. In this new exhibition, Peet continues his "Stilifes" series, mixing his handmade ceramics of handheld devices with found objects to create quirky assemblages that are ripe with meaning. Come record his handheld devices with yours!
On Stellar Rays, 1 Rivington Street, New York, 6-8 p.m.
Opening: "Sadequain: Exaltations" at Aicon Gallery
Pakistan's most celebrated modernist painter, Sadequain (1930-1987) is best known for his innovative style of calligraphy, which was considered radical in his time. "Exaltations" features works from the "The Lost Exhibition," calligraphic canvases that Sadequain made in Paris in the late-1960s and left behind when he departed France with the intention to return, but never did. Fortunately for us, many of these rare works have been recovered and will be on view.
Aicon Gallery, 35 Great Jones Street, New York, 6-8 p.m.
THURSDAY, JUNE 18
Festival: "Skin and Bones Comic Con" at the Studio Museum in Harlem
Inspired by the museum's dynamic exhibition, "Trenton Doyle Hancock: Skin and Bones, 20 Years of Drawing," and building upon the Comic Con platform for creating awareness of comic culture, "Skin and Bones Comic Con" is a four-day festival of happenings, talks, and workshops that celebrate the contribution of comics to contemporary black art and culture. Tonight's Courtyard Chalk-Up!, led by graffiti artist Carlos Jesus Martinez Dominguez, should be cool, but we're psyched for Saturday's Cosplay contest with performances and a party.
The Studio Museum in Harlem, 144 West 125 Street, New York, tonight 6-9 p.m. and continuing thru June 21, $7 daily or $10 unlimited admission
Opening: "Michael Mandiberg: From Aaaaa! to ZZZap!" at Denny Gallery
Computer-whiz and appropriation artist Michael Mandiberg will be uploading his project "Print Wikipedia" to Lulu.com (a print-on-demand website) in the gallery, which will remain open around the clock through the first weekend of the exhibition so that audiences can view the process. The complete upload process for "Print Wikipedia," which consists of the entirety of the English-language Wikipedia database, will take between eleven and fourteen days. It then will be available for printed volumes, which will already be out of date. Ironic art for the thinking man!
Denny Gallery, 261 Broome Street, New York, 6-8 p.m.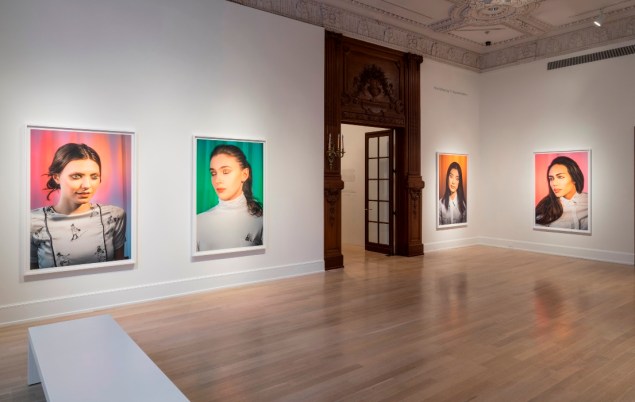 Talk: "This Is How We Do It: On Laurie Simmons and Chantal Joffe" at the Jewish Museum
Jewish Museum assistant curator Kelly Taxter talks about curating shows by two of our favorite artists, Laurie Simmons and Chantal Joffe, who both have current solo shows at the museum. Ms. Simmons' "How We See" riffs on Japanese "Doll Girl" subculture with large photos of female models with false eyes painted on their eyelids, while Ms. Joffe's project for the ongoing series "Using Walls, Floors, and Ceilings" exhibits gestural paintings of famous Jewish women of the 20th century. Come hear what the curator has to say about these two shows regarding women by women artists.
The Jewish Museum, 1109 5th Ave at 92nd Street, New York, 6:30-7:30 p.m.
Screening: "German Competition, Artist Film & Video 2014" at Goethe-Institut New York
The International Short Film Festival Oberhausen is a hot spot for short and experimental films and now some of the highlights from last year's festival are being shown here as part of the "Oberhausen on Tour" program. The selected films are centered on family, as well as alternative forms of communal living. Ten films are screened, including My Throat, My Air, which stars former Fassbinder actor, Warhol collaborator and horror movie director Ulli Lommel.
Goethe-Institut New York, 30 Irving Place, New York, 7 p.m.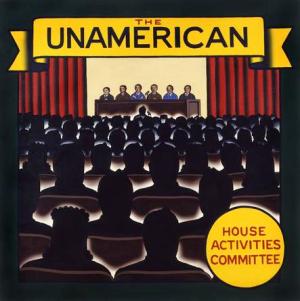 Opening: "Roger Brown: Political Paintings" at DC Moore Gallery
Made between 1983 and 1991, the "Political Paintings" by painter Roger Brown (1941-1997) comment on the Gulf War, the HIV/AIDS pandemic, and the Savings & Loan industry collapse and bailout. Expressing issues that defined the political, social, environmental, and economic crises of the era, the Chicago Imagist artist used luminous color, silhouetted figures, stylized natural forms, and dramatic shifts of scale and perspective to create provocative works of art. His 1991 canvas Landscape with Dollar Sign is still as profound today as it was when he painted it, nearly 25 years ago!
DC Moore Gallery, 535 West 22nd Street, New York, 6-8 p.m.