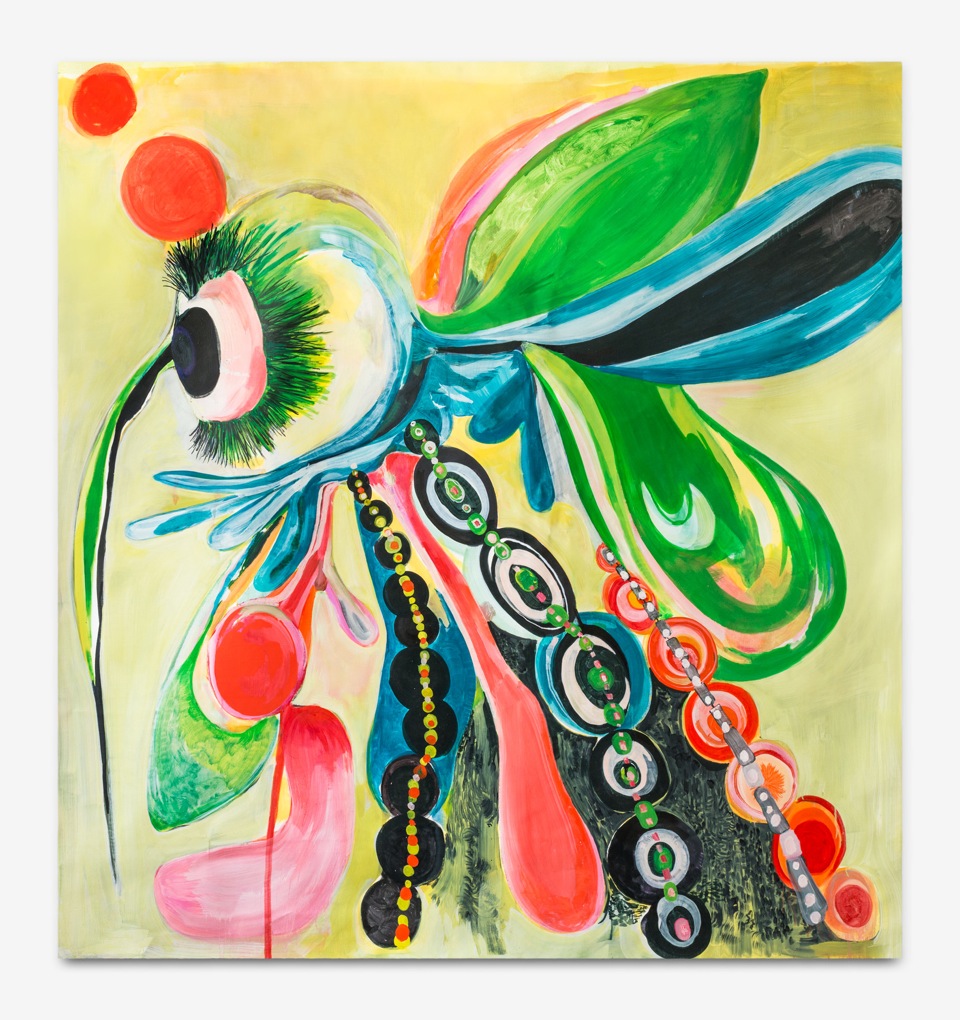 TUESDAY JUNE 23
Opening: "Santi Moix: A Moment" at Paul Kasmin Gallery
A perfect exhibition for summer, "A Moment" presents new paintings that abstract plant and animal life by Brooklyn-based, Spanish painter Santi Moix. Working from studies in watercolor on paper pinned to the walls of his studio in Brooklyn's Navy Yard, Mr. Moix makes vibrant paintings that capture the essence of nature through playfully brushed biomorphic forms. His paintings of mosquitoes are more delightful than the pesky bugs could ever be!
Paul Kasmin Gallery, 297 Tenth Avenue, New York, 6 p.m.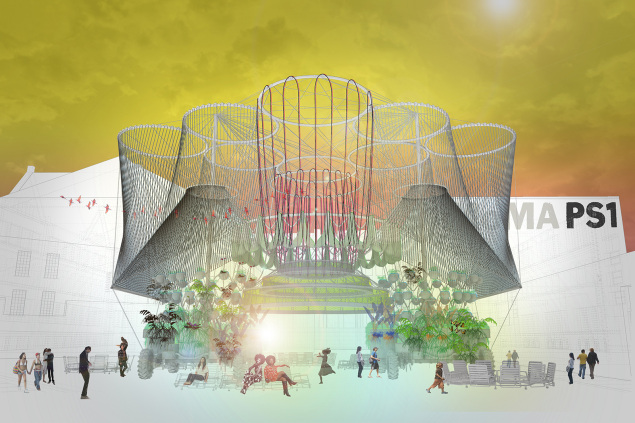 Opening: "COSMO by Andres Jaque/Office for Political Innovation" at MoMA PS1
We told you about Andres Jaque and Office for Political Innovation winning MoMA PS1's annual Young Architects Program competition in February. Now, the outdoor installation is ready to be revealed. COSMO provides the required shade, seating, and water for the courtyard space, while addressing environmental issues. Made of customized irrigation components, COSMO is essentially a massive water filter, which can purify 3,000 gallons of water over the course of four days—a process that could easily be reproduced around the world. Worth seeing on its own, the installation can also be experienced as the lively setting for the 2015 Warm Up summer music series, which kicks off this Saturday.
MoMA PS1, 22-25 Jackson Avenue, Long Island City, 6:30-8:30 p.m., by invitation only
Talk: "A Desire for Dramaticism: Semiotics of the 1980s Goth Subculture" at the Morbid Anatomy Museum
Taking us on a visual journey through the Goth subculture, Andi Harriman, author of Some Wear Leather, Some Wear Lace: A Worldwide Compendium of Postpunk and Goth in the 1980s, discusses the symbolism of the movement's fashion, music and art. If you didn't understand what Goth was about in its heyday, here's your chance to get in step before the eventual revival—plus the talk's venue, the Morbid Anatomy Museum, sounds like an experience in and of itself.
Morbid Anatomy Museum, 424 Third Avenue, Brooklyn, 8 p.m., $8
Opening: "Patrick Van Caeckenbergh" at Lehmann Maupin
Belgian artist Patrick Van Caeckenbergh presents a sculptural installation and a series of drawings in his first exhibition with powerhouse gallery Lehmann Maupin. A conceptual artist, Mr. Van Caeckenbergh displays 200 hand-blown, discarded glass bell jars that once protected religious icons. The display's mirrored shelves give the illusion that the jars go on ad infinitum. Surrounding the installation on the gallery walls is a series of graphite drawings of trees in winter.
Lehmann Maupin, 201 Chrystie Street, New York, 6-8 p.m.
WEDNESDAY, JUNE 24
Opening: "Summer Group Exhibition" at Marian Goodman Gallery
Marian Goodman brings out the big guns—six contemporary artists that first emerged in the 1960s and '70s and helped shaped the course of art history up until now. We're psyched to see Gerhard Richter's "Strip," a colorful, 36-foot-long abstract paining; dynamic wall works by conceptual maestros Sol LeWitt and Lawrence Weiner; minimalist pillars and planks by sculptors Anne Truitt and John McCracken; and an early cord sculpture by Fred Sandback. Contemporary masters at their best!
Marian Goodman Gallery, 24 West 57 Street, New York, 6-8 p.m.
THURSDAY, JUNE 25
Talk: "Discussion with David Salle and Christian Viveros-Fauné" at Skarstedt
David Salle, whose artistic career has spanned four decades, is currently making some of his boldest paintings yet. In his most recent series of canvases, "Late Product Paintings" and "Silver Paintings," currently on view at Skarstedt, he mixes diverse elements from popular culture with his own pictures of models in his new collage paintings, while contrasting them with photographically derived silver canvases of a single theatrical subject. Thursday night, art critic Christian Viveros-Fauné talks with Mr. Salle about the diverse ideas and techniques that went into making these works.
Skarstedt Chelsea, 550 West 21 Street, New York, 5:45 p.m.
Opening: "Hello Walls" at Gladstone Gallery
Over the past few weeks, Gladstone Gallery has been transformed into a busy studio for 16 artists creating works directly on its walls. Spread across its two Chelsea spaces, the expansive exhibition features Kara Walker abutting Lawrence Weiner, Mel Bochner playing parallel to Wangechi Mutu, Raymond Pettibon intersecting Ugo Rondinone, and much more. A gem of a summer group show, "Hello Walls" traces the history of wall drawings as they have developed since the 1960s and highlights the wide range of approaches artists take to working on the wall.
Gladstone Gallery, 515 West 24 Street and 530 West 21 Street, New York, 6-8 p.m.
Opening: "Jack Pierson: onthisisland" at Cheim & Read
A jack-of-all-trades, if you will, when it comes to art, Jack Pierson returns to Cheim & Read for his sixth solo show with a brand new body of work. Made while on a self-imposed retreat on North Captiva Island in Southwest Florida, his watercolors and graphite works on paper capture the mysteries of nature through "automatic drawing," a technique used by the Surrealists wherein the hand simply moves across the paper, and the subconscious takes over. "It's just like my brain dancing on paper," Pierson states in the gallery's release. Adding "At the core, these are—after all, the paintings of an old beatnik."
Cheim & Read, 547 West 25th Street, New York
Opening: "By the Book" at Sean Kelly Gallery
A group exhibition that explores the influence of literature in contemporary art, "By the Book" features works by 30 artists and artist collectives—ranging from Marcel Duchamp to Sun Xun—that use the written word as their source of inspiration. But, if books aren't your thing, maybe gin is. As an added attraction during the opening reception, Peter Liversidge presents his "Gin Performance," where Brooklyn Gin with tonic will be served in limited edition glasses that are hand etched by the British conceptual artist. Cheers!
Sean Kelly Gallery, 475 Tenth Avenue, New York, 6-8 p.m.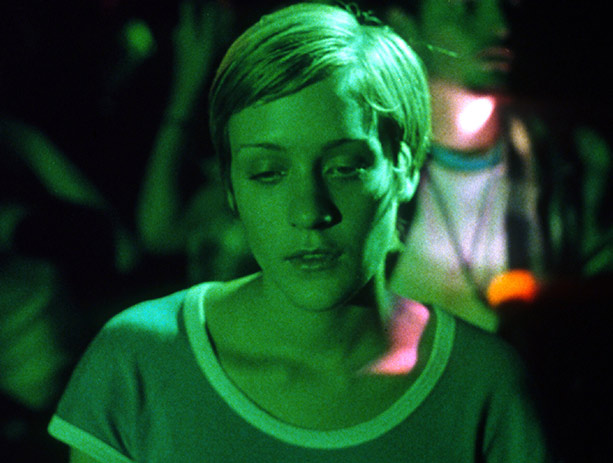 Screening/Talk: "Kids: 20th Anniversary" at BAM
Kids, Larry Clark's iconic 1995 movie about teenagers who booze, screw and trespass their way through a still-gritty New York City, made the bad-boy photographer an overnight success. Chloë Sevigny and Rosario Dawson made their acting debuts, with enfant terrible Harmony Korine co-writing the screenplay for the controversial film, which follows a group of adolescent skateboarders on their escapades in downtown Manhattan. A Q&A with Mr. Clark, Mr. Korine, Ms. Sevigny and Ms. Dawson follows the screening.
BAM, 30 Lafayette Avenue, Brooklyn, 7 p.m., $30