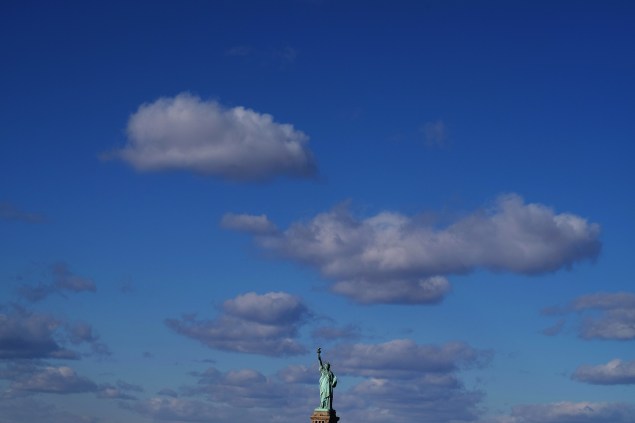 Is there anything more emblematic of New York City than the Statue of Liberty? Like so many things in life, the monument looks larger than it is from far away, a venerable gatekeeper to the city that never sleeps, and the first sight our ancestors saw when they arrived through Ellis Island.
That the lady, whose official name is Liberty Enlightening The World, was gifted to us from France is fitting, considering the French were our main supporters when we revolted against the English. The National Park Service first said that Sculptor Édouard René de Laboulaye, then president of the French Anti-Slavery Society, discussed the idea with abolitionist and sculptor Frédéric Auguste Bartholdi over dinner in 1865. They later revised their official report to say that story came from a fundraising pamphlet in 1885, and that the statue was actually conceived in 1870. Batholdi said the dinner party was not a formal proposal, but it did leave him feeling inspired. Whatever the true story, the French wanted to support America for abolishing slavery in 1865, so the broken shackles at the feet of Lady Liberty attest to our country's then newfound status as actually being a land of the free.
French art had personified liberty as a woman before, as in Eugène Delacroix's Liberty Leading the People of 1830, an homage to the French Revolution. But moving away from the violence of that painting (liberty stood over a mass of bodies,) Bartholdi chose to give her a torch to hold as a symbol of progress instead.
Laboulaye was seeking public support for funding of the statue by 1875, soliciting donations from schoolchildren and descendents of the French side of the American Revolution. By the time of the 1878 French World's Fair, Lady Liberty's head was proudly on display. One year later, Gustave Eiffel, whose eponymous tower would grace Paris with an equally famous monument a decade later, began working on Lady Liberty. Jonathan Harris notes in 1985's A Statue for America that two hundred thousand people lined the docks and hundreds of boats put to sea to welcome the Isère as it brought the statue into the harbor, disassembled, piece by piece.
What wisdom is there still left to gleam, what inspiration is there still left to mine from a monument we see just about everywhere? Though it's hard to treat something as sacred when little metal miniatures are sold out of souvenir shops and kiosks, Lady Liberty seems just as eternal now as she must have 130 years ago, which is to say, she hasn't aged a day. To any true New Yorker, nay, any true American, her formerly copper and now pastel green visage continues to evoke not just the color of money, but a harbinger of opportunity.
[youtube https://www.youtube.com/watch?v=qjEuws9-HTM]