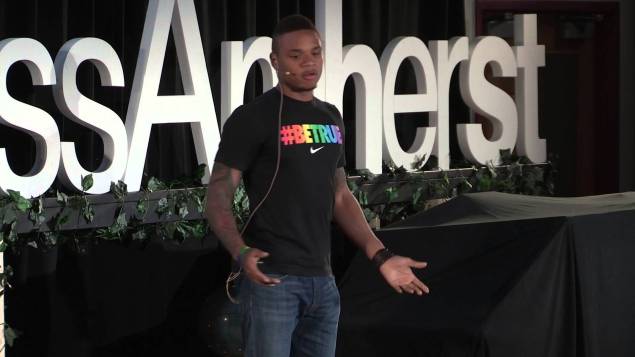 Today, the U.S. Supreme Court ruled in favor of nationwide marriage equality—a historical moment that has everyone rejoicing. Companies, news sites and even the White House have made changes to their web designs, and Twitter is even surprising everyone who tweets #LoveWins with rainbow hearts beside their hashtag.
To celebrate, we've gathered some of the most inspirational, honest and truth-dropping TED Talks on pride, gay marriage and LGBTQ issues in general. These speakers all identify themselves as being on the the LGBTQ spectrum, and their vastly different stories and lives shed light on the fact that anyone can be gay and that anyone who is should be embraced for who they are.
1. Thomas Lloyd — Why Am I so Gay?
In this powerful talk, Thomas Lloyd—who at the time was a senior at Georgetown and President of GUPride, the school's LGBTQ Student group—talks about taking pride in owning his identity and the strength that stems from that ownership.
2. 
LZ Granderson — The Myth of the Gay Agenda
"Run for your heterosexual lives, people!" Lz Granderson says in this humorous talk where his dismisses the absurdity that there is a "gay agenda," reminds everyone that gay people live normal lives and tells an adorable story about penguins.
4. 
iO Tillett Wright — Fifty Shades of Gay
Photographer iO Tillett Wright reminds us that we shouldn't put people into boxes. She tells her story and sheds light on the fact that gender and sexuality is a spectrum and that many LQBTQ view themselves as falling into grey areas, just wanting to be themselves without needing to define anything.
5. Derrick Gordon — Be True
Derrick Gordon talks about April 9, 2014—the historical day when he became known as the first openly gay D1 Men's Basketball player, making Division 1 NCAA history and global news instantly—and his own story of his sexual orientation.
6. 
Ash Beckham — Coming Out of Your Closet
In this talk, Ash Beckham lays down some serious truth bombs, even challenging the word "homophobic" and saying there is no fear, only hatred.
7. 
Cameron Sithole-Modisane — 
I'm an African and I'm Gay
Cameron Sithole-Modisane is one half of the couple said to be the first gay men to be married in a traditional ceremony in rural KwaZulu-Natal. In this moving talk, he delivers a story of pain, oppression and hatred as well as love and courage.