The beauty of New York City, according to Neuehouse member and web developer Matthew Dull, is that it represents a collision. When it comes to business, art and technology, the city represents a dismissal of boundaries. Neuehouse, the relatively new co-working space on East 25th Street, set out to channel that brand of interdisciplinary innovation within a single, closed environment. "Bringing people together from varying disciplines, generations and cultures is the cornerstone of our entire ethos at NeueHouse. It's what we do best," said Michelle Grey, editor-in-chief of Neuejournal. Neuejournal is the very first magazine born out of the member's only space, as explained in the first issue's letter from the editor.
With an opening piece by Jane Goodall and closing comments by painter Philippe Parreno (following a note from Meryl Streep), Neuejournal's first issue is truly eclectic in its slew of notable contributors. The publication, which reads more like an art journal than a magazine, is to be released biannually. Like the work-space itself, it aims at fostering conversation between artists of all sorts, from scientists and web-designers to painters and graphic designers. "We look for people of substance who have something interesting to say—not only about their work, but also about life beyond the pursuit of a single discipline," Ms. Grey explains in her opening letter. The publication is a major testament to this; almost all of the written content consists of conversations between two artists or between writers or editors and a subject.
It is fundamental to understand that these are not interviews, they are conversations. "[The dialogue] is the most intimate and human form." Ms. Grey told the Observer. "There's a certain vulnerability there that strikes a chord that cannot be hit in traditional journalism."
The topic of the various discussions found in the journal often strays far from the subjects' main professional projects. "It works because people are interesting. It comes from a very sincere love of people's voices," creative director Dominic Teja Sidhu explained.
For example, the journal features a conversation on insanity and music theory between Jaron Lanier, an inventor known as "the Father of Virtual Reality" and physicist/saxophone player Stephon Alexander. There is a discussion centered around cross-country buses and the underworld, as discussed by Florence Welch of Florence and the Machine and video director, Vincent Haycock. The publication is a space for scientists to delve into their love stories, for poets to chat about urban planning and for Ed Ruscha to comment on dreamscape color-schemes, fast food and nostalgia.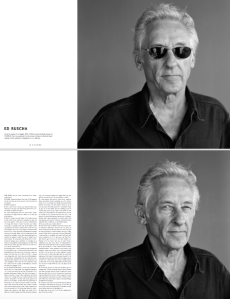 While the magazine has only a few regular contributors, the majority of the content comes from various notable names who took an interest in contributing to the project. Ms. Grey explained further: "We just chose people we wanted to learn from, so we could learn about their creative processes."
Photographer Brigitte Lacombe is one of those regular contributors and she is responsible for the majority of the portraits within the publication. "Her work is the perfect compliment to the interviews," Mr. Sidhu noted. "She brings you into the room with them. You experience this very human very unguarded moment with these legendary actors." The photographs, largely black and white, are, if nothing else, up close and personal.
And that leads us directly to the binding factor of this diverse publication: the creative process. All of these individuals are humanized by their vulnerabilities, by revealing their broader selves through conversation. What holds as a through line is the fact that they all have some dedicated claim to the creative process. "It's about transcending what we do in our daily practice and finding where we converge on the creative platform" Ms. Grey said.
"The conversation and the words of the actual subjects we were profiling were so much more interesting than your standardized journal," she explained, "so much more human."