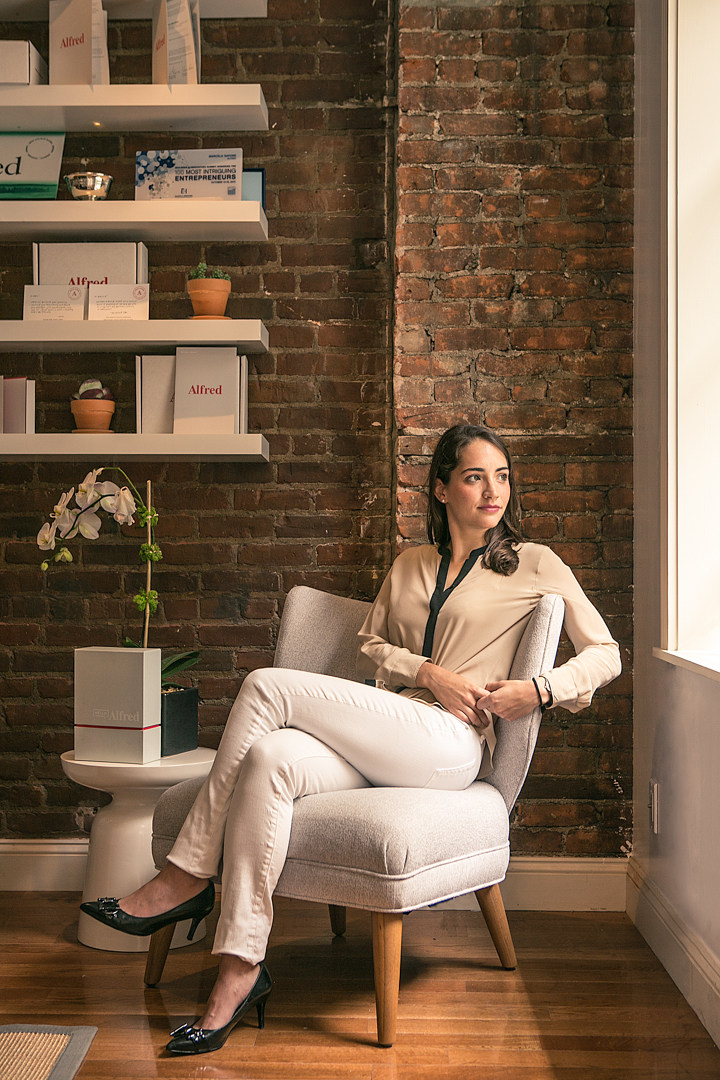 The startup world is saturated by services that purport to handle every inconvenience and externality of daily life. They'll deliver your food, provide you whatever car you need in an instant, bring you any movie or album to your glowing screen of choice on a moment's notice. But what about reaching into your life, clearing away your emotional clutter, sorting out the physical and mental baggage in an age of unprecedented noise?
Enter Alfred, a New York-based startup that pairs you up with a… butler? Servant? No, a caretaker—someone who comes into your home, gets to know your needs and integrates into your life and neighborhood. For $99 a month, Alfred, one of the Observer's Tech Insurgents 2015, will come into your home to do your cleaning, laundry, buy your groceries, do your tailoring or even just bring you your keys when you're locked out of your apartment. It provides you with, essentially, an all-purpose human being that learns what you need and like, and delivers it.
Not surprisingly, the two-year-old company's founders had a personal interest in Alfred-like services. The inspiration for the company came to co-founder and CEO Marcela Sapone in May 2013 when she first saw the Boston apartment of her best friend and fellow Harvard Business School student Jessica Beck.
"She never let me into her apartment; she was this ridiculously messy person. She had laundry like stacked up to her kitchen table," Ms. Sapone told the Observer.
So, as a gift, Ms. Sapone hired a girl named Jenny to start coming by to clean Ms. Beck's apartment. Jenny began buying groceries and taking on more responsibilities, and became the "accidental discovery" that led to Alfred. (Jenny works for Alfred to this day.) Ms. Sapone, who got her undergraduate degree from Boston University and had worked as luxury-retail consultant for McKinsey in Paris before leaving to teach yoga before her return to Boston, saw opportunity, and she and Ms. Beck quickly dropped out of HBS, and started piloting Alfred in Boston as co-founders in July 2013.
The service quickly turned heads, growing primarily through word-of-mouth. The pair returned to Harvard in that fall, won a school-sponsored new venture competition and even turned down their first few potential investors while waiting for the right match. At one point, Tumblr founder David Karp referred to it in a laudatory tweet: "'Imagine you're Batman…' – Best startup pitch I've ever heard." In September 2014, Alfred won TechCrunch Disrupt in San Francisco, one of the most visible competitions for early-stage startups in the world. That month, the company opened its first New York office.
The attention from Disrupt drew the ire of Valleywag, Gawker's now-defunct blog for knee-jerk reactions against tech-industry success. The optics were ugly: Alfred was dragged out as a babysitting service for tech elites who couldn't take care of themselves—despite the fact that the service is not available in Silicon Valley.
"You can make fun of this all you like and say it's servants on demand, but then go talk to our employees: they enjoy what they're doing, it is meaningful work for them, we're paying them well, and people need jobs," Ms. Sapone said.
And just who are the Alfreds? There are two groups: the otherwise stay-at-home parents (predominantly women) who can have well-paid (anywhere from $18 to $25 an hour) work while the kids are off at school, and creative-class kids for whom Alfred is a flexible day job.
Ms. Sapone made it a point to say that Alfred is affordable. Instead, she likened it to premium fast fashion (think Everlane or Uniqlo) as opposed to luxury clothing. The $99 a month, which covers everything except "special requests"—think sending your girlfriend flowers or dropping off some clothes at Goodwill that you've been meaning to donate—was meant to be a simple way to get to market, but Alfred wants to become a more custom-tailored service.
Ms. Sapone said that there are two dominant kinds of users of the service right now. The first just wants the novelty, luxury item. But the second group (like the Alfreds themselves, mostly women) sees it as an essential part of their efforts to have a well-managed life and an organized home. "It's like a life support thing for them," Ms. Sapone said. A future pricing plan, Ms. Sapone said, could use a more high-touch, custom tier for those who need to lean hard on Alfred as a support network.
Perhaps not surprisingly, Ms. Sapone's business inspirations are more high-concept ephemeral than would be expected for a typical startup: Zen meditation, the works of B.F. Skinner, the principles of interior design. But she is mercurial—when she met the Observer at David Zwirner Gallery for an interview, her manner was unrecognizable from the brutal speed and assertiveness of her presentation at Disrupt. She's also a personality mirror, maintaining that in the same way a story can be told like an accordion, in one page or 50 pages at a time, you need to be able to communicate with customers in the same way—to go "from one to 50 quickly, up and down the pyramid of communication."
To Ms. Sapone, Alfred is about having clarity of mind and space, eliminating emotional baggage and providing a service that understands and supports you. It's also about never being out of the groceries you need and prefer, down to your favorite kind of bread or cereal. It's all the promise of the Internet of Things and the connected home, only delivered by human hands.
It's the reason Alfred has been a slow-growth company—though they've taken a hefty $12.5 million in venture funding from Spark Capital and other investors, the company's service is still only available in New York and Boston, though they plan to expand to San Francisco, Los Angeles and Washington, D.C. Ms. Sapone and her team vet not just each potential new Alfred, but local vendors as well, for example, evaluating the local dry-cleaning services in a new area and settling on the three best.
"We'll send shirts with pasta sauce and oil, and they're all carefully audited," she said. "We'll look at the result and we'll say, 'O.K., is this what we signed up for? Are they keeping the quality there?' "
It's part of the same meticulous attention Alfred wants to bring into your home. Of all of the jobs the economy loses to automation, it's estimated that personal-care workers are the least vulnerable.
"You can change the world in lots of ways, but changing the core center of your life to make you feel mentally and physically organized is intense," Ms. Sapone says. "So how do you do that? You need help. You need humans to help you do it."