Dumbo, Brooklyn has long been the home to artist's studios and non-profit art spaces, but in recent years it has also attracted commercial art galleries. Now that more moneyed people are living in the neighborhood, the galleries actually have a local support system.
Wanting to keep the neighborhood a cultural destination, Two Trees Management Company, which owns most of the residential properties in the area, has helped move four of the local galleries from a second floor space on Front Street to prime, ground-floor spaces on Main Street.
Minus Space, which specializes in contemporary reductive abstract art; Klompching Gallery, concentrating on contemporary fine art photography; Masters Projects, which represents a diverse group of contemporary artists; and United Photo Industries, a non-profit photography gallery that organizes the annual Photoville photography festival in Dumbo, all have new, storefront spaces.
The site—a 1906 reinforced, poured concrete building that was constructed by Turner Construction Company, when it was just starting to experiment with this method of building—was originally a stable for Robert Gair, the manufacturer that invented the cardboard box. More recently Galapagos Art Space, a bar and performance venue, occupied the two-story structure for seven years before decamping for Detroit last December.
"When the building became vacant, we embarked on an intense, four-and-a-half month renovation project to transform it into 16-foot ceiling storefront spaces with large windows facing Main and Water Streets," Two Trees Cultural Affairs Director Lisa Kim told the Observer. "We realized that for galleries ground-floor, street-level space is essential."
"United Photo Industries is part of our cultural space program, which is means it is subsidized,"Ms. Kim added. "The gallery tenants, however, are for-profit businesses but we charge them below-market rent. It's our way of keeping these Brooklyn-bred spaces alive in this fast-growing neighborhood."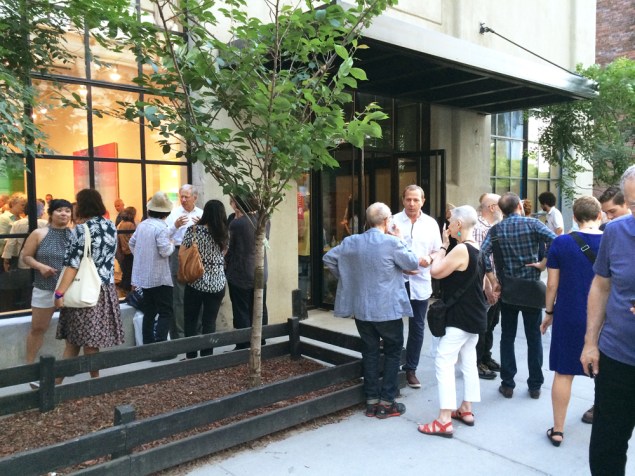 For Minus Space, which is the first of the spaces to open with a solo exhibition of paintings by Robert Swain this past Saturday, it's a game changer. The gallery started as an online gallery, thus the name Minus Space. It opened a small gallery in the Gowanus area in 2006 and moved to Dumbo in 2011—first occupying an 800-square-foot gallery and then a 1,400-square-foot space. Its new 1,600-square-foot home on Main Street has a nice size gallery, a proper office, and a backroom with storage.
"We moved into the building and got set up in one week," Minus Space co-founder Matthew Deleget shared with the Observer. "During that time we must have turned away around 20 to 25 people a day that were wondering what was going on here. Opening day was amazing! The gallery was packed with people, who spilled out into the street and consumed the entire corner of Main and Water Streets, from 5:00 in the afternoon until 9:30 at night."
"We're up and running," Mr. Deleget continued. "We have super-high visibility now and it's only going to get busier as Empire Stores opens and St. Ann's Warehouse moves into the Tobacco Warehouse later this year. I feel like it's going to change what we do and how we do it pretty profoundly."