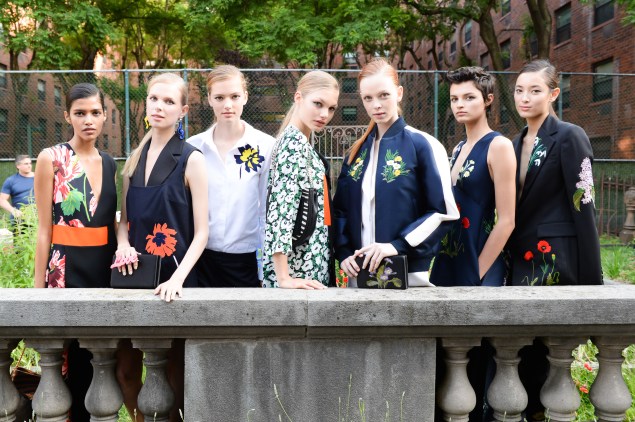 On Monday, Stella McCartney showcased her Spring 2016 collection on Elizabeth Street with Cuban-themed party to mark the occasion. With everyone from Alexa Chung and Miranda Kerr to Alicia Keys and Cara Delevingne in attendance, the garden venue was, of course, the place to be. Replete with stilted performers in clown attire, a live band and a slew of bags and shoes on colorful pedestals, the outdoor space was buzzing with editors and celebs catching glances (and snapping Instagrams) of vibrant clothes on the doe-eyed models. The ambiance was rather fitting, as the collection itself is packed with a mix of classic floral prints and modern sporty silhouettes.
And while Ms. McCartney's new collection was certainly ogle-worthy, the guest's getups were also worth a mention.
With three impressively different takes on classic denim, Dree Hemingway, Atlanta de Cadenet Taylor and Harley Viera-Newton looked just right for Ms. McCartney's presentation. Plus, Ms. Taylor's peach flower was a sweet touch.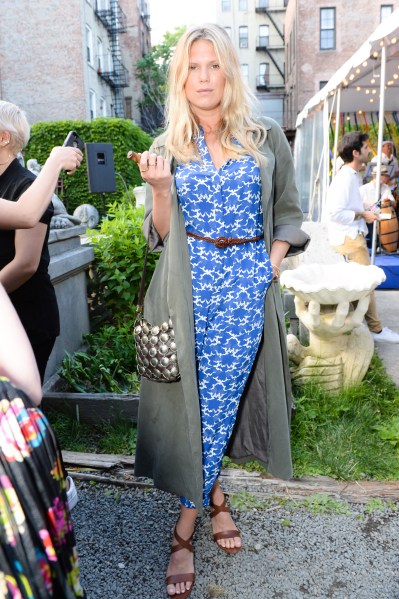 Alexandra Richards, paired simple leather sandals with a cotton poplin shirtdress, resulting in an easy, summertime outfit.
Tavi Gevinson has embraced this season's culotte craze with this pale yellow pair. The cutouts and easy rope belt were a charming addition.
Just like Ms. Gevinson, The Man Repeller's Leandra Medine rocked a full suit in this pastel hue.
Stella McCartney remained relatively reserved in a black pantsuit, while Alan Cumming and his mother Mary Darling, both arrived in bold shades of pale green, serving as excellent compliments to one another.
So yes, in short, it was the garden party of the century. But even if the rest of us couldn't dance with stilted men and models in beautiful, well-manicured greenery, we can still appreciate the incredible Spring 2016 collection Ms. McCartney has created.