Older than the Met and the Boston Museum of Fine Arts, Hartford's Wadsworth Atheneum Museum of Art is the oldest art institution in the country at 173-years-old—and it's getting a major makeover. On September 19, the Wadsworth will have its grand reopening after a five-year, $33 million renovation on 32 of its galleries and 15 different public spaces.
"I am bowled over by the amazing transformation the Wadsworth Atheneum has undergone in the eight short years I've been here, from my earliest days of having to close galleries because water was seeping through the walls, to now watching in awe as row upon row of stunning paintings are installed in those same spaces, now exquisitely refurbished," director Susan L. Talbott told the Observer in an email. "When I retire at the end of this year I will be leaving on the sort of high note of which I've dreamed."
The campus is comprised of five architecturally unique buildings, built between 1844 and 1934. The main building resembles a Gothic Revival stone castle; the Colt Memorial Wing, Tudor Revival style; the Morgan Memorial, Renaissance Revival style; the Goodwin Building, late Modernist; and the Avery memorial, modern International style. Hartford-based firm Smith Edwards McCoy Architects, known for their historic preservation work in the area, have made much needed updates keeping in mind the historic integrity of each building. Key changes include the opening of previously closed skylights, replacement of historic Caldwell & Company Torchiere lights with reproductions made from the original drawings, and restoration of a 20th century Heinigke & Bowen stained glass daylight using historic methods and leaded glass inlays.
In January 2015 the museum opened the first portion of its renovated and rehung galleries with its Postwar and Contemporary art wing. In September, the museum will unveil its brand new European galleries inside the historic Morgan Memorial Building, giving visitors a brand new view of its European collections for the first time in 20 years. It will also be the first time in 50 years that all of the museum galleries will be open at the same time. (The museum's collection totals 50,000 works of art that span 5,000 years.)
Some highlights of that renovation include the Early Baroque Gallery, which will display Artemisia Gentileschi's Self-Portrait as a Lute Player (1616-18) for the first time, Zurbarán's St. Serapion (1628), recently restored with a grant from the executive committee of The European Fine Art Fair (TEFAF) by the Wadsworth's conversation lab, and paintings by Caravaggio and Poussin.
Within the Morgan Memorial building—built by financier J. Pierpont Morgan—will also be a new exhibit titled the Cabinet of Art and Curiosities, a collection of 200 objects ranging from crystals to wooden nesting cups, from Morgan's collection. Touch screens will give viewers a chance to learn more about individual objects.
"Although our display may seem to put many different kinds of objects together in a haphazard fashion, it actually restores them to their proper historical context. Here they are organized as the first avid arts patrons in Europe would have presented them," said senior curator Linda Roth in a statement.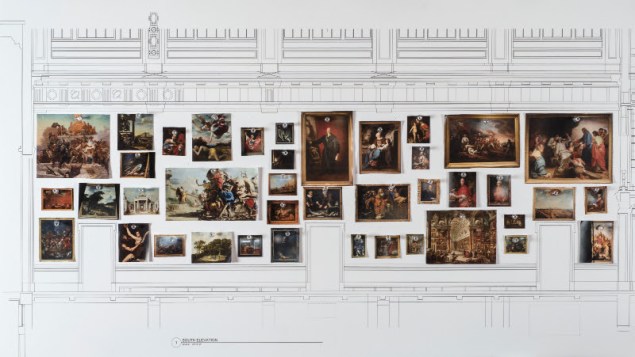 One of the most anticipated changes to the museum is its new Great Hall, which will act as a main thoroughfare to connect smaller galleries for Asian art, Greek and Roman antiquities, Medieval art, and early Renaissance masters. Hanging salon style on 24-foot-high walls will be Giovanni Paolo Panini's The Picture Gallery of Cardinal Silvio Valentie Gonzaga (1749), Luca Giordano's Saint Sebastian (ca. 1660), and works by Tintoretto, John Trumbull, Nicolaes Maes, and Edwin Landseer.
Curator of European art Oliver Tostmann said in release from the museum, "In America's first public art galleries in the late 19th century, the history of art aligned 'imperfectly,' but imaginatively, to European standards. I believe it makes perfect sense to see works of art installed in this way today in our Great Hall."
But the Wadsworth isn't the only museum that will likely open to fanfare and celebration this fall. Los Angeles' 120,000-square-foot Diller Scofidio + Renfro-designed Broad Museum is set to open September 20. The museum will house 2,000 works from Eli and Edythe Broad's personal collections of postwar and contemporary art, and cost $140 million. Plans are still underway to complete a 24,000-square-foot public plaza green space adjacent to the institution.