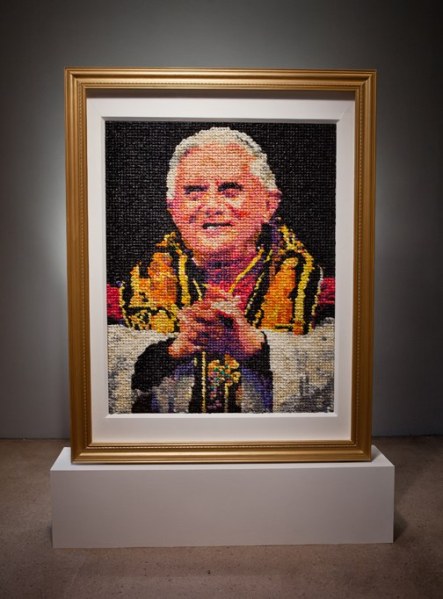 Pope Benedict XVI is stirring controversy in Milwaukee. The kerfuffle is the result of a depiction of the former religious leader, made of 17,000 multi-colored condoms, which was recently acquired by the Milwaukee Art Museum. Now some patrons of the museum are up in arms.
The Journal Sentinel reports that artist Niki Johnson's portrait, titled Eggs Benedict, which was donated and announced earlier this month, has yielded close to 200 complaints, inspired some patrons to discontinue their memberships, and even motivated the resignation of one long-time staffer.
"This was never intended to be derisive, mocking or disrespectful of the pope," museum board of trustees president Don Layden told the Journal Sentinel. "It was to have a conversation about AIDS and AIDS education. And my hope is when the piece appears in the museum that will be the focus of the discussion."
Ms. Johnson's likeness of the Pope, woven together with latex condoms, was inspired by remarks made by the leader in 2009, when, on a visit to Africa, he said condoms were not the solution to the AIDS crises, a statement that inflamed global health officials trying to stop the spread of the disease.
A statement about the piece on Ms. Johnson's blog from 2013 reads: "Eggs Benedict exists because I believe it is my responsibility as an able bodied person living in our current cultural climate to incite further discussion about the direction our leaders point us in."
The piece was donated to the museum from philanthropist and gay rights advocate Joseph Pabst, who originally bought the painting for $25,000. "I did not buy it because I thought it was beautiful," Mr. Pabst told the paper. "I bought it because I thought it was provocative and I thought it was important."
Eggs Benedict was first shown in 2013 at the Portrait Society Gallery in Milwaukee, and immediately garnered widespread attention. Now eyes are back on Ms. Johnson, and the Milwaukee Art Museum, with news that the portrait has been added to the institution's permanent collection.
Milwaukee's Archbishop Jerome Listecki sent a letter to the museum in opposition, calling the work "insulting.: He, and others like docent Kathleen Arenz, have expressed the opinion that the museum was more lenient with its tolerance of the political work than it would have been had the work targeted a different faith.
Some museum officials dispute Mr. Listecki's arguments, and Mr. Layden explained to the Journal Sentinel that acquisitions were only evaluated on their individual merits.
Former Milwaukee museum director David Gordon stated, "It is a work that offends the Catholic Church. So be it. If an art museum is not offending some of the people some of the time, it is not doing its job: controversy is the food of democracy."
Despite, or perhaps because of, the uproar, the museum reports that they have gained 1,300 new memberships in just the last week.