Light-filled, airy and buoyant, the new Whitney Museum of American Art received great reviews at its opening last month. In some ways, the striking new building even upstaged the museum's inaugural exhibition, "America is Hard to See." This despite the fact that Italian architect Renzo Piano's 220,000-square-foot structure lacks an overall iconic image like the Whitney's previous home in the Marcel Breuer-designed building on Madison Avenue.
"Unlike the former Whitney building," museum director Adam D. Weinberg told me, "people cannot get a sense of the structure in a single image. It's not a branded building in that way. But the complexities of the exterior reflect the multiplicity of the spaces—and the artworks inside."
So what exactly is inside this $422 million cultural pleasure dome located at the previously non-existent address of 99 Gansevoort Street?
Upon entering the museum's 6,000-square-foot free-admission shopping-mall-like atrium and lobby, the only artwork actually visible is an untitled 1994 installation by the late Cuban-born artist Félix Gonzáles-Torres, featuring a dozen strings of white light bulbs vertically suspended in the building's main staircase alcove.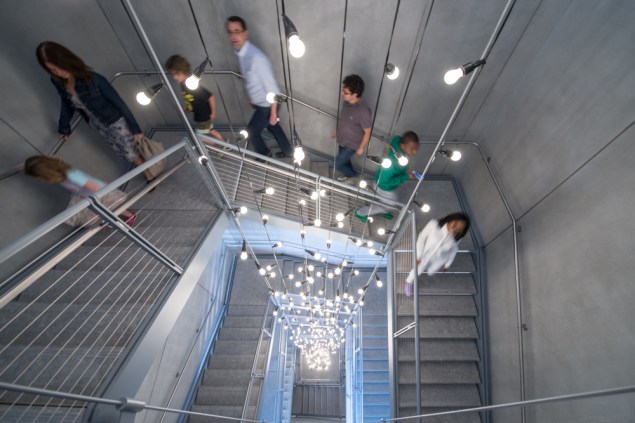 A relatively small ground-floor exhibition space, tucked away toward the rear of the lobby, features a tribute to museum founder Gertrude Vanderbilt Whitney, who opened the first Whitney Museum in 1931, in the West Village. The highlight here is Robert Henri's colorful 1916 portrait of the reclining philanthropist, looking regal yet relaxed in turquoise silk pajamas. Also on view is a selection of artwork and artifacts from her collection, to give an idea of what the first Whitney Museum visitors might have seen.
But the new museum's main show unfolds in the upper floors of the nine-story building, and you need a ticket to proceed. The strikingly handsome elevators are inviting. The interior of each is embellished with designs commissioned from artist Richard Artschwager, completed just before his death in 2013. The elevator doors open on the eighth floor to two resplendent abstract paintings by Marsden Hartley, and this is where "America" takes off.
"America" in general presents a concise and cogent point of view, but it is not totally persuasive, and by no means does it tell the whole story. Some of the juxtapositions of works seem arbitrary, and many of the pieces are organized in thematic sub divisions or "chapters," as the curators call them, with wall labels reading "Rational Irrationalism," "Racing Thoughts," "Love Letter from the War Front," "Free Radicals," and "Get Rid of Yourself," that at times seem sophomoric and forced, as if aimed merely to prompt cheeky sound bites.
Occupying five floors, "America is Hard to See" is certainly a vast, ambitious show, featuring some 600 works by 400 artists, culled from the Whitney's permanent collection of over 21,000 items. Organized by an in-house curatorial team led by chief curator Donna De Salvo, the gracefully installed exhibition contains many familiar pieces, as well as some previously hidden treasures that the limited spaces of the old Whitney were not able to accommodate.
The works are arranged more or less chronologically with the earliest pieces on the top floors, and more contemporary works installed on lower levels, including Hartley's Painting Number 5 (1914-15), created during the artist's stay in Berlin. The composition features an arrangement of colorful, abstract shapes alluding to military regalia and a German officer with whom Hartley was enamored at the time.
Elsewhere on this level are important paintings by Georgia O'Keeffe, Stuart Davis, photographs by Margaret Bourke-White, and sculptures by John Storrs, all paying homage to America's Machine Age, and the Jazz Age, in the early years of the 20th century.
Alexander Calder's ever-popular Circus (1926-1931) is given pride of place on the seventh floor. On view nearby are more unusual but equally compelling works by William H. Johnson, Paul Cadmus, Ben Shahn, Charles Demuth, and others. One large gallery highlights Abstract Expressionist greats, including iconic paintings by Pollock, Rothko, and de Kooning, plus sculptures by Mark di Suvero and John Chamberlain.
An unexpected treat on this floor is a dynamic, welded-steel work, Extending Horizontal Form (1958) by Chicago maestro Richard Hunt, which the Whitney has not shown for many years. Full of vitality and movement, this graceful, abstract composition corresponds to more familiar sculptures by David Smith placed nearby.
Pop art classics by Warhol, Wesselmann, Oldenburg, Johns and Marisol, et al., dominate the floor six, along with key examples by Minimalist giants like Donald Judd, Sol LeWitt, Eva Hesse, Brice Marden and Tony Smith. Among the more unexpected choices are shaped canvases by Thomas Downing, a neon sculpture by Keith Sonnier, a cascading graphite wall hanging by Michelle Stuart, and Rafael Ferrer's striking Neon Corner (1970), consisting of a metal pipe leaning in a corner, with a circular white neon shape at the base.
Boasting the largest column-free gallery space in New York, at 18,000 square feet, the fifth floor opens with a bang. Hung facing the elevators, large-scale paintings by David Salle and Barbara Kruger are set against a backdrop of He Kills Me (1987), an AIDS protest mural by Donald Moffett, showing repeated lithographic images of Ronald Reagan in acerbic, Day-Glo colors. Also on hand are works by Fred Wilson, David Hammons, Jeff Koons and early videos by Vito Acconci.
Another welcome surprise here is a riveting display area named "Scotch Tape," after the eponymous 1961 underground film by Jack Smith, running continuously on a small monitor. The eccentric and fiercely anti-establishment Smith, who died in 1989, would be shocked to find his work not only no-longer-underground, but permanently ensconced in this hallowed institution, in a room with works by Robert Rauschenberg, John Cage, Lee Bontecou, Bruce Conner, and others.
There are some glaring omissions in "America is Hard to See." For instance, there is almost a complete snub of the Color Field movement, as Frankenthaler, Noland, Olitski, Poons, et al., are conspicuously absent. Although this once vital genre, which flourished in the 1960s and '70s, might be out of critical favor at the moment, its historical value is significant, and its influences are felt in the work of many young artists today.
Borrowed from a Robert Frost poem, the show's title suggests the impossibility of claiming a precise assessment of America, and in this case, the story of American art. Effective as a curatorial disclaimer, the title is both disarming and apt. "America is Hard to See" almost upends the axiom that if you try to please everyone, you wind up pleasing no one. The show is pleasurable, but not simply out to please. And it is massive, but not really exhausting.
Indeed, a number of floors offer rest areas. One features a row of comfy armchairs in a walled-off area facing floor-to-ceiling picture windows—reminiscent of those at London's Tate Modern overlooking the Thames. Here, Mr. Piano offers a respite for art-goers, a place to absorb the works of American art that were not so hard to see after all, and, of course, to check email.