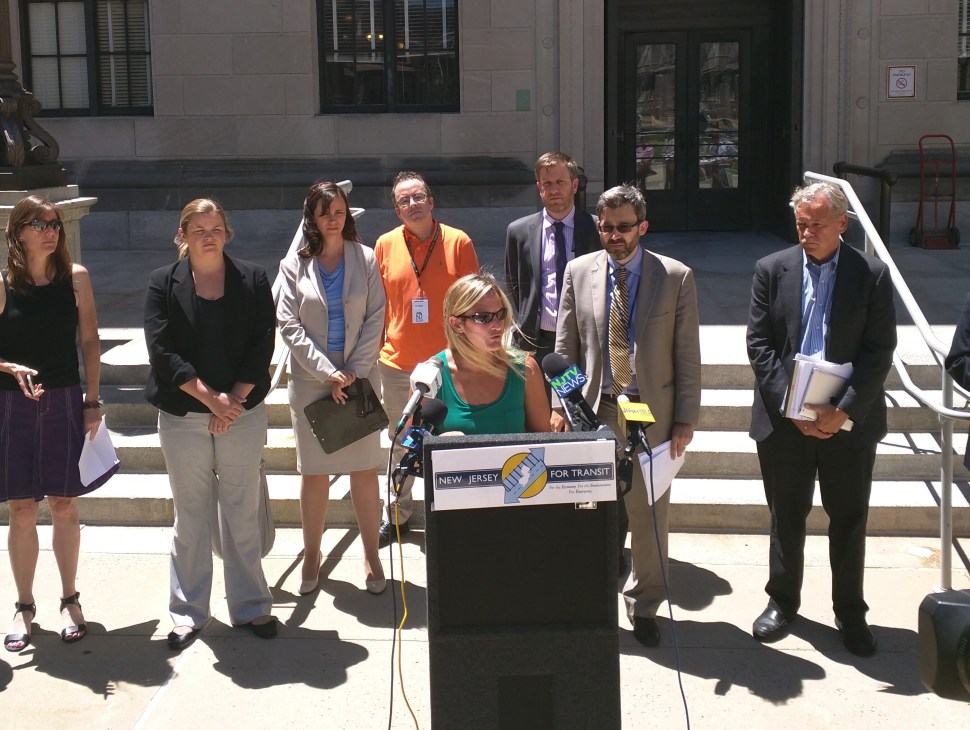 TRENTON — On the eve of a $35.8 billion budget vote in the legislature, and two weeks before board members of the state's main public transportation corporation are expected to approve a nine percent fare hike on trains and buses, a team of environmental and economic activists gathered outside the statehouse today to compel lawmakers to come up with a last-minute solution to the problem.
Leaders of an 18-member coalition called New Jersey For Transit, made up of liberal advocacy groups from across the state, blasted Republicans and Democrats in the legislature for failing to address NJ Transit's $60 million budget gap, which officials have used to justify a proposed nine percent fare increase and cuts to service on public trains and buses. It's the second round of hikes and cuts the state has dropped on commutes in the last five years, and has drawn scrutiny from lawmakers and from riders over the last few months a public hearings held at mass transit hubs across the state.
But neither Gov. Chris Christie, in his proposed $33.8 billion budget, nor Democrats, in a $35.3 budget unveiled and moved through the legislature yesterday, included funding that could have prevented the cuts — though advocates argue there's still time.
"The time is now. Less than a week remains for leaders in Trenton to come together find a solution to avoid the need for NJ Transit's proposed fare hikes and service cuts," said Janna Chernetz, New Jersey Policy Analyst for Tri-State Transportation Campaign. "Gov. Christie has failed to acknowledge the breadth of the transportation funding crisis in New Jersey. The entire transportation funding structure, both capital and operating, in New Jersey is broken and it is irresponsible, unjust and unconscionable for the Governor and the Legislature to require transit riders to pick up the pieces."
"It is high noon for NJ Transit riders in Trenton – there won't be a second chance to save riders from another fare hike and service cuts," said Doug O'Malley, director of Environment New Jersey. "Gov. Christie has signed off on stiffing NJ Transit and their riders. Senate President Sweeney and Speaker Prieto shouldn't support a budget that gives the shaft to riders."
Democrats are set to put the finishing touches on their spending plan tomorrow, when it will go for a final vote before lawmakers in both houses. The budget is one of the biggest in state history, focusing largely on funding for higher education, healthcare and social services, and a beleaguered pension and benefit system, for which it puts up a full $3.1 billion scheduled payment for FY2016.
Many of those measures are likely to meet Christie's veto pen, however.
"We're here today to call on the legislature to stand up to the governor and fund transportation, and to fund NJ Transit and protect commuters of this state," said Jeff Tittel, Director of the New Jersey Sierra Club. "We're concerned that the Democratic leadership, that have complained about these fare hikes, have to also not talk the talk but walk the walk. They have to put the money up. Because if they don't, they're complicit in what the governor is doing."
"Tomorrow is D-Day," Tittel said. "This is it."
Advocates say the hikes leave commuters, particularly low-income commuters who rely heavily on public transportation, on the hook.Riders of local urban buses would increase from $1.50 to a $1.60, for a one-zone fare. Multi-zone trips will increase and one-way fares on commuter buses would increase an average of 75 cents $1.50.
The public comment period for the proposal closed on May 12, and NJ Transit's Board of Directors is expected to approve the proposal during their upcoming July 15 meeting.
"Every budget is about choices. Saddling New Jersey's commuters with another fare hike and continuing to neglect one of the state's greatest assets would be a very bad choice," said Jon Whiten, Deputy Director of New Jersey Policy Perspective. "Adequately investing in public transit must be a priority for New Jersey's leaders. The state's economic future depends on it."
Still, it's unlikely lawmakers — even Democrats, who themselves have criticized the proposal for the impact it's likely to have on commuters in their districts — will decide to make a real push prevent the hikes tomorrow. Observers note that the Democrats' budget is all but finalized, with little political will among Democrats or Republicans to change it now — thought there is legislation pending in the Assembly that could prevent similar hikes in the future.
Also, Democrats — particularly in the Assembly — argue they're already doing their due diligence.
"Anyone suggesting the Speaker is not standing up for commuters is being disingenuous, to say the least," said Assembly Democratic spokesman Tom Hester Jr. "The New Jersey commuter has no greater friend than Speaker Prieto, who has advocated – at political risk – for rebuilding New Jersey's roadways and mass transit infrastructure. The Speaker does not believe handing NJ Transit a big pile of cash and trusting it to spend it properly is the answer. He and many other Assembly Democrats have called for NJ Transit to avoid the fare hikes by controlling its spending and showing some fiscal restraint and responsibility. In fact, the Speaker was the first to condemn the fare hikes. This is the bottom line – anyone angered by the NJ Transit fare hike should be focusing their ire where it belongs – Gov. Christie's office. "