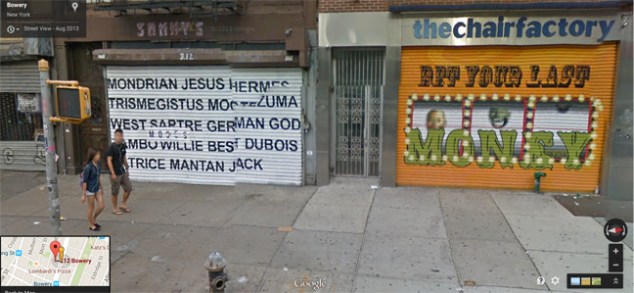 After 13 years in Chelsea, art dealer Andrew Edlin is packing up and moving his gallery to a new location at 212 Bowery. The new space is just across the street from the New Museum, and will count Sperone Westwater, Salon 94 Bowery, Judith Charles Gallery, Garis & Hahn, and the new International Center of Photography among its close neighbors.
Andrew Edlin is well-known for showing self-taught artists such like Henry Darger, and has become a leading figure in the field of outsider art. He is also the CEO and founder of Wide Open Arts, which has overseen the Outsider Art Fair in New York and Paris since 2012. The Bowery location will be home to Mr. Edlin's gallery and Wide Open Arts when it opens between late September and early October 2015.
The Observer spoke with Mr. Edlin by phone, who confirmed that the gallery was in the process of planning and building out the new space. He has been at his current location at 134 10th Avenue (between 18th and 19th Street) for the past six years. That space is a ground floor space of approximately 1,700-square-feet, with an additional 400-square-feet at the basement level, he told us. But with its new home, the gallery will be gaining a great deal more exhibition space: approximately 5,000-square-feet between the ground floor and basement level.
With more space between the two floors, Mr. Edlin said that he was now "thinking of the option to show two shows simultaneously."
It's no surprise with city rents sky rocketing, and many galleries like Marianne Boesky and Casey Kaplan looking to the Lower East Side and the Flower District for alternatives, that Mr. Edlin's move is also motivated by rents and interest from developers.
"Half of my block is going to be razed in the pretty near future, so that was certainly the biggest motivating factor. This building won't exist anymore," he said. "We've been looking for a space for a while, and we weren't finding anything in Chelsea. This just seemed like the right fit."
Plans for the gallery's first exhibition at 212 Bowery are still in the works.