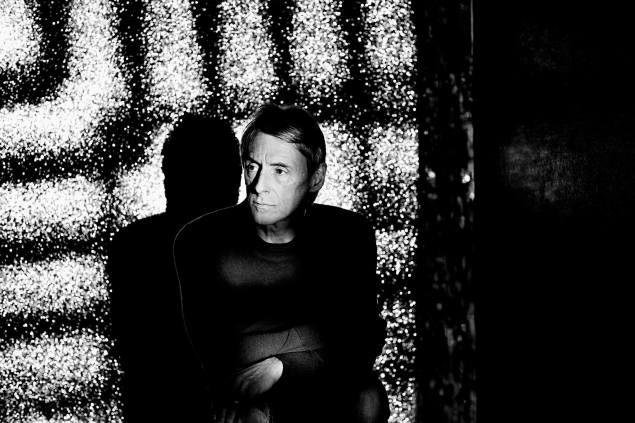 "In the city there's a thousand men in uniforms, and I've heard they now have the right to kill a man," sang Paul Weller in the spiky title track of the Jam's 1977 debut album. It was an iconic punk anthem capturing the British left-leaning youthful politics of the time. It rings prophetically true now outside that land, too.
---

Paul Weller has created his own world and found sanity in self-energy.


---
Weller later wrote a heart-stopping love song as tragic as it is pretty—"Ghosts of Dachau"—where an imagined man, "handsome in rags," sings to his wife: "Don't go to the showers… Stay with me angel, don't get lost in history." This song was one of many great moments in Weller's post Jam band, the Style Council's much-overlooked career, where Weller boldly switched to a pop sound fusing soul and jazz. Pop and Dachau, that's progressive thinking.
Some two-dozen albums since In the City that brash ingenuity has given way to hard-earned wisdom. "I don't get anxious, I leave it up to fate," Weller sings on "I'm Where I Should Be," a swooning beat pop cut from his May-released album Saturns Pattern. Maybe, Weller, a man comfortable in his age, in this age, and in his own skin, doesn't look outside himself for beauty and truth anymore.
But don't get the wrong idea, the 56-year-old Surrey native isn't settling into a self-satisfied middle age. Saturns Pattern follows the widely experimental, and totally brilliant (in every sense of those words) Sonik Kicks, which was released in 2012, and debuted at No. 1 on the U.K. album chart, while barely making a flutter in the U.S. Still, perhaps the unbridled energy of that wild ride caught the right ears: Saturns Pattern—annoyingly, there is no apostrophe in the official spelling—is Weller's Warner Bros. debut, and with that kind of major label clout behind him, Weller will embark on one of his longest North American tours, landing him in New York at Terminal 5, June 12, and at the Music Hall of Williamsburg, June 20.
[youtube https://www.youtube.com/watch?v=px-JKHK3FCk&w=560&h=315]    
Weller has created his own world and found sanity in self-energy by shunning the influence of outsiders. He works in his own recording facility, Black Barn Studio, and surrounds himself with longtime collaborators, but brings in trusted new guns, too: the team behind Saturns Pattern includes drummer Ben Gordelier, keyboard player and backing vocalist Andy Crofts, and former Ocean Colour Scene guitarist Steve Cradock, who form Weller's core crack crew, and Josh McClorey from British buzzed-about rockers, The Strypes.
Weller pretty much self-produces, but once again, producer Jan Kybert (Oasis, Massive Attack) is a trusted second set of ears. Saturns Pattern is not the wild sonic ride of Sonik Kicks, where oscillators and space echoes, and all sorts of noise toys ran wonderfully amok. But throughout these songs there's a playful spacey whirring, whooshing and fizzing, adding unexpected layers to rich arrangements. Those embellishments wouldn't mean a thing without Weller's broad songwriting chops—he easily and authentically moves from punky buzzsaw guitar led ("Long Time") to jaunty pop nuggets ("Going My Way"). And for all the instrumental prowess here, including Weller's elegantly accomplished guitar playing, the vocal is a clean, keen centerpiece. It's a dusky, melodically compelling instrument that, as he tenderly sings "Going My Way's" bare balladic intro, proves undimmed by age.
---

Some two-dozen albums since In the City, Paul Weller's brash ingenuity has given way to hard-earned wisdom.


---
Weller hasn't allowed himself the comfort of standing still ever really. He broke up The Jam at its peak in the early 1980s to form the Style Council, and then, in the 1990s, he went solo, exploring 1960s blues-rock with a quiet passion. This summer, London's Somerset House has a comprehensive new exhibition, The Jam: About The Young Idea, which opens June 26, and a new Jam CD compilation and limited edition book, Into Tomorrow, are to be released, too.
Weller's outgrown his musical past; it's all here in the riffs and grooves of Saturns Patterns. But with huge nods to the Style Council's elegant jazzy soulfulness in songs like "Phoenix," an organ-led breezy jazzy pop number with claret-y vocal harmonies, and a beat that's like a racing heart, and in the sublime groove cut "Pick It Up," that band's considerable legacy is ripe for review.
There's no doubt this album continues what Weller began with his solo career though: the bluesy roar of "White Sky" and "In the Car's" Delta boogie stomp further hones a legacy begun by postwar American greats like John Lee Hooker. But, just as the Beatles turned Chuck Berry's riffs into something brand new, Weller is fearless, overlaying an atonal piano part over "In the Car's" circuitous guitar line. It's as brilliantly unsettling as it is hypnotic. As Weller sings in "I'm Where I Should Be"—"Reach for the sky, I only want what's mine… I know exactly why, I'm where I should be."
Paul Weller plays Terminal 5 in Manhattan, June 12, and Music Hall of Williamsburg in Brooklyn, June 20.