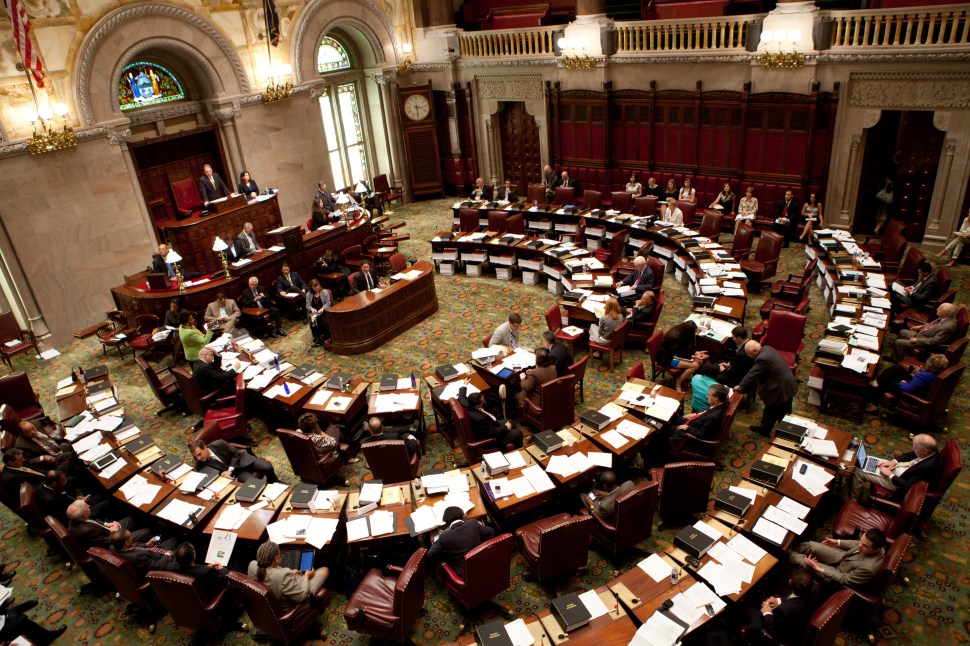 It's rare that progressive housing advocates and the Real Estate Board of New York agree on anything, but it seems that everyone—with the exception of Gov. Andrew Cuomo and the state legislature—believe that the real estate development incentive known as 421-a, which is up for renewal this month, is in desperate need of reform.
Gov. Cuomo, however, has indicated that he intends to "stay the course," on 421-a, Capital New York reported in May, seemingly content to renew an outmoded program in the wake of U.S. Attorney Preet Bharara's anti-corruption sweep, which resulted in the arrests of House Speaker Sheldon Silver and Senate Majority leader Dean Skelos. Negotiating a direly needed reform at such a time is either beyond the ability or the desire of our elected leaders in Albany.
---

This is an opportunity to preserve some strengths of the current plan

---
The package being pitched by the mayor bests the current package and its proposed extension in nearly every way. The "reform package," as the mayor's on-brand communications staff has dubbed it, builds more than twice as many affordable housing units (25,500 vs. 12,400), assists those at lower income thresholds ($31,080 vs. $46,600) and corrects several misguided elements of the current rules, such as separate entrances based on residents' income ("poor doors") and tax benefits for those building luxury condos.
The program, which began in 1971 as a development incentive to counter the systematic disinvestment that had brought the city to the brink of financial collapse, has been reformed, amended and tweaked multiple times over its 44-year history. And for good reason—the New York it was created for is almost wholly unrecognizable from the New York of today. The 421-a program has been an oft-clumsy tool for addressing the city's affordable housing needs and it has also become an increasingly expensive one. But those who site the $1.1 billion in "lost revenue" fail to appreciate how other kinds of revenue accrue. Many of these buildings would not have been built without the program and the city should look to the economic activity being generated by all the residents in the buildings that are supposedly underpaying.
Incentivizing affordable housing via a tax abatement is an inherently tricky business—there's a fine line between a lure and a giveaway—and changes to 421-a in the past have been rightly criticized for lagging behind the market. This is an opportunity to preserve some strengths of the current plan—different affordability requirements based on neighborhood; in a city like New York, one size can and does not fit all—while also moving away from the drawing of geographic zones that often fell out-of-date as soon as they were demarcated.
Mayor Bill de Blasio's reform proposal would eliminate the benefit for condos and do away with the Geographic Exclusion Areas that demarcate whether or not developers had to build any affordable housing at all to get the exemption. In return, exemption periods would leap from 20 or 25 years to 35—a boon to developers that some critics of the plan say would far outweigh the financial benefits of eliminating the condo exemption. The Real Estate Board of New York's out-of-the-gate endorsement of Mayor de Blasio's plan has also made many affordable housing advocates wary that its terms are too favorable to big developers. Gov. Cuomo has, in recent days, also characterized the proposal as a sweetheart deal for big developers, but he has given no indication that he's committed to hammering out a real alternative.
---

Developers would be well advised not to allow the perfect to become the enemy of the good.

---
We've also heard rhetoric—amplified by what seems like a bottomless budget for TV commercials—linking 421-a to a "prevailing wage." This is a pure political maneuver that by definition makes creating affordable housing harder by increasing costs for developers—most of which pay a strong wage already. The mayor's deputy mayor for housing and economic development, Alicia Glen, told the City Council that forcing 421-a recipients to pay prevailing wages would result in 17,000 fewer units being built, citing independent studies funded by Columbia University and the Citizens Budget Commission. When even the mayor, who was elected with strong support from labor, indicates that the need for housing is more pressing than the narrow interests of trade unions, the gravity of the need strikes home.
Mr. de Blasio's plan is imperfect. We would prefer that was not linked to a significant raise in the so-called "mansion tax," which would raise the current tax on homes sold for more than $1.75 million and would nearly double it on homes over $5 million. We are cheered by the plan's suggested "lock box" that earmarks the mansion tax money specifically for affordable housing but we want proof that those funds will not be squandered by NYCHA, with its chronically inefficient management and politicized allocation of funds. We also disagree with the implementation of currently in vogue "prevailing wage" provisions for service workers in buildings with as few as 30 units.
But developers would be well advised not to allow the perfect to become the enemy of the good. Mayor de Blasio's team has dealt with one of the city's most pressing issues in a thoughtful way in which no group gets everything it wants but all will benefit.
And hey, at least his administration tried to grapple with the crucial task of improving 421-a. Albany, by contrast, in indicating that they have no wish to take up real 421-a reform this year, has shown a failure of leadership. If Albany doesn't wish to get into the weeds on New York City housing policy, perhaps it's time that they relinquish control of it.