Stacey Bendet, the eclectic founder behind the girly-chic label Alice + Olivia has a soft spot for the Hamptons. Ten years ago, before her brand went global and became a favorite of starlets including Beyoncé and Gigi Hadid, she opened up her very first freestanding retail shop in East Hampton. "For our opening party in East Hampton it was just a bunch of our friends, who were skateboard kids, serving margaritas on the sidewalk," Ms. Bendet reminisced to the Observer. "We've come a long way since then."
While East Hampton wasn't far—geographically speaking—from the party that Ms. Bendet threw on Saturday night in the Hamptons, in theory it was legions away from that first tequila-fueled sidewalk bash. Hosted in a boho-themed tent overlooking the ocean at Montauk's Gurney's hotel, a crowd of it-girls and entrepreneurs celebrated a decade of Alice + Olivia. While model Erin Wasson chatted with friends in a tapestry-covered corner, Atlanta de Cadenet Taylor slipped on a flower crown and danced with model Laura Love and haute baker Amirah Kassem to a live violin set from Margot and Mia Moretti of The Dolls.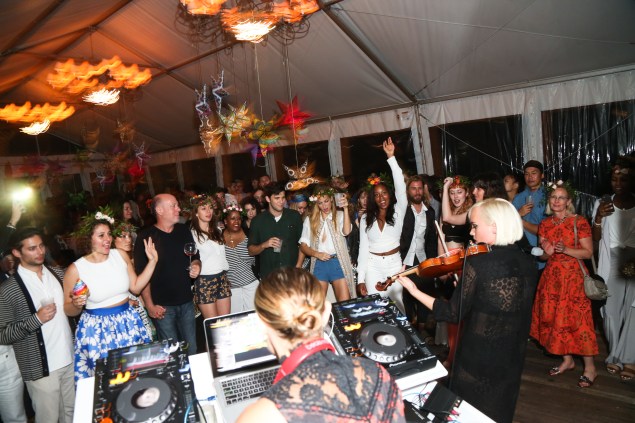 Other attendees, who weren't dismayed by the untimely rain at this BBQ bash, included photographer Ben Watts, musical siblings Allison and Matthew Mosshart, the Surf Lodge's Jayma Cardoso, One Management's Scott Lipps and Jenné Lombardo of Milk Studios. While most partiers sipped The Fat Jew and Babe Walker's White Girl Rosé (which is shaping up to be the drink of the summer) Ms. Bendet refrained, as she's due with her third child.
Instead, she shared stories about the growth of her brand. "For my first store opening I had to paint an entire chandelier on the ceiling, but now I have a whole visual staff. Opening up our own store taught us a lot about what the brand was and who the collection was for. It's how we really started to develop as a brand," the designer explained. She's also excited to celebrate the international growth of her brand. While she currently has 30 shops across the globe, the near future sees her opening up stores in Miami, Houston, Beijing, Shanghai, and Beirut.
However, there's one place that she has no plans to set up shop in: Montauk. "I really like it out here and the vibe is really fun," she noted. "But the way we open stores is based on foot traffic and big restaurants. That would be hard for us out here." Luckily, the Alice + Olivia East Hampton shop is just a short drive from the party-friendly shores of Montauk.