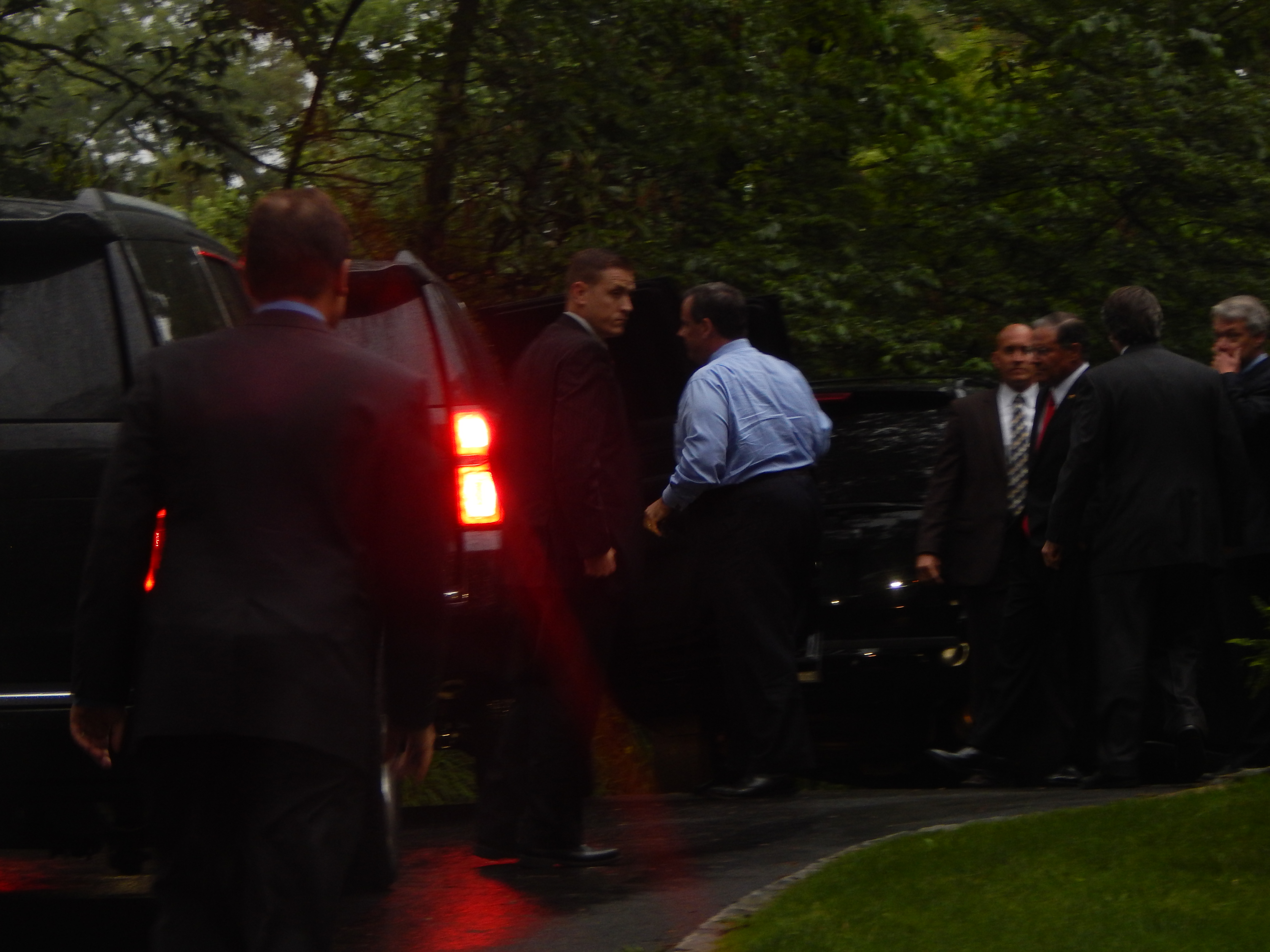 WESTFIELD – A bevy of Republican stalwarts, including New Jersey Gov. Chris Christie, braved the rain and came out to state Assembly Minority Leader Jon Bramnick's (R-21) Westfield home on Monday night to support the GOP campaign to take over the state Assembly in 2015.
Among those who strolled past Bramnick's verdant, long lawn were his Westfield neighbor, state Senate Minority Leader Tom Kean Jr.; state Assemblywoman Nancy Munoz (R-21); state Assemblyman Anthony M. Bucco (R-25) and Somerset County Republican Chairman Al Gaburo.
Asked about how the GOP will be able to take over the state Assembly, now held by the Democrats by a 48-32 margin, Gaburo grinned amidst the raindrops.
"How are we going to do it? A better map!" said Gaburo, referring to the current state legislative boundaries. "I've got to be honest, right?"
More than 50 attendees reportedly paid $5,000 each to bolster the Assembly Republican Victory committee, according to a New Jersey GOP source.
Bramnick, taking a decidedly different approach than Gov. Christie has recently taken with the New Jersey media, lent an umbrella to one stoic yet soggy reporter.
Christie himself, perhaps wanting to avoid shouted-out questions such as the one he answered about paid sick leave after a New York City fundraiser recently, rode right up Bramnick's driveway in an official black Suburban, was quickly surrounded by suit-wearing men and entered the event via a side entrance, not across the front porch.
With controversy still swirling around Christie concerning questions about the September 2013 access lane closures at the George Washington Bridge, also known as the Bridgegate scandal, the future of New Jersey's pension and benefit system and the ongoing funding crisis with the state Transportation Trust Fund, the sound and the fury surrounding Christie, a potential 2016 Republican presidential candidate, apparently stopped for a moment on Monday night.
"It's so quiet in there you can hear mice dancing on cotton," said a member of the police detail while Christie was speaking. "Seriously."