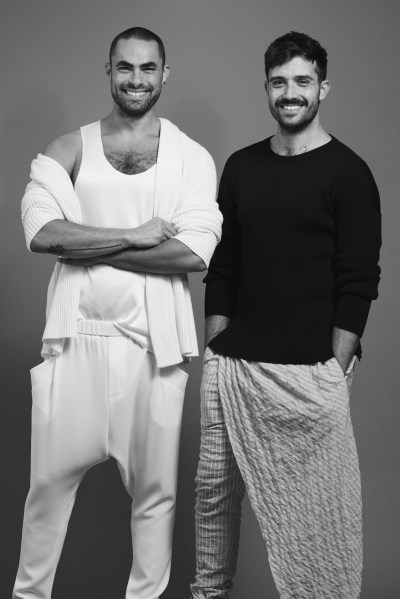 When Baja East's Scott Studenberg and John Targon answer the phone, they admit that they're running through airport security, making their way from a trunk show in London to another in Berlin. From there, they will be en route to Paris, to sell their 2016 Resort collection.
It's been a whirlwind year-and-a-half for the New York-based designer duo known as Baja East. The brand made waves at their first fashion show in 2013 and their clothes were quickly swept up by retailers such as Bergdorf Goodman and Jeffrey. More recently, they've added a baby line to their repertoire, landed a coveted spot at South Street Seaport's new Seaport Studios pop-up shop and, just last week, launched an e-commerce site.
In case you haven't yet heard of the fashion label that the industry has been buzzing about, Baja East's luxury designers Mr. Studenberg and Mr. Targon are all about ignoring boundaries by designing ambisexual clothing that can be worn by men and women alike. Designed for on-the-go and creative customers, the pieces give off a relaxed-yet-luxe feel, making them apropos to wear to work and on the weekends.
"Our customer is someone who's a bit jet set, they might have a mobile office, [but] they don't have to necessarily conform to a nine-to-five uniform," Mr. Targon explained.
In their Pre-Fall collection, which is in stores now, the gender-bending luxury designers broke down another barrier by infusing breezy West Coast silhouettes with a hard New York edge. The collection stayed true to the brand's loose and layered signature look, which included flowing cardigans and oversized pants, mixing black with shades of blue and green with pops of metallic hues.
The pair founded Baja East after deciding to quit their respective sales jobs, Lanvin for Mr. Studenberg and Burberry for Mr. Targon, when they discovered a niche in the luxury market for less serious clothing. The pair originally envisioned themselves as men's designers, but when they found that women were asking to borrow some of their prototype designs, they reconsidered.
"We thought, 'Why do we have to restrict this to something specific to gender?' That's the part about having fun, that things shouldn't be so serious. We thought, 'Why not make things that most [people] can wear?'" Mr. Targon said.
The two designers use the word ambisexual in place of more commonplace terms because they believe it embodies the idea that their wearers can create their own boundaries. Rather than having an inherently androgynous vibe, Baja East clothing takes on the style and look of the person who wears it and can be styled to look more masculine or feminine.
"We always say we're ambisexual and not androgynous because it's more about the attitude and how the clothes take that on," Mr. Targon pointed out.
While pieces such as graphic tees and printed pullovers aren't typically assigned to any particular gender, items such as wrap skirts, that male models donned for Baja East's Fall 2015 runway show, push conventional boundaries. "We know that certain things are maybe a little more niche" Mr. Targon said. "Can a guy actually wear and style it? Not all guys, but [some] can."
Gender ambiguities aside, the brand's core aesthetic carries over from season to season in its lighthearted and urban look. "We always think about our customer building their wardrobe with us. Each season they relate back to one another—they're kind of timeless in that sense. We love that connection" Mr. Targon said.