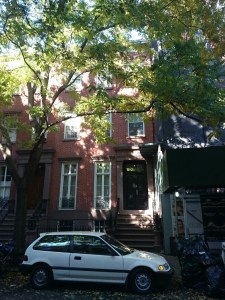 Dubi Silverstein and Ellen Weiman used to be just like the rest of us, wandering around downtown Manhattan in the evening, trying to peek between brownstone blinds to catch a glimpse of the lives–er, interior decorating motifs–within. Well, ok, maybe they weren't just like the rest of us, for they did it admirably, if improbably, "without envy or resentment," according to the New York Times. Perhaps it was from the couple's lack of expectation that they would ever own a house in New York City–indeed, the idea seemed to them, even when it became feasible, "the greatest oxymoron"–that their ability to admire without jealousy arose.
But good things come to those who wait, as they say. And they also come to those who start successful software companies that subsequently trade for $32 million, as Mr. Silverstein did. Among the good things that came to him and his wife was the five-bedroom townhouse at 31 Grove Street that they picked up in 2002 for $2.3 million, and which they've just resold for $12.2 million, according to city records.
That price hike is substantial, of course, but the buyers, who we can identify only as Birdbear, LLC, are getting a product exponentially improved from the one that the sellers acquired 13 years ago: pink stucco facade; missing stoop; tumbledown plexiglass greenhouse out back. No interior details remained in the 1903 construction, a condition that pleased Mr. Silverstein and Ms. Weiman, who wished to start anew. They embarked on a $1 million renovation that left the insides looking loft-like, while the facade assumed the dignified, late 19th century mien of its neighbors–an effect the Times likened, quite delightfully, to "David Byrne dressed as Benjamin Harrison."
According to the listing held by Michelle Luhan, Katherine Gauthier and Kate Joynt, of Douglas Elliman, the home has double-height ceilings, a pair of wood burning fireplaces and more than 1,000 square feet of outdoor space. A "handcrafted mid-century styled stairwell weaves throughout the house," and in the rear, there are, of course, several stories of floor-to-ceiling glass paneled walls.