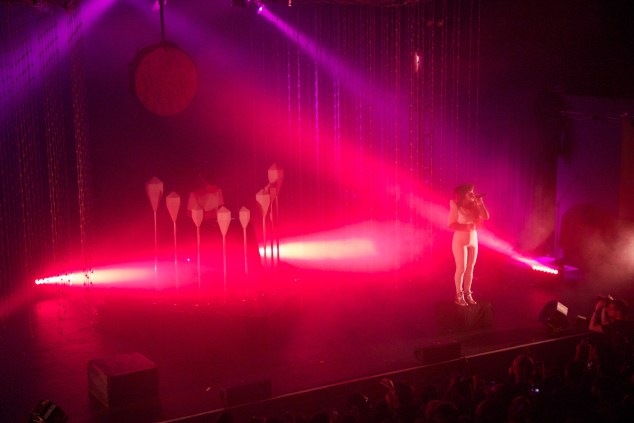 Once considered the vanguard of future electro-pop, Purity Ring has been criticized for falling behind; the Canadian duo's performance Tuesday night surely put that to rest.
The brainchild of Megan James and Corin Roddick, Purity Ring launched its 2015 tour Tuesday night at Terminal 5 showcasing their sophomore album, another eternity—all of their songs are lowercase, too—as well as a few older hits from Shrines.
---

Time has allowed Purity Ring to explore new territory while still holding onto its trance-y roots—a central part of being an artist.


---
Purity Ring's two openers, Born Gold and Braids, are also Canadian electronic groups (loosely, at least). Born Gold sounded like Panic! At the Disco took a field trip to the arcade. If Grimes lost her lisp and joined the Postal Service, Braids would discover its long-lost twin. Despite her babyish voice, Raphaelle Standell-Preston, the lead singer of Braids, shook the room as her voice climbed higher and higher notes with ease. I couldn't decipher a single lyric above the percussion, but her music seemed meaningful.
Roddick controls instrumentals for Purity Ring, so when they emerged, he hid behind a fence of Q-tip-esque Tiki drums at center stage the entire show. Several planes of string lights dangling from bars like '60s door beads flanked him. James pranced around the front stage in a white, two-piece bodysuit with shoulder pads—think Lady Gaga pre-meat—that fit squarely with Purity Ring's futurism.
Although I would've liked some build up, there was really no other song the band could've started with other than "begin again," a fast-paced farewell to their former style. After taking a three-year hiatus from their much darker, sci-fi-y album, Shrines, which James and Roddick composed entirely over email, they've returned with 10 songs more concerned with communicating with people rather than aliens.
Critics of their status as futuristic are holding them to a past standard. Sure, the transition from a trilling "Lofticries" to a more gentle sing-a-long like "heartsigh" was a bit jarring. But that doesn't mean James and Roddick are sell outs to Z100. The greatest difference between albums is time, which has allowed Purity Ring to explore new territory while still holding onto its trance-y roots—a central part of being an artist. Relative to other pop artists out there, the duo is still niche.
Purity Ring has not fallen behind—it has just evolved.
"Sea castle" served as the strongest link between the two albums. Roddick pounded the Q-tip Tiki and dispelled James' ethereal piano ballad. The bass blared with a density of an underwater yell that shook Terminal 5 into turbulence. Nevertheless, James' voice rarely struggled against Roddick's commanding synth. I felt like I could go deaf and be happy.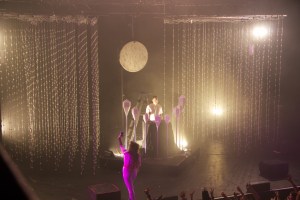 "Flood on the floor" followed a similar trajectory, but Roddick's drop launched James into a dance frenzy unfurling in the bamboo forest of lights. This was a refreshing break up to the repetitive torso-twisting and speaker-mounting.
This was by far the most civilized concert I've ever experienced at Terminal 5. The sold-out show was packed, yet not a single person shoved! Vendors even sold beer in the crowd. Attendees just… stood. From the second-floor balcony, heads floated like sprouted chia seeds. It restored a little faith in humanity.
Even after Purity Ring took the stage, the only people taking hits were the ones with the joints, sending up wafts of weed. I stopped wondering whether it was possible to get high from second-hand smoke when I noticed just how few people were on their phones. It was astounding. Aside from the occasional Snapchat (yes I saw everything), the crowd reassured me that people really could detach themselves and enjoy the present.
Right before they closed, James borrowed a crowd member's phone and took a panorama with it. "I forgot this has selfies!" she giggled.
The duo curbed a lot of energy they could have generated when they announced they don't do encores. They ended with "begin again" again, which felt like a formality. The crowd dispersed still buzzing with delight.
Purity Ring's show was far from mindless fans nodding to mindless electronica. It was an exhibition of their evolution in futuristic music that I'd see again, but maybe in five years.
[youtube https://www.youtube.com/watch?v=bJQIHagUCOI&w=560&h=315]