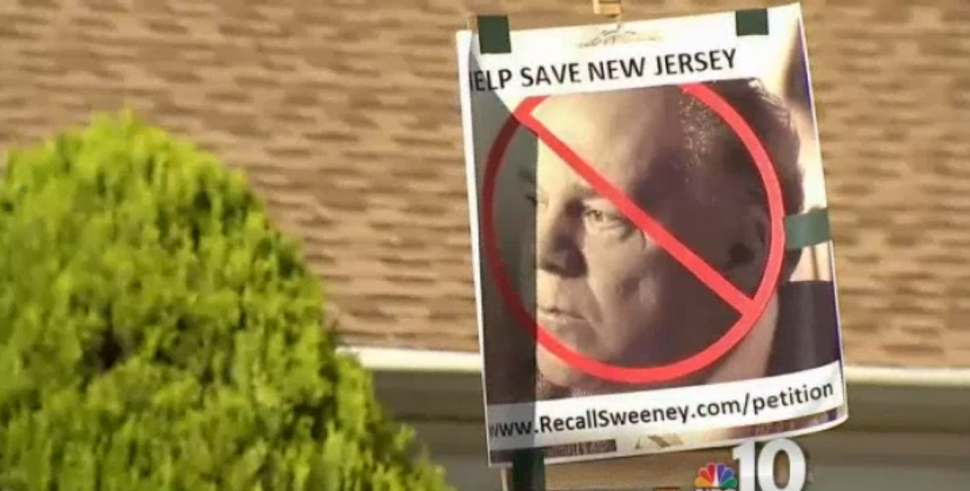 Remember last week, when a scrum of activists took to the front lawn of Senate President Steve Sweeney (D-3) to protest the state's stringent gun laws that they argued are actually harming residents? That fight may be continuing.
Yesterday, Democrats on the township committee in West Deptford — where Sweeney owns his home — moved a proposed ordinance to prohibit similar demonstrations in the future. The five member board voted 3-2 along party lines to approve the measure, expected get a final vote next month, that would overhaul an earlier loitering ordinance and regulate picketing in residential areas.
Sources say the ordinance is in direct response to the pro-gun law protesters, who've actually picketed in front of Sweeney's home the past two Sunday's, carrying signs with the face of Carol Bowne and the words "Sweeney's laws killed" plastered on them. Bowne is a South Jersey resident who was killed by her ex-boyfriend earlier this month, and the protesters argue that her death could have been prevented: she had applied to purchase a gun in April, but her application was held up due to what some have called unnecessary firearm restrictions, which they say are supported by Sweeney and other Democrats.
State criminal code requires applications for firearms be granted within 30 days, but critics of the laws say authorities often violate that time frame.
Last week and the week before, protesters stood on the sidewalk outside Sweeney's front lawn and called for more modern, streamlined gun laws, prompting the township committee to introduce the ordinance. The measure would ban "picketing that is targeted at and is within one hundred (100) feet of the property line of a residential dwelling," and, if approved, violators would be subject to fines of up to $2,000, and imprisonment of up to 90 days, or up to 90 days of community service.
Police Chief Samuel DiSimone told Philly.com that officials are trying to "protect everyone" with the ordinance. But the protesters themselves say it would infringe on their free speech rights, and legal experts say it is likely to result in litigation.
Others have expressed outrage. One source, himself a local elected official, called the ordinance "The Sweeney Protection Act of 2015."
"It is sad that you have a puppet master that clearly runs the town by proxy. The fact that the second amendment is attacked by Sweeney isn't enough, now the first will be stifled in West Deptford too? What right does anyone have there if not these?," the source said.