"Creating something beautiful with a touch of humour is at the heart of what we do," designer Anya Hidmarch tells the Observer. "We live on laughter (and crisps!) at the AH headquarters." The accessory guru has become synonymous with that approach to design, which allows even the most proper ladies feel like a kid again. From a Bazooka bubblegum-inspired clutch to a tote with the unmistakable face of Kellogg's Tony the Tiger, one of her most coveted creations at the moment is a metal clutch that was inspired by a crumpled bag of chips. To be specific, it was British Walkers' salt and vinegar flavor that inspired the Crisp Packet Clutch.
But this bag is much chicer than a crinkled piece of plastic: Ms. Hindmarch hired printers to take 3-D scans of a crisp packet, resulting in a very realistic iteration. "We worked with the first company in the U.K. to develop this type of process and they had traditionally worked mainly with the automotive industry. They use up to 100 cameras mounted on tripods to take 360-degree photos of any given object, all at the same time," she explained. The models were then cast and sent to a second-generation minaudière maker in Florence, who perfected the design after quite a few failed attempts.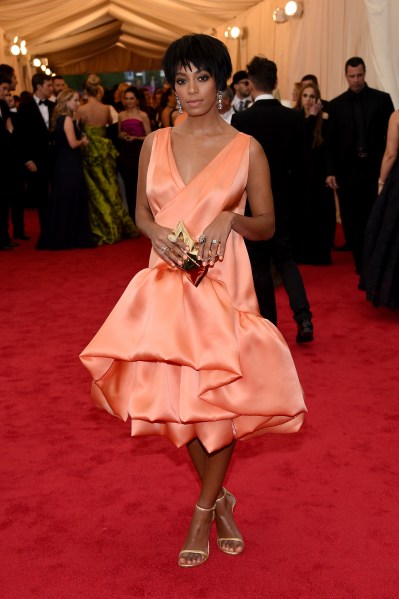 Originally available only in silver, from Ms. Hindmarch's Spring 2014 collection, the design has evolved as the demand for this $1,595 bag has grown. For Spring 2015 it was available in matte neon  and for the upcoming Fall 2015 season they will be available in burgundy, red and black velvet. "Heaven to stroke!" Ms. Hindmarch exclaimed. "We also have them in Perspex." With celebrities such as Kerry Washington, Solange Knowles and Rosamund Pike carrying this bag on the tapis rouge, the buzz around this Crisp Packet hasn't settled down at all.
However, the most luxurious version of the Metal Crisp Packet Clutch places this bag in a whole different category. Per the request of an Anya Hindmarch customer—through the brand's bespoke program—the clutch was artfully cast in solid gold. And this July, every bag-obsessed fashionista can add an 18 karat rose, yellow and white gold version of this bag to her collection.

Available with the option to be engraved, the suede-lined bag comes with a detachable chain and can be ordered at any standalone Anya Hindmarch boutique. The original size of the golden bag will cost $95,000, and a slightly larger version of the bag (which was re-sized to fit the iPhone 6) will ring in at $100,000. Each bag takes up to four months to be created, as they're made by hand from a team of craftsmen in Florence. "I'm obsessed [with] craftsmanship and it is these guys who are my celebrities," gushed Hindmarch. Despite the nearly ludicrous luxury of this golden bag, a handful of actual crisps aren't included with purchase.