Byredo Bibliothèque is, according to no particular survey but everyone who cares, the dream, high-end home fragrance. It's hard for a layperson to describe the smell though. "As if someone who smells very good was just sitting in a leather chair, in a room full of carefully hand-bound books in an elegant, slightly decrepit hotel, situated in the back street of a European city," suggested one fan.
Masculine, evening, sexy, mature, urban. Those are the kinds of words to use when working with a perfumer to create a custom scent. Never say woodsy, oak, citrus, cigar or any other obvious smell descriptor. "It's fine to tell these really creative people 'the story' and let them do their thing," said Jorge Trevino, executive vice president of brand operations for Commune Hotels, referring to scent designers and, yes, the persona or sensation you wish to convey.
Hotels have scented their lobbies, elevators and other public spaces for years. Mr. Trevino recalls the past: housekeepers at luxury properties weekly refilling hidden, thimble-sized, clay oil dispensers. Now scenting is high-tech, involving building engineers and motorized compressed cartridges. Lately, hotels, airlines and amusement parks are using less ubiquitous, more bespoke fragrances and savvy guests are picking up the scent. Literally.
Created in about 12 months with olfactory branding firm 12.29, Velvet, the scent of the Thompson Hotels, including Gild Hall and The Smyth, is perfect, according to Mr. Trevino, because the "velvet-ropey" brand turns on when the sun sets. A related candle will appear later this year, a response to guest demand. Similarly, last fall The Carlyle (a little more Prince and Duchessy) introduced a candle modeled after the hotel's famous soap "meant to remind guests of their fond memories of The Carlyle," said Jennifer Cooke, a spokesperson for the hotel.
Smell is processed in the olfactory cortex in the brain's limbic system, near the places emotion is processed and memories are stored. This makes scent memories among the most powerful, emotional and lasting, Dawn C. Buse, Ph.D., clinical psychologist in the Department of Neurology at Montefiore Medical Center, told the Observer. "The first time that we experience a particular scent, we associate it with events, people and emotions of the time."
That's why winter shopping smells like cinnamon, nutmeg and vanilla, evoke memories of happy holidays (Grandma's baking) and encourage more shopping and spending. It also explains why luxury hotels and retailers want to establish their own scent in your memory: to encourage return.
Scent designer Tracy Pepe and her firm, Nose Knows Design, is working with the InterContinental New York Barclay on a custom, site-specific scent, as part of their extensive renovation. "A client choses a vision. We create it. I'm no different from the architect," she explained.
In addition to large-scale hospitality work, Ms. Pepe has a Whiff Collection, eight scents created to transform a room by complementing another design element: color palette. Purchase a $20 sample kit and try out the scents as you would paint chips. (What does a fragrance do to the space? Make it bigger? Smaller?) "If you're a homeowner savvy with paint and color you'll be able to understand how to choose a scent for your space," said Ms. Pepe.
Chances are you're currently scenting your home all wrong. You know smells can impact our perceptions and evaluations (often negative when the odor is unpleasant). But while store-bought air fresheners and candles and oils may mask last night's curry, they're just making everything smell like, well, everything else. And they're not specific to a particular space.
Many scents have common emotional responses: vanilla, lavender, jasmine (calming); citrus, rosemary, cinnamon, peppermint (energizing); leather, wood (luxury). But the strategy may not work on everyone because preferences can vary by experience, gender, geography and culture. "One woman whose father was a carpenter may feel comforted by the scent of wood shavings, while someone else may find this scent particularly noxious," said Dr. Buse.
Which, noted Ms. Pepe, is one reason scenting is not about "what I like" (that's narcissistic), it's not a guessing game, and it's not about glamour: it's science. "You don't have a 'Betsey Johnson' scent if your interior is beige."
Ms. Pepe's custom scents run $10,000 to $50,000, about the going rate. Depending on complexity, a custom scent by Air Aroma, the firm behind scents for brands like Sofitel Luxury Hotels, Morgans Hotel Group, SLS Hotels (opening in NYC in 2016) and the Marmara Collection (opening in NYC this summer), runs $5,000 to $30,000.
Air Aroma works with celebrities and executives in scenting their private homes, said Cathy Fowler, national account manager and fragrance curator. Ms. Fowler cannot reveal names but mentioned designing a scent for a palace in the Middle East and one for the home of a businessman who considers red wine to be the epitome of luxury. "People who create a scent for their home tend to have a sophisticated level of taste and life experiences," said Ms. Fowler. Many have experienced her firm's products while traveling.
Before a site visit, it's important to understand the space, layout which rooms should be scented and how, and for a "smell test evaluation" involving a portfolio of fragrances Ms. Fowler will ask clients a variety of questions—such as where have you traveled—to pick up clues about a client's life and tastes. "Stories come out when you start to understand the background of a person."
Fragrance consultation comes next. "They have an old-school makeup bag with vials of natural raw scents," Mr. Trevino told the Observer. This stage is the same no matter which company you're working with. The scent designer dips strips of blotter paper into the vials, passing each one to everyone participating. "You don't say a word. You write down what each scent is evoking. 'Ohmygod that's tangerine,' but it's not. The nose is funny," said Mr. Trevino. See importance of site visit, above.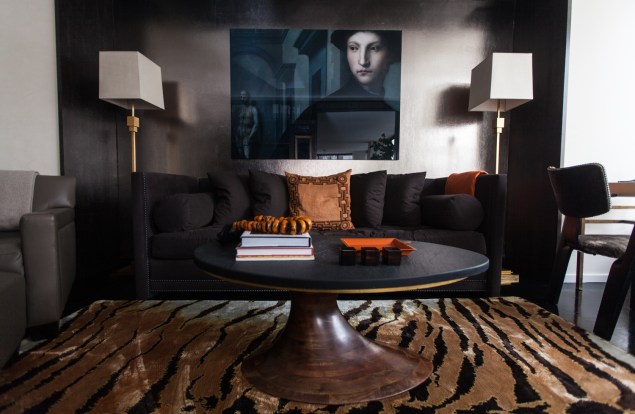 Next round is the presentation of a few possible scents combining multiple base fragrances. Clients of Ms. Folwer often chose multiple, for different seasons or moods or rooms. Hotels choose one. Development usually takes up to one year. Then there's the set up of equipment  (cold air diffusion, explained Ms. Fowler, converts liquid fragrance into dry microscopic mist, then diffused through HVAC, as strong or delicate as you wish).
"This is a craft," said Ms. Pepe. "A space has to capture everything. Scent is a tool."