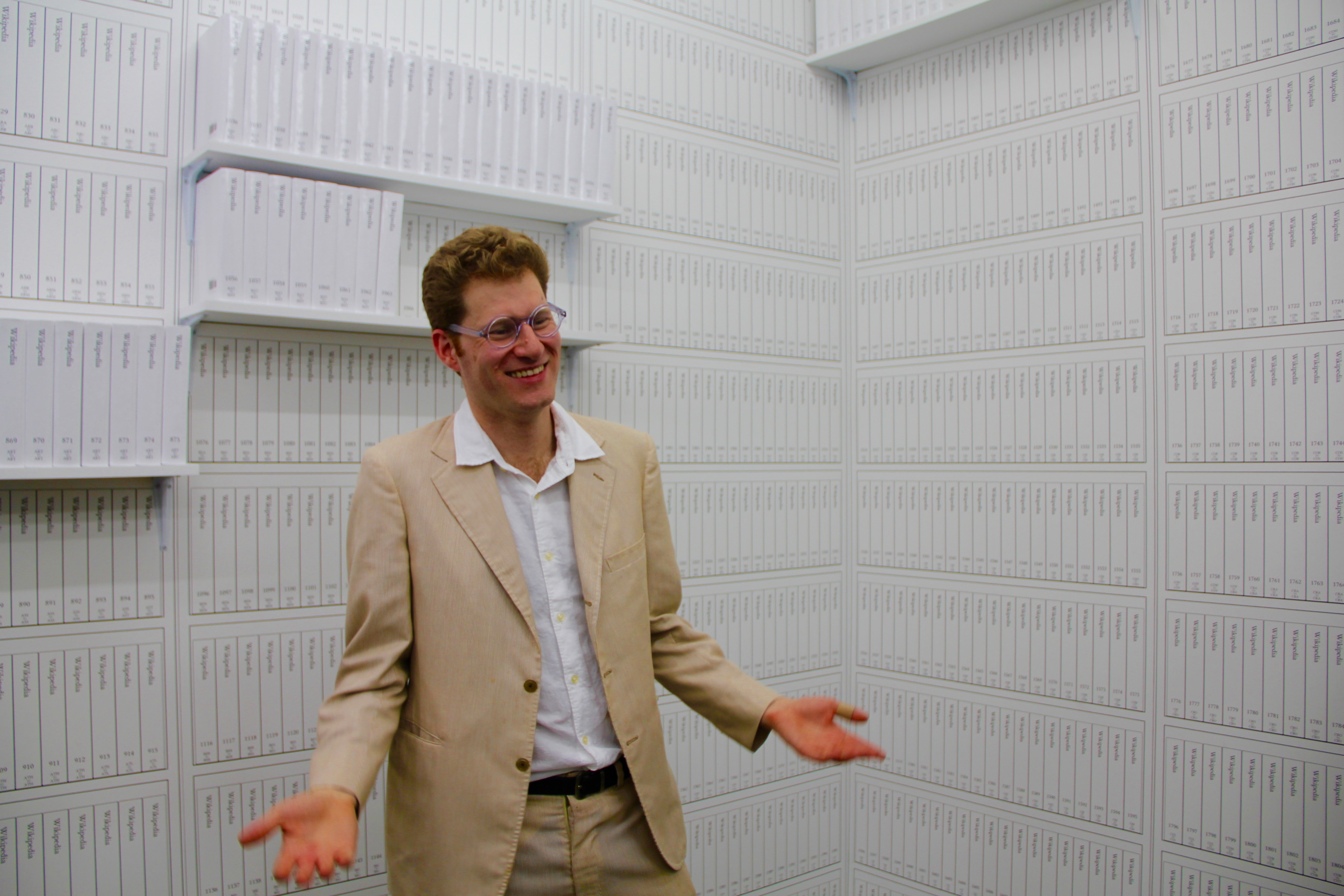 On Thursday night, artist Michael Mandiberg unveiled an ambitious undertaking he's been hard at work on from the confines of his Brooklyn studio: a physical print edition of the massive, free, publicly-edited online encyclopedia Wikipedia.
For the last three years, Mr. Mandiberg has been building Print Wikipedia, a conversion of every existing Wikipedia article to PDF files using software he has specially designed to transform the the digital information to print. The result: a 7,600 volume encyclopedia set. Mr. Mandiberg's Print Wikipedia opened at Denny Gallery on the Lower East Side in the exhibition "From Aaaaa! to ZZZap!," though the work itself is still in progress.
Standing next to a projection screen at Thursday night's opening, Mr. Mandiberg clicked "enter" on his mobile keyboard to officially begin uploading the project onto Lulu.com, a print-on-demand website. The upload will take two weeks, last the duration of the exhibit (from June 18 to July 2), and will run 24/7.
The artist primarily uses the Internet as medium. "From Aaaaa! to ZZZap!" is his way of trying to visualize the enormity of the 11.5 million Wikipedia articles (his calculation). "It's really important to see just how big [Wikipedia] is," Mr. Mandiberg told the Observer at the opening. "But this is only a quarter of it."
But the entire 7,600 volume set isn't even on display. In fact, only 106 volumes have been printed. The rest of the gallery is wallpapered with the first 1,980 volumes in the project, each of which contains 700 pages, according to the The New York Times. Aware of the environmental impact the project poses, Mr. Mandiberg will not be printing every volume. However, if someone wishes to buy and print the entire collection, they may do so for $500,000.
"It doesn't look like much, but that's not the point of it really," one viewer told the Observer, flipping through one of books. "I think the lack…is actually kind of a good thing. It emphasizes the impossibility of it."
The "death of print" phenomena has been a source of inspiration, not a deterrence, for Mr. Mandiberg. "As it is becoming unused as a conventional information transfer medium," he said,  "it becomes reopened for creative interpretation."
Mr. Mandiberg acknowledges that it's also useless. The entire set is derived from a Wikipedia database downloaded April 15, 2015, so "It's always going to be out of date," he explained.
Elizabeth Denny, founder and owner of the Denny Gallery, agrees that books are growing more obsolete. "I think people will be intrigued by them as a hybrid of art and books," she told the Observer. "And there's definitely nothing obsolete about the art market."
Unlimited edition single copies of Print Wikipedia cost $80 each through Lulu.