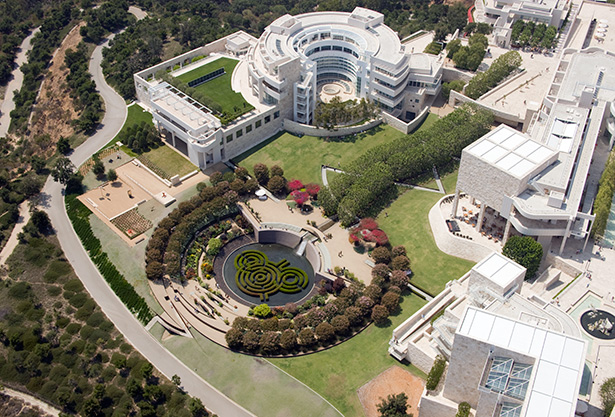 California's devastating drought is now in its fourth year, with no end in sight, and the state has put into place extreme water restrictions in order to keep the balance. Los Angeles Museums are no different, and The L.A. Times checked in with three of the city's major art institutions to see how they were doing their part to conserve water.
The Huntington Library, Art Collections, and Botanical Gardens is a unique case, with 120 acres of specialty gardens spread throughout its San Marino estate. The L.A. Times reports that the institution has cut its lawn property in half, from 18 acres to nine, and reduced water usage in areas like the rose garden to 40 percent. More information on the Huntington's water conservation plans can be found at a special page on the museum's website, huntington.org/water.
The Getty Center has had a majority of its water fountains and pools turned off and drained since June 2014, but has gone a step further by planting more drought-tolerant plants and installing a leak-detection system, and drip irrigation throughout its grounds. However, some pools and fountains will remain on, including those with fish and a special outdoor installation by Robert Irwin. The museum reports that has reduced water usage 55 percent, and saves close to 2,500 gallons daily.
LACMA doesn't have as greenery to worry about as its peers, but that doesn't mean it's not feeling the pressure. The museum has taken a proactive stance by working with the non-profit Arts Earth Partnership on efficiency strategies. Inside, they've made changes to restroom facilities by adding waterless urinals and low-flow sensor faucets, and water used in exhibitions is recycled for outdoor landscaping. Outside, the Dorothy Collins Brown fountain has been turned off, and many existing areas for planting are being replaced with decomposed granite.