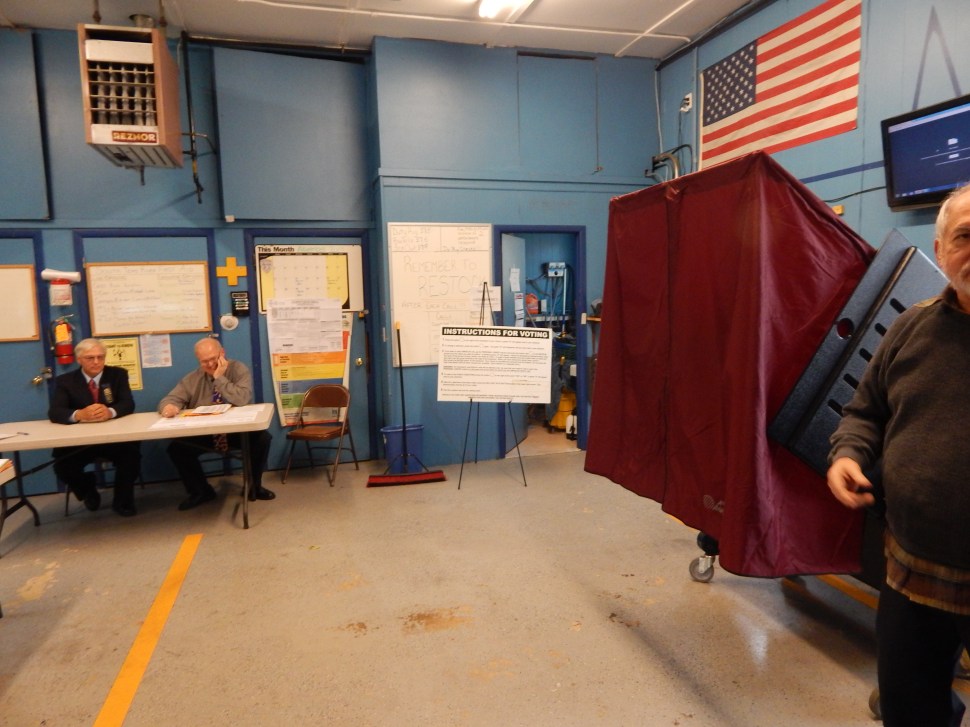 TRENTON — Moving a step closer on its fast track to the governor's desk, the Assembly Appropriations Committee voted up a complex bill aimed at modernizing and streamlining New Jersey's voter laws today.
Along party lines, members of the committee debated and ultimately passed the bill, introduced by Democratic leaders in both houses last week and dubbed the "Democracy Act" for its intended goal of increasing voting rights access to certain demographics in the state. Sponsors of the bill say it would make it easier for residents to register to vote and vote in state elections by implementing measures like online voter registration, elimination of special elections, and new technologies at the ballot boxes.
All of those provisions would help increase voter turnout in the state, lawmakers hope, which ranks 39th in the country in terms of registered voters at 64 percent, with an average voter turnout of  54.5 percent.
The committee did nix part of the bill that would have allowed same day registration amid concerns of voter fraud, but retained other measures, such as:
Universal voter registration – Modeled after a successful Oregon law, anyone who gets a driver's license or state ID card with the DMV would automatically be registered to vote unless they affirmatively opt-out.
Eliminate special elections to fill vacancies – New Jersey taxpayers would not be subject to expensive special elections on irregular days to fill vacancies for office such as the $24 million U.S. Senate election on a Wednesday in October 2013. Senate seats that become vacant more than 70 days before a general election would be filled at that election. All others would be filled at the next year's general election. And while the governor would retain the right to pick an interim senator in the event of a vacancy, the choice would have to be from the same political party as the senator who had held the seat.
Expand access for military and overseas voters – Members of the military and those overseas would be able to take advantage of technology such as the Internet, fax machines, or other means to make voting convenient and secure.
Allow for online voter registration – Require the Secretary of State to establish a secure Internet website to allow eligible voters to register to vote using an online voter registration form.
Expand "vote-by mail" – Voters would be able to choose to vote by mail.. Voters who have applied for a ballot but not yet returned it would be able to vote at the polls without excuse on Election Day. And all vote-by-mail would be done at no cost to the individual voter.
Prohibit harassment at the polls – An existing consent decree with the U.S. Department of Justice prohibiting harassment of voters at the polls ends in 2017. The decree would be put into law.
Ensure access for people with disabilities – All places for voting, early voting, in-person registration, mail-in registration and online registration would be accessible to those with disabilities.
Pre-registration of Young Voters – Allow a person who is 17 years of age to register to vote, and may vote at the next election occurring on or after the person's 18th birthday.
Ensure access for non-English speakers – In a state with as much diversity as New Jersey, as many eligible New Jerseyans as possible would be able to vote and register to vote in a language they understand.
Strengthen voter fraud laws – It would change New Jersey law to allow for voter fraud challenges when reasonable evidence exists that illegal votes have been received, or legal votes rejected at the polls sufficient to change the result.
The bill's sponsors, including Senate President Steve Sweeney (D-3) and Assembly Speaker Vinnie Prieto (D-32), want to get the bill to Gov. Chris Christie's desk within the month, hence the bill's quick turnaround from introduction last week to first committee hearing today.
The six Democrats on the committee voter for the measure, while three Republicans voted against it.