After sitting in on a heated exchange at a meeting this morning where lawmakers, amid fits and shouts, formally approved his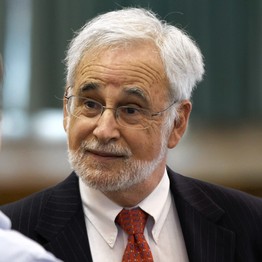 predecessors, outgoing OLS Executive Director David Rosen was treated to praise and condemnation by members of the General Assembly at the opening of their voting session this afternoon.
Once named the "Dr. Kevorkian" of numbers by Gov. Chris Christie for his less-than-optimistic revenue projections, Rosen worked for the legislature over 20 years as a budget analyst. He replaced retiring longtime head Al Porroni at the non-partisan office last year, serving in an interim capacity.
His tenure ended this morning when members of the Legislative Services Commission approved his own replacement: Peri Horowitz, Assistant Executive Director for Campaign Finance Administration at the New York City Campaign Finance Board.
Both Democrats and Republicans thanked Rosen for his service.
"We all strive to present the best policy we can, and so many times those policies are necessarily overshadowed by our partisan," said Assemblyman Gary Schaer. "With David at the helm I can tell you both parties received the same answers."