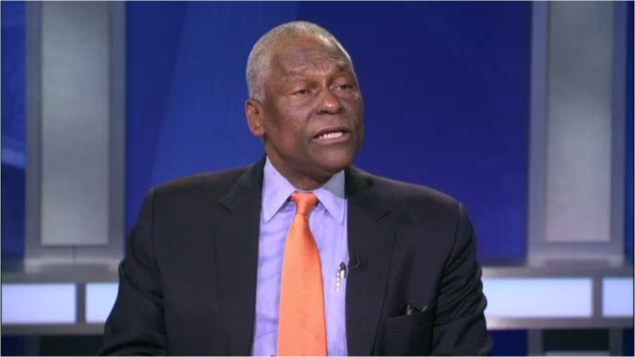 Manhattan Assemblyman Keith Wright, chairman of the Housing Committee, declared last night that he would not consider renewal of the controversial 421a tax abatement for developers unless the real estate-friendly Republican State Senate agrees to strengthen rent laws.
Speaking to host Errol Louis on NY1's Inside City Hall, Mr. Wright said that his Democrat-dominated body was united on amending the rent regulations—which the capital controls, and which expire this month—to end preferential rents, to make charges passed onto tenants for major capital improvements temporary rather than permanent and to increase protections of tenants from landlord harassment. He claimed the GOP majority in the State Senate was only interested in preserving the 421-a tax credit, which is also up for renewal in the dwindling days of the 2015 legislative session that ends on June 17.
"The Democratic Assembly is adamant, rock-solid, in terms of trying to get some real reform to our rent laws here in New York City. We have a lot of powerful enemies on that issue," Mr. Wright said, warning that neither party could end up with what it wants. "It seems the Republican-controlled State Senate cares more deeply about 421-a, in terms of making sure that moves on for the development community. I don't see why the two cannot become one, but if we don't get rent, I'm not even thinking about 421-a."
Mr. Wright said that he believed some version of the 421-a abatement should pass both houses of the legislature, as he argued developers need incentive to build, especially to build affordable housing. He praised Mayor Bill de Blasio's proposal to reform the abatement, which would require all projects receiving the credit across the five boroughs—rather than in just the 16.5 percent of the city in the program's "geographic exclusion area"—to include below-market apartments.
"The mayor's program I think is great. I think it's great. And it will spur development," he said, even as he added that he wanted to see more provisions for middle class and lower middle class housing. "You have working people in this city, and we have to make sure this city is inclusive of everyone."
The lawmaker, the son of a Harlem judge, waxed nostalgic about the mixed income community he lived in as a child.
"That made for a great neighborhood where everybody cared for each other and everybody looked out for each other. And we're about to lose that," he said.
Mr. Wright warned that the decisions made this year could have heavy impact on the makeup of New York City for decades to come.
"We are at a defining moment in terms of what our city is going to look like for the next 25 to the next 35 years," he said.