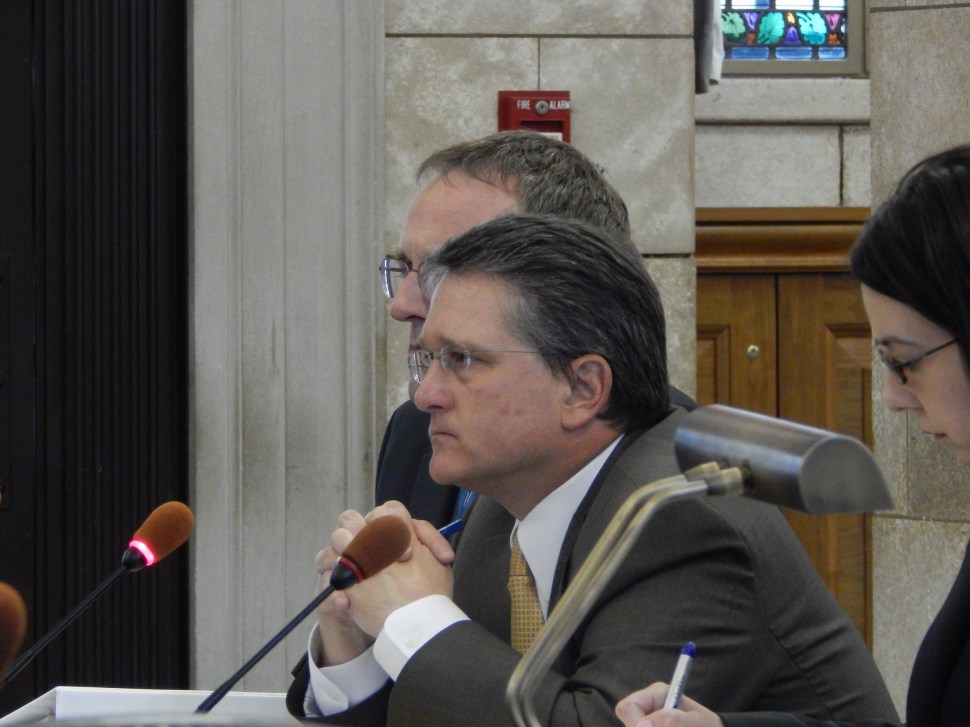 TRENTON — Acting Attorney General John Hoffman — as well as a host of other members of Gov. Chris Christie's inner cabinet who've never officially been approved for their posts — might finally have to go through the legislature's at-times-contentious advice and consent process under a bill passed by the Assembly Judiciary Committee this morning.
Members of the panel unanimously released A4436, sponsored by Assemblyman Lou Greenwald (D-6) and Troy Singleton (D-3), that would require that any individual appointed in an acting capacity in the executive branch of state government or as a county prosecutor vacate their position if, within six months, the governor has not submitted that person's name in nomination to the Senate to fill that position on a permanent basis. The bill is an attempt by lawmakers, and particularly Democrats who've criticized Christie for letting his appointees languish in acting positions, to boost accountability for state cabinet officials and county prosecutors by making sure the constitutionally-required advice and consent process is adhered to, rather than circumvented.
That advice and consent process — which can sometimes result in gridlock between the state's Republican executive and its Democratic-controlled legislature  — is the normal protocol by which certain positions in the executive branch of state government, as well as county prosecutors, are required to be filled by nomination and appointment by the governor with the advice and consent of the Senate. Under this bill, those executive branch positions include the state comptroller, heads of state departments like the Department of Human Services and the Department of Community Affairs, and the attorney general, currently filled by Hoffman.
Christie tapped Hoffman for the post back in June 2013, but has managed to avoid formally nominating him despite demands by lawmakers in Trenton to do so.
"When you're talking about top leadership posts in state government, it's important that they go through the advice and consent process in order to make sure their qualifications and background are fully vetted," Greenwald said in a statement following the bill's release.  "When you sidestep this process there's no accountability for the decision-making of high-ranking officials."
Members of the Judiciary Committee, following on the heels of their counterparts in the Senate, where an identical bill was introduced earlier this year, unanimously passed the measure at their meeting with little debate. Assemblyman and chair John McKeon (D-27) said the bill would prevent the "gamesmanship" that is sometimes allowed to occur surrounding executive appointees, as well as "term-long holdovers" in "very key positions."
When the name of a person serving in an acting capacity is not submitted in nomination to the Senate prior to the end of that six month consecutive or intermittent period, the person serving in an acting capacity would terminate that service at the end of the six months of service in that position. The bill further provides that any person serving in an acting capacity on the effective date of this bill, whom the governor has not submitted for nomination to the Senate to serve on a permanent basis, must be nominated by the governor within 30 days of that effective date, or at the next Senate session, whichever is sooner, or the person must vacate that position.
"Our system of checks and balances was put in place for a reason," Singleton said. "Allowing an acting official to remain in their position indefinitely shields them from a certain level of accountability and runs counter to the intent of our constitution."
The bill now heads to the Assembly floor.