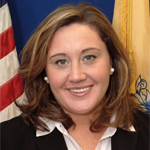 TRENTON – A bill requiring defibrillators at municipal or county recreation departments and nonprofit youth serving organization sporting events passed in the Assembly this afternoon by a vote of 41-19-14.
As amended by committee, the bill requires that beginning on September 1, 2015, youth serving organizations (such as, Little Leagues, Babe Ruth Leagues, Pop Warner Leagues, Police Athletic Leagues, and youth soccer leagues), which organize, sponsor, or are otherwise affiliated with youth athletic events that are played on municipal, county, school, or other publicly-owned fields, must ensure that there is available on site an AED at each youth athletic event and practice held on the department's or organization's home field.
The department or organization must designate one or more umpires, coaches, or licensed athletic trainers who will be present at the athletic event or practice, to be responsible for ensuring that the AED is available on site.  The designated umpire, coach, or athletic trainer must be trained in CPR and the use of an AED in accordance with law.
Arguing in the minority, Assemblywoman Caroline Casagrande (R-11) (pictured) said that while she did not question the good intentions of the bill, she could not support an overregulating bill, in her view, which saddles local taxpayers with more state-mandated costs.
Assembly Democrats Bob Andrzejczak, Wayne DeAngelo, Nancy Pinkin and Annette Quijano co-sponsored the bill.
"The story has become all too familiar. A seemingly healthy young person playing a sport suddenly collapses on the field from an undiagnosed heart condition and never gets back up," said Andrzejczak. "Sudden cardiac arrest is the number one killer of student athletes. A properly administered defibrillator can boost a victim's survival rate by 60 percent or more. This is more than enough reason to have a defibrillator available at youth sporting events."