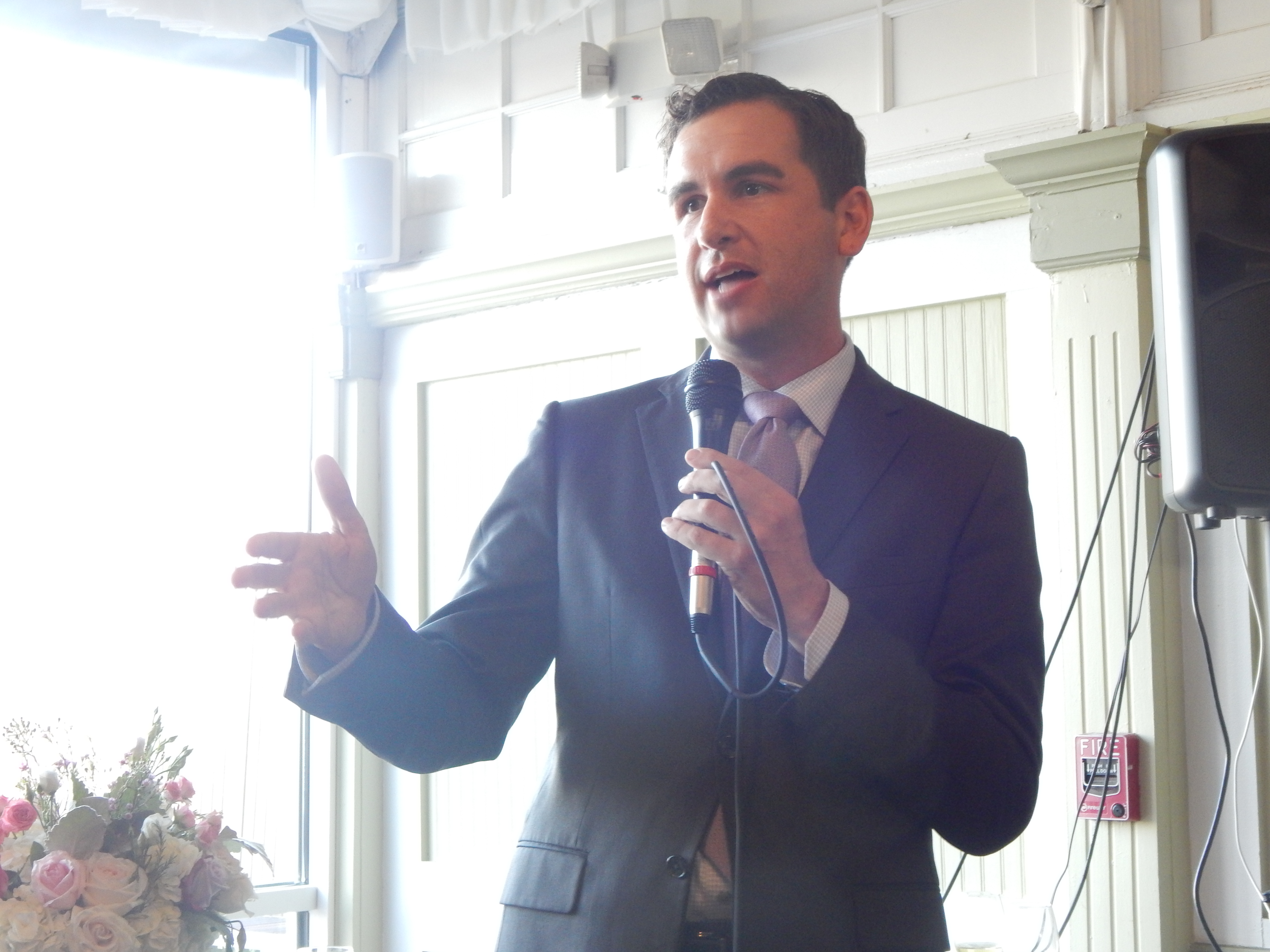 JERSEY CITY – Democrats from around New Jersey rolled on to the left bank of the Hudson River on Monday night to put money in the bank for Jersey City Mayor Steve Fulop, a potential 2017 Democratic gubernatorial candidate, who demonstrated that he can raise the cash needed if he chooses to launch a statewide office bid.
First and foremost, Fulop's home county of Hudson came out in full force to show support for their native son on a night when 600 people, who together raised more than $140,000, jammed the Liberty House restaurant in Jersey City.
"Steve has done a great job as mayor of Jersey City, and he has brought the county of Hudson together," said Hudson County Democratic Organization chairman and state Assembly Speaker Vinny Prieto (D-32), as Hudson County Executive Tom DeGise and U.S. Rep. Albio Sires (D-8) looked on. "Statewide, we are working together as a northern alliance. This is due to the biggest city in our county, Jersey City, and because of one man. For Steve Fulop, the sky is the limit. The future is very bright. And the next governorship will go through Hudson County."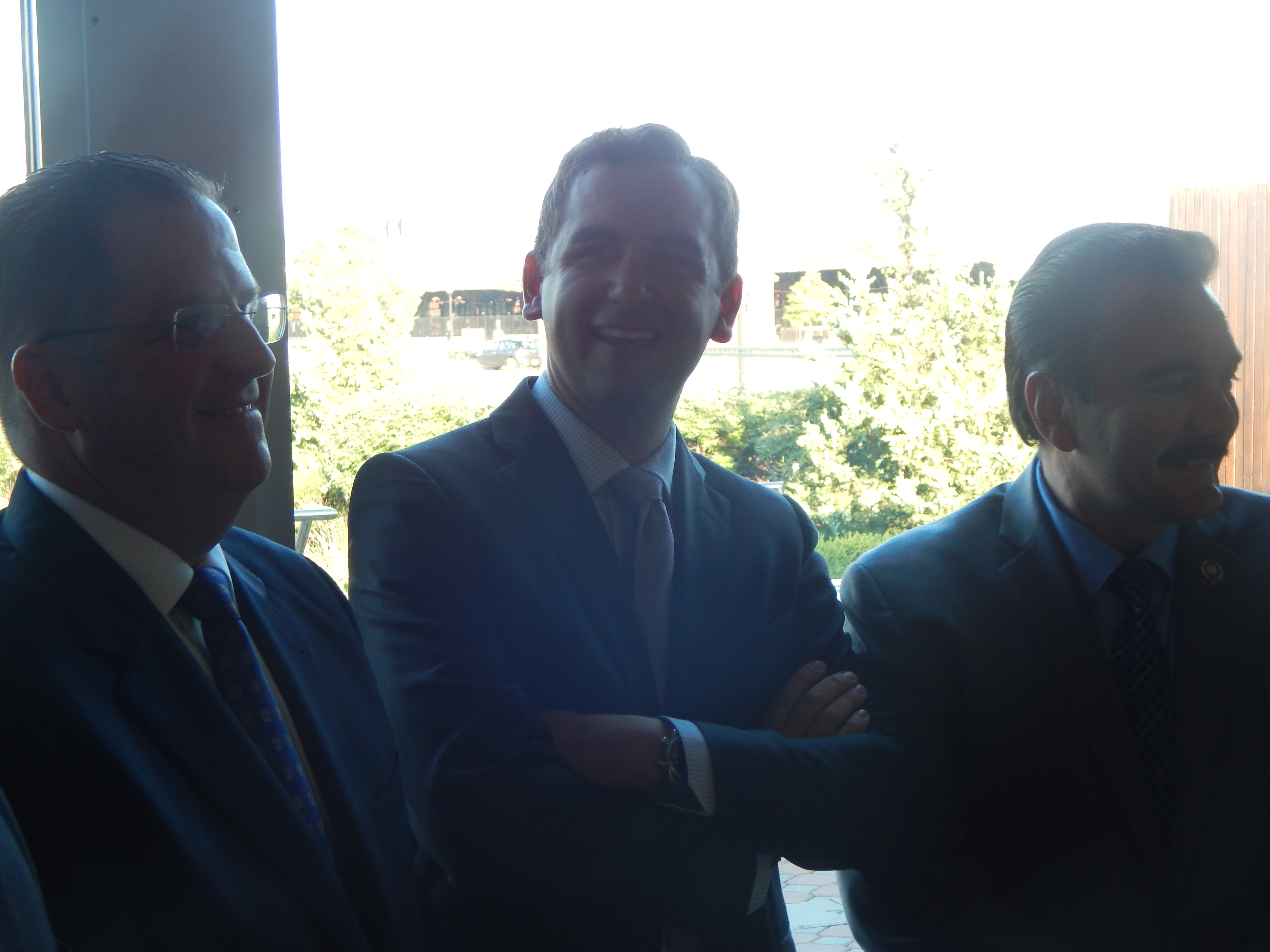 "We have great expectations for Steve Fulop here in Hudson County," added Union City Mayor and state Senator Brian Stack (D-33). "It's great to have a partner here in Jersey City like Steve Fulop, and not only as a fellow mayor. Representing the county as a state Senator, there is nobody that fights harder for the working people of Hudson County and Jersey City than Steve Fulop."
Right up front at the function, sitting at a table just like the one that magically emerged in front of the stage at New York's Copacabana in the classic film Goodfellas, the Essex County delegation was arrayed, including U.S. Rep. Donald Payne, Jr. (D-10), state Assemblyman Ralph Caputo (D-28), Newark North Ward Councilman Anibal Ramos, Jr., Newark East Ward power broker Joe Parlavecchio and Essex County Freeholder Rolando Bobadilla, as they collectively mocked Jersey City's claim that they will soon be the Garden State's largest city.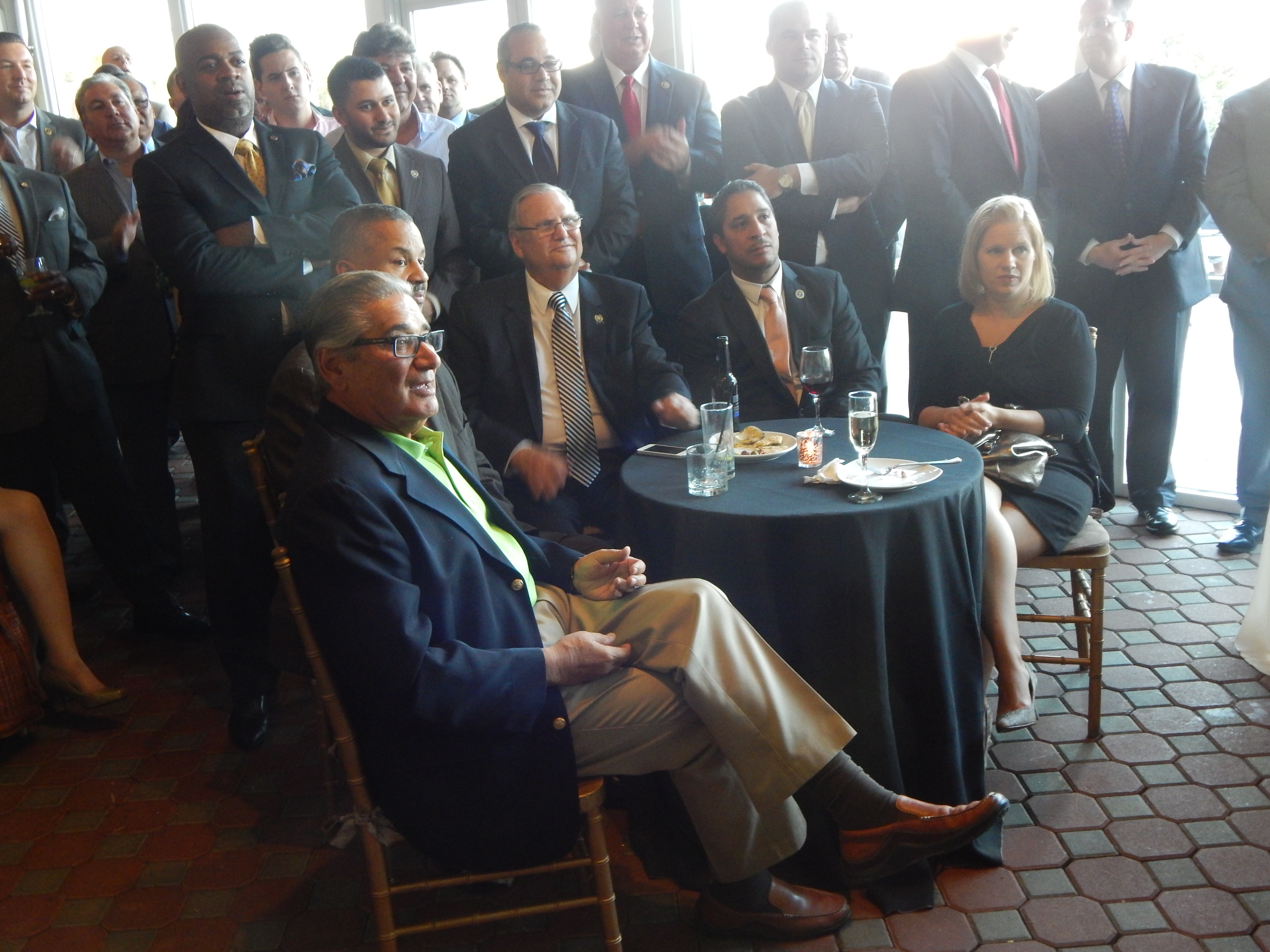 But the mayor of New Jersey's largest city cut the jokes and cut to the chase when he spoke in support of Fulop.
"This kind of unity has never been seen in the state of New Jersey before," said Newark Mayor Ras Baraka, noting how he has been working together with Fulop as well as Paterson Mayor Jose "Joey" Torres on initiatives to ameliorate issues affecting the state's three largest cities. "This is an opportunity to do great things, under the leadership of this great mayor, Steve Fulop, who is not just a great person to me, but has become a great friend of mine. As long as he's here, I'm here for him."
A 360-degree view of the jammed Fulop fundraiser showed that many others from around the state and outside of North Jersey came to show support.
From Bergen County came Freeholders Tracy Zur and Steve Tanelli, along with state Assemblyman Joseph Lagana (D-38).
A group of Passaic County politicians shook hands with the smiling chairman of the Warren County Democrats, Tom Palmieri, including Paterson Police Department Director Jerry Speziale.
From Union County, Plainfield Mayor Adrian Mapp made the scene.
From Mercer County came state Assemblywoman Liz Muoio (D-15).
From Monmouth County came Belmar Mayor Matt Doherty and Lake Como Mayor Brian Wilton, their broad Jersey Shore Irish smiles still incandescent in a room full of New Jersey Democratic stars.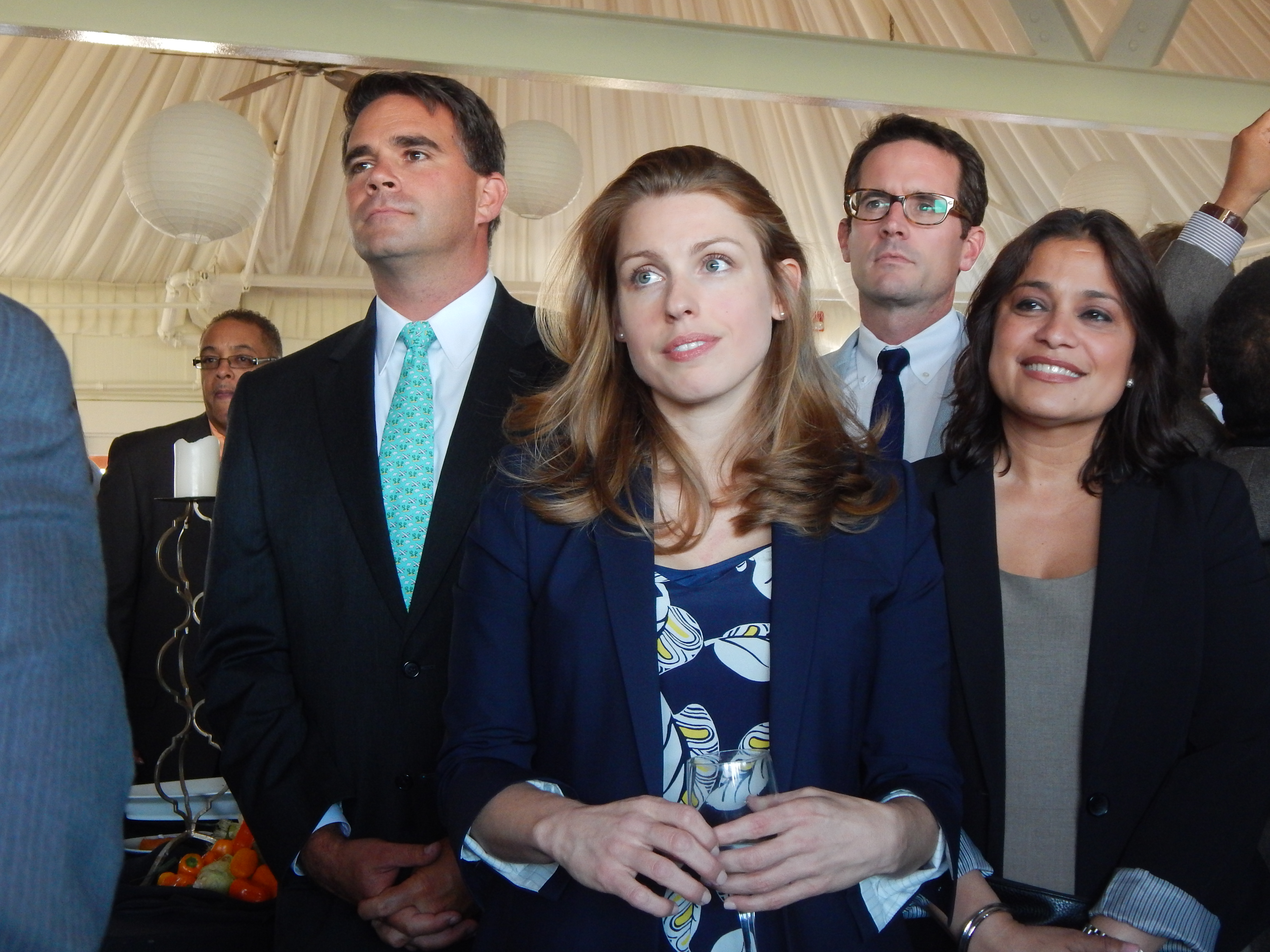 Former New Jersey Governor Jim McGreevey held court out in the back garden overlooking the lower Manhattan skyline, working the crowd as if he never really left political life.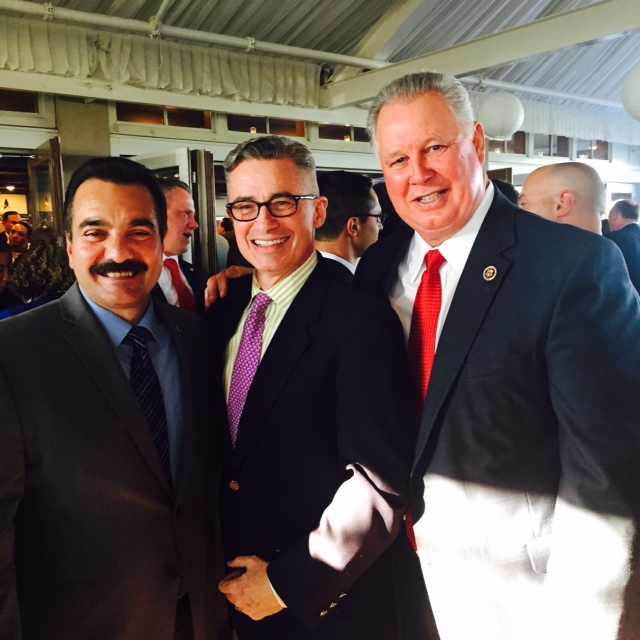 Fulop was later seen at the head of a table which held a host of Middlesex County Democrats, both joking then conversing earnestly with them.
In a one-on-one conversation with PolitickerNJ, Fulop proclaimed his pleasure at the turnout of the event, which still drew Democratic star power although it directly conflicted with the fundraiser held by Democratic presidential candidate Hillary Clinton on Monday night in Red Bank.
"All politics is local, and it's all about relationships, relationships, relationships," said Fulop, who momentarily halted all the backslapping and handshaking to survey the scenario developing around him. "We've supported many of these people here in tough elections, and they've supported us. Some we've won, and some we've lost. But what today highlights is that when push comes to shove, I really know that it's about relationships."
All politicians are well aware of the relationship between politics and money, especially in terms of getting elected to office. While Fulop also knows that cash rules everything around him, he remains confident that if he were to run for governor in 2017, he could beat back the attacks of potential Democratic primary rivals such as state Senate President Steve Sweeney (D-3), former U.S. Ambassador to Germany Phil Murphy and state Senator Ray Lesniak (D-20).
"I can't speak to what those guys are doing. But I know what I'm doing – I'm maintaining my relationships with all of the people in this room, where you have a lot of political muscle from a lot of New Jersey's counties," Fulop said. "And again, relationships matter."
Before he returned to the festivities, Fulop cast a glance west to Livingston, where on Tuesday New Jersey Governor Chris Christie, a Republican, is apparently going to announce the official beginning of his 2016 presidential campaign.
To many of his critics, Christie is the Icarus of New Jersey politics, flying too close to the tantalizing sun of potential national Republican prominence as he travels around the nation seeking political glory instead of dealing with problems on the ground back home.
Fulop, knowing that the same claim could be made about him in Jersey City as he increasingly shuttles around New Jersey, said that he still believed he will be able to stay grounded.
"Every single day, we are in Jersey City, doing events. Look at my schedule, both personal and public," Fulop said. "The priority is Jersey City, and I love my job, and I am thankful for it. But there is a ton going on, and geographically we are blessed with the advantage [of New Jersey's relatively small size] that we can continue to nurture and build relationships. And that's what we're doing."