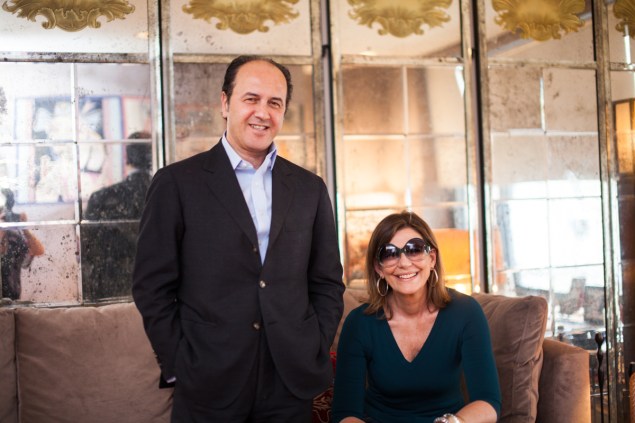 Over the past 21 years, Assouline has revolutionized the coffee table book, creating luscious, carefully bound volumes that tell elaborately illustrated tales on subjects as varied as fashion, luxury cars and architects. Its namesake founders, Martine, a former lawyer and model, and Prosper, a Moroccan-born, self-taught art director welcomed us into their Upper East Side home.
You have quite an interesting story about how you came upon this contemporary Upper East Side townhouse? 
Martine Assouline: My daughter in law is an interior designer and we were on vacation in France when she emailed us three sets of photos of three different places. We took one look at this one and said, "O.K., we'll take that one! It's a go!"
Prosper Assouline: We have a huge house in Paris that is really our home. In 2008, we decided to move here, and we needed to place our son in the Lycée Français. I wanted it to be only a 10-minute walk to school for him. We were sure we'd just stay here for one year. The first year we did absolutely nothing and it was just like a hotel. We finally decided to stay in this apartment and spend more time here two years ago, so we began to think about what we wanted to have in our home.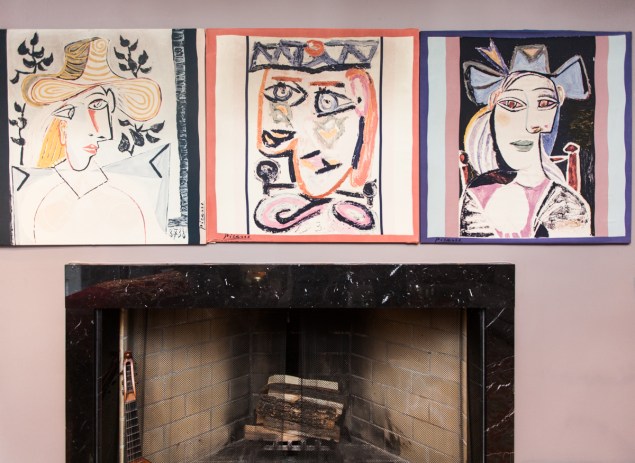 Tell us about the design of this very eclectic home.
PA: Our home is like a flea market. What we like, we buy, and find a place for. For example, the life-size horse in our living room was found on the street in Rome. We immediately fell in love with him, and he came to New York with us! The throw on his back is from the Grand Bazaar in Istanbul. Then we have a 19th century Japanese family in porcelain over our TV. The first thing we bought when we came to New York was this set of five pictures of Picasso creating one of his famous paintings. Then we have an 18th century Chinese sculpture and a 19th century console, also from China, that is crafted from a single piece of wood. Our coffee table is really our dining room. This is where we will have dinner with friends. Our home isn't pretentious at all.
MA: The guitar is part of a large collection that was started by Prosper. We have one or two here, but everything is in a warehouse.  That one is from Fez. We bought the screen behind the sofa from a dealer in Paris. It used to be in the apartment of Helena Rubinstein.
Prosper, please walk us through your favorite space—your man cave of sorts—a private library filled with a museum-quality book archive.
I love 17th and 18th century manuscripts. I have the identity card of Maria Theresa, the empress of Austria and Marie Antoinette's mother. All the museums in the planet are after it! I also have a book of the famous Turgot maps of Paris. It took eight years for them to draw these 20 maps of Paris—they were so extraordinary, each and every window, every detail of the city was drawn. I also have an amazing book on the temple of Kyoto published in the 1940s.
Martine, we've seen the space which most captures Prosper's personality, what elements of your home would you say capture your personality?
I was born in the Ivory Coast and lived in Argentina and Peru, so I love things from those places. I have unique types of shells that come from very deep in the sea; I love embroidery and the specific handicrafts of Peru. This juxtaposition of very sophisticated mixed with more primitive pieces, is very much me. And Prosper and I have exactly the same taste—he loved the rug in the living room and just bought it, and when I saw it I said, "Wow, I love it!"
What do you love most about your corner of the Upper East Side?
PA: What we loved most about our neighborhood was the restaurant just across the street from us called L'Absinthe, and sadly it shut down. It was our dining room—they're destroying the block to make another glass building that nobody cares about.
MA: That's the problem in New York. They're just destroying so much. I understand that a new generation comes in and a city evolves, but I've heard a lot of people in New York (like my son who is a true New Yorker) say that the city is changing so much, that they can hardly even recognize it anymore. In the 1980s, Jackie Kennedy was very involved in historic preservation and I just don't know who is on that today, but he/she's got to be a little bit asleep if you ask me.  We love to go to the park and we love to be able to walk around without too many tourists and traffic. It's clean and it's really easy.  Maybe it's a bit boring, but we like it.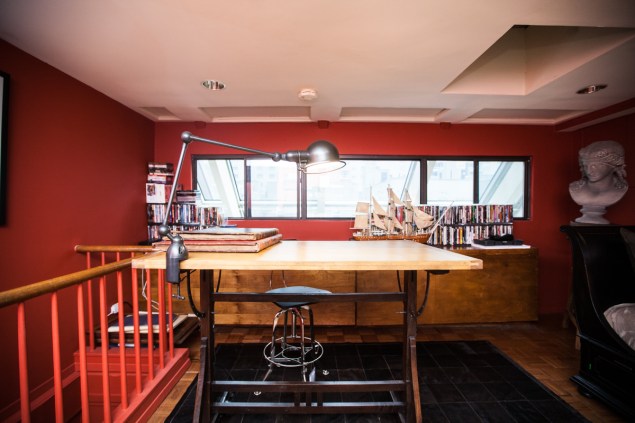 What can we look forward to over the next few months from your publishing house?
MA: We are doing a great book about the iconic architecture of New York, we just did a book about Jackson Pollock called Dinner with Jackson Pollock, and we have the most beautiful book ever on Cartier! We are also working on a book with Calatrava and all he's done in New York including that amazing, crazy PATH station!