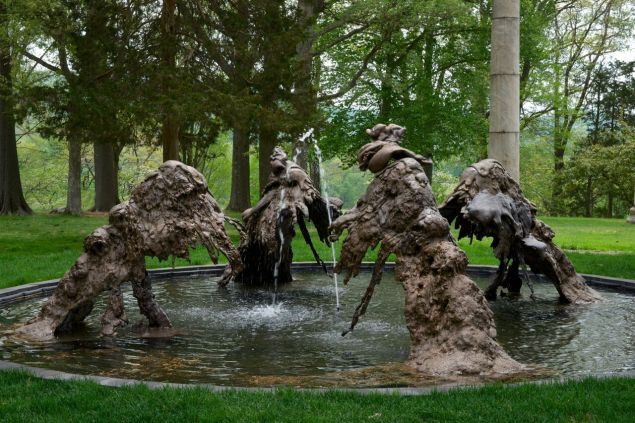 Lush outdoor sculpture park Storm King welcomed the summer formally last weekend with the bang (or rather, many bangs) of a gong. The institution's annual Summer Solstice sunset salute was staged adjacent to a Mark Di Suvero giant metal sculpture. It comes complete with giant hammer to ring its tone. Many guests took advantage of the opportunity.
A unique space, Storm King was founded 53 years ago by H. Peter Stern and Ralph E. Ogden, metals manufacturer, to display sculptures, some quite large, outdoors in the hills of the Hudson Valley. Popular from its founding, the sculptures are often sited on the works by their own sculptors, famed artists such as  Isamu Noguchi, Di Suvero and Claes Oldenberg.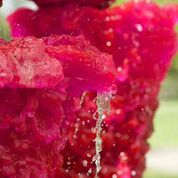 This summer, the 500-acre property about an hour north of New York in New Windsor, NY, is showcasing the work of Lynda Benglis whose striking and/or phosphorescent fountains are the center's main summer exhibition (on top of an extensive, top-quality collection that also includes Zhang Huan, Alexander Calder, David Smith and Maya Lin, among others). The show is entitled "Water Sources."
Benglis, 73, has a cult following for her memorable sculptures in organic shapes, often made of wax or latex. (She is also known for her videos.) At this summer exhibition, her works included North South East West, 2009, an atmospheric and abstract sculpture/fountain of bronze and steel which seemed to invoke ancient dinosaurs/insects and Pink Ladies, a vividly colored piece that cascaded with water (and had a drink named after it at the fete, the consumption of which probably spurred a lot of that gong-ringing.)
The whip-smart, white-haired pixie looks like a kindly relative today, but became famous initially for an attention-getting series of advertisements of herself gleaming and naked that she placed in art magazines in1974 meant to critique the art world's emphasis on male art and artists. (She memorably wore a dildo for some of the ads.)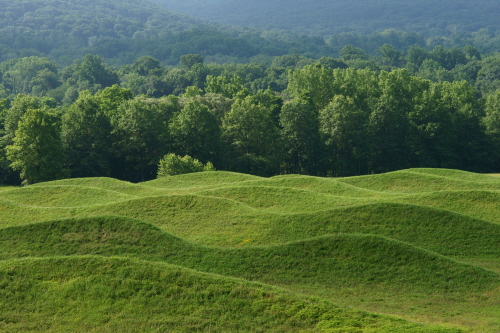 Today, the Museum of Modern Art owns more than a dozen Benglis works.