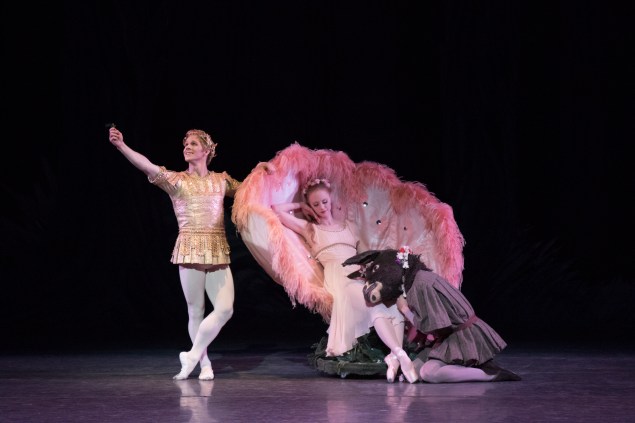 A Midsummer Night's Dream, George Balanchine's 1962 full-evening version of Shakespeare's matchless comedy, is among many other things an incomparable masterpiece of narrative. Shakespeare's plot is fiendishly complicated—there are eleven major characters—yet Balanchine's exposition is so lucid that we're never confused for a moment, not even at the climax of his first act, when the two sets of lovers, the quarreling fairy royalty, Puck, Butterfly, Hippolyta (and her hounds), Theseus, and Bottom and his mates are rushing pell-mell through the forest, demonstrating the validity of Puck's famous verdict: "What fools these mortals be." And that includes those non-mortals, Oberon and Titania. There's nothing like Dream in all of ballet, yet there are still people who believe that Balanchine's genius resides almost exclusively in his abstract works.
The touchstone for performance remains the film Balanchine made of it, with the original Oberon and Puck (Edward Villella and Arthur Mitchell) and Suzanne Farrell as Titania, the role she assumed not too long after the ballet's premiere. But there have been many glorious successors to these paragons, and this past week at the Koch confirms that Dream is in safe hands, its future secure. In fact, as young dancers take over from their seniors, certain roles seem revitalized, even revelatory.
We've gotten so used to the two dopey lovers in their dopey wigs being without affect that the performances of these roles by two of the company's most talented younger men, Russell Janzen and Zachary Catazaro, vivified the entire act—suddenly we were seeing two virile, dashing guys, not the discouraged stooges we've been bored by so often over the past fifty-odd years. And Sterling Hyltin transcended the stock put-upon heroine that Hermia can be, reminding us, in her passion and despair, of the marvelous original, Patricia McBride. (This was a particularly impressive achievement, given that Hyltin had danced the exquisite and demanding second act pas de deux the day before with charm and ease.) Ashley Laracey was a more touching, less fiery Hermia.
A total surprise was the casting, at the Sunday matinee, of a new Titania. Miriam Miller? Who? An apprentice? At once you saw the logic of it: she's a beautiful girl with wonderful legs, a supple body, and a radiance that combines a touch of sexiness with a touch of naiveté – slightly reminiscent of the young Farrell. She isn't strong yet, but she's very young. We just can't tell from this highly specific role how much technique she commands, but given the right challenges, she should quickly grow stronger. This was certainly a gamble that paid off. There can be no doubts, however, about Teresa Reichlen's technique—it's impeccable, and her Titania was at once girlish, imperious, and touching. Reichlen is a physical phenomenon who's turning into an artist
The killer role is Oberon, demanding as it does both Apollonian assurance and dazzling virtuosity—in other words, Villella. The company dazzler, Daniel Ulbricht, made his Oberon debut, and had no problems at all with the technical demands. He was uncharacteristically unflashy—in fact, could have benefitted from a little less respect for the role and a little more of his usually rampant pizzazz—but his interpretation was scrupulously detailed and appealing. Anthony Huxley, one of the company's young Turks—just promoted to principal dancer—was also highly satisfying, elegant and assured, if a touch subdued. Kristen Segin was a striking imaginative Butterfly, definitely top bug. I wish I could say I enjoyed either Ashly Isaacs or Georgina Pazcoguin as Hippolyta. The Queen of the Amazons should be large-scale, dominating, with a spectacular jump and blinding fouettées—the original, after all, was Gloria Govrin, who was not known as Big Glo for nothing.
The important thing is that A Midsummer Night's Dream, kept vital by adventurous casting, has become the anchor of City Ballet's spring season, the way Nutcracker is in the late fall—a great ballet that's also a family entertainment. No surprise, since George Balanchine was both the world's finest choreographer and a master entertainer—not that he would have acknowledged the distinction.