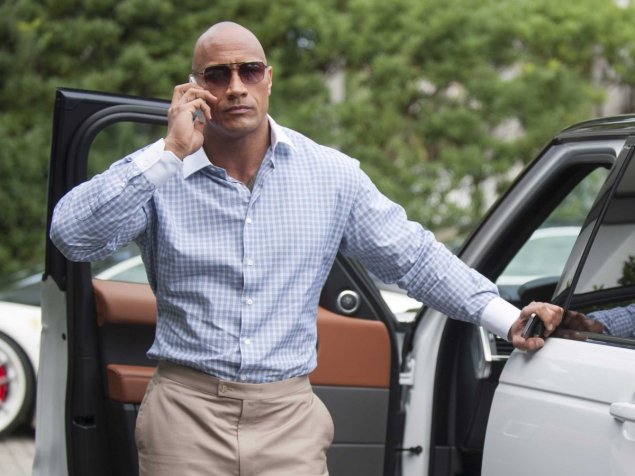 I already knew what to expect from Ballers based on the trailer, but I also wanted to be wrong in my fluff assumptions. Created by Entourage's Stephen Levinson and Friday Night Lights' Peter Berg, Ballers stars Dwayne "The Rock" Johnson as Spencer Strassmore, a retired football player, adjusting to his next phase in life as a financial manager. His sleazy boss, Joe (Rob Corddry in fine form), reminds him that it is his job to "monetize his friendships."
The show takes place in Miami and as expected, there are sweeping views of South Beach at night, cigar smoking on yachts during the day, and gorgeous models filling the velvet roped-off bottle service section of the clubs. Based on the premiere, this is more like the National Football League meets Entourage and less like the Friday Night Lights meets the NFL, for which the latter could've been a real gritty locker room drama. We do glimpse to the inner workings of the elite boy's club that is the professional world of football, but because the show wants to be a comedy, everything stays at surface level. I say the word "wants" because I never actually laughed out loud. But I also wasn't bored. There's Vernon (Donovan W. Carter), a rookie soon-to-be superstar with a house full of hangers-on that enjoy draining his bank account, Ricky (John David Washington), an 8-year veteran who can't seem to stay out of trouble, and Charles, (Omar Benson Miller), a retired player who has to use his glory day memories to get him a job at the local Chevrolet dealership.
Based on the premiere, this is more like the National Football League meets Entourage and less like the Friday Night Lights meets the NFL…
Spencer, the moral compass of the show, has learned from his mistakes, and is like a father figure to these clueless and narcissistic athletes. Johnson plays Spencer with a magnetic natural ease, oozing with a genuine charisma that makes him instantly likable and a person you want to see succeed. He leaves the Ari Gold theatrics to sports agent, Jason (Troy Garity).
In the past few years, there has been so much drama coming out of the NFL, that Ballers felt prime-timed to take advantage of recent events circa Newsroom, delving into the real life problems facing current and retired football players and the league, itself.  It's been well over a decade since the NFL canceled ESPN's Playmakers in 2003, due to the fact that they were unhappy that football players were being portrayed as violent (gasp!), drug addicts (oh my!), and in a major storyline, gay (unthinkable!). I figured if any network had the wherewithal to rattle the all-powerful Roger Goodell, head commissioner of the NFL and create a truthful and relevant sports related show, it would be HBO, King of TV. But we've been afforded Ballers, a show that could use, well, a bigger pair of balls.
I give the show a lot of credit for boldly using real NFL logos and team names, which I can't figure out is totally legal or not, but it makes everything seem more real. According to "Business Insider," entertainment lawyer, Michael C. Donaldson, said HBO could freely use the trademarks as long as they don't disparage them. HBO works with the NFL on the series Hard Knocks, but the NFL is not involved with Ballers, and has yet to comment on the subject.
Playmakers was shut down after one season and that was with using fictional team names. I am curious to see how Goodell reacts to Ballers, as it seems every other day news breaks that a player has been arrested and convicted for drugs, domestic violence, DUI's, and thanks to Aaron Hernandez, murder. I can't erase from my mind the leaked elevator footage of Ray Rice punching his wife unconscious and dragging her body out the doors. It's sad to admit that watching a quickie in a club bathroom, followed by a provoked bar fight on Ballers actually shows NFL players in a more innocent light than what's happening in reality. Don't even get me started on Adrian Peterson, who by the way, will be back on the field making millions in the 2015 season, proving that this bro-tastic, fancy free, no responsibility, fantasy world in which the football players in Ballers seem to exist, is not that far from reality.
I haven't mentioned one female character because in the first episode, women are nothing more than unnamed naked bed candy, or an ornamental wife/girlfriend. I hope as the show progresses, we get some smart badass female presence in one form or another.
Or maybe I'm asking too much of a summer show. It's not Ballers' responsibility to shed light on everything wrong with the NFL, possibly generating a public outcry to create change in the world of professional sports, but I can't help but feel like it's a missed opportunity to do so. And maybe now I'm starting to sound like some of the critics who beat up the Entourage movie to a pulp for excessive misogyny and a baseless script, when I'm not sure what else they expected but Bentleys, boats, bromance, and slew of celebrity cameos, which is something Ballers has in spades. I'd be lying if I said I didn't squeal out loud when Steven Jackson, Don Shula, and DeSean Jackson graced the screen. It's exciting to see who will pop up next week, and the background music pumps energy into the show, creating the same party vibe that made the first few seasons of Entourage so fun. There are only 11 more Sundays until football season is back, so perhaps an a reasonable expectation of Ballers is to simply fill the pigskin void until the real drama of the NFL returns.