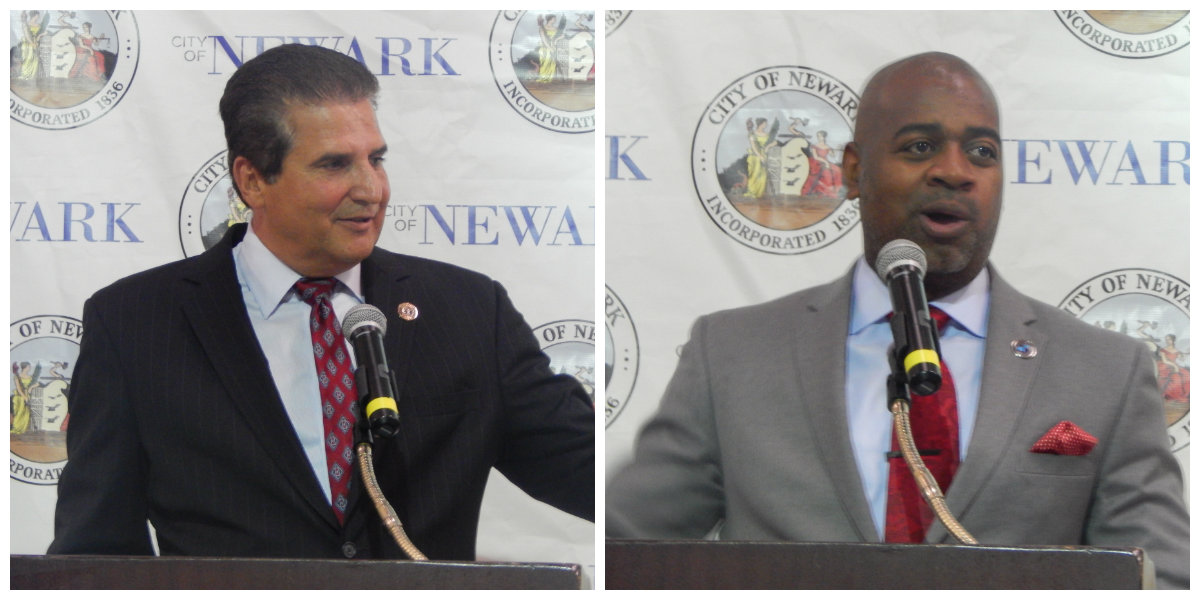 NEWARK – Newark Mayor Ras Baraka, side by side with Essex County Executive Joe DiVincenzo, staked his claim for New Jersey's largest city in the state's casino expansion debate, saying Newark was ready to roll the dice and play to win to get the gaming industry to move in, defying economic doubts.
"Today, Newark is ready," said Baraka as a crowd of roughly 100 people stood as one to cheer loudly in Newark City Hall's rotunda on Wednesday. "Newark is moving forward, and we're not just talking about a casino. A casino might be about 30 percent of the development that we're discussing. We've talking about a convention center, five-star hotels, supplemental development that spreads out through our community. We're taking about 4,000 permanent jobs, millions of dollars in revenues, no tax abatements and therefore millions of dollars in property taxes for Newark. We're talking about all this revenue that the city needs desperately, so why wouldn't we be fighting to put a casino right here in Newark? We're ready to go today."
DiVincenzo, often a rival of Baraka in Essex Democratic politics, dramatically noted that when it comes to a casino in Newark and potential jobs for the surrounding region, all is forgiven.
"I'm here with Newark Mayor Ras Baraka, who I did not support. But everybody makes mistakes," said DiVincenzo, a Newark native who backed Baraka rival Shavar Jeffries in last year's highly contentious Newark mayoral election as the crowd erupted in a mix of laughter and applause. "He's doing just fine. He's about jobs for his residents. Newark is the largest city in New Jersey, and it's the best city in the state of New Jersey. The reason that we are in this position is because of the people who believe in Newark."
State Senator Teresa Ruiz (D-29), who represents parts of Newark, expressed her own belief in Newark from a statewide economic standpoint tinged with local pride.
"This isn't about the northern and southern parts of the state. This is about keeping the state's money within the Garden State," said Ruiz, referring to increased casino competition burgeoning in states bordering New Jersey as well as Newark being the nexus to six NJ Transit lines and having ready access to Newark Liberty International Airport. "Why Newark? Because it's the best place to be.
"So when conservations come up [about potential North Jersey casinos], and Jersey City is the only place mentioned, I get a little P.O.'d," added Ruiz, taking a swipe at New Jersey's second-largest city, another potential North Jersey casino site aspirant along with the Meadowlands area. "But when this conversation opens, the only place that should be talked about is the city of Newark."
State Assemblyman Ralph Caputo (D-28), a former casino executive who is a co-sponsor of a resolution to introduce a proposed constitutional amendment to allow casinos outside of South Jersey and into the North Jersey counties of Bergen, Essex and Hudson if approved by both the state Legislature and then the voters in a statewide referendum, referred to New Jersey's current casino crisis as he looked to the future.
"Atlantic City has failed," Caputo said as state Assembly Speaker Vinny Prieto (D-32) looked on as he spoke in favor of the referendum, which if successful would steer part of new North Jersey casino revenue to redevelopment efforts in Atlantic City. "We want to make their transition successful through this revenue."
Baraka, who during his comments referred to "congestion" in Jersey City that he said Newark could potentially work around because of its relatively dense public transportation system, expressed his belief that despite his prominent political alliance with Jersey City Mayor Steve Fulop, the city that Fulop presides over will ultimately lose in what could be the coming calculated gamble of the North Jersey casino sweepstakes.
"We need it more than Jersey City, that's number one," Baraka told PolitickerNJ. "We have the transportation infrastructure to support this. I love Steve, I always will. But at the end of the day, we're going to get the casino."