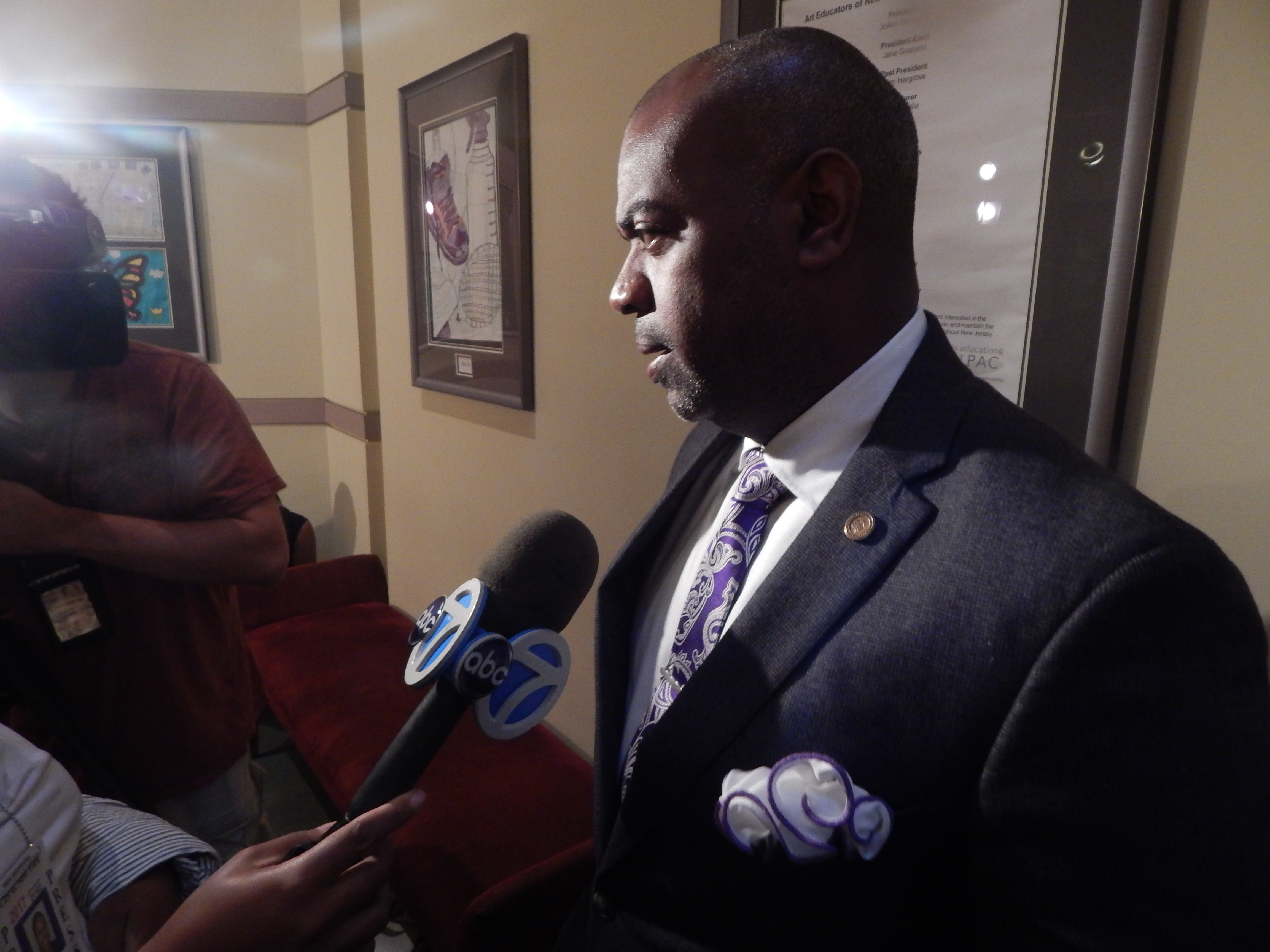 NEWARK – Days after the resignation of Newark Schools Superintendent Cami Anderson and hours after the joint announcement with New Jersey Governor Chris Christie of the formation of a nine-member board charged with easing the transition of the Newark school system back to local control from state control, Newark Mayor Ras Baraka, in a situation that some political observers feel to be revolutionary in the summer of 2015, evoked the memory of another leader who led another revolution in another country close to 100 years ago.
"I feel like Michael Collins here," Baraka told PolitickerNJ in an exclusive weekend interview, referring to the Irish rebel leader who led his country's armed forces during the Irish War of Independence against British occupation from 1919 to 1921. "Ultimately, our goal is local control. And our fight has to be feverishly focused on returning local control back to the citizens of this town. We have the opportunity to get all of what we want if we work hard now. To pass up on this opportunity would be almost sinful. We have to focus our energy on getting back local control when we can."
Baraka's drive for local control of the Newark public schools, which were placed under state control in 1995, is rooted in large part within the context of the long-term struggle for control of the city's school district, the largest in New Jersey.
Governor Christie stood with then-Newark mayor and current U.S. Sen. Cory Booker, D-NJ, and Facebook CEO Mark Zuckerberg in 2010 when the social media titan pledged $100 million to revamp Newark's schools.
It is unclear whether the dramatic attempt to jump-start school reform in Newark has had any lasting effect. But Governor Christie's decision to appoint Cami Anderson to head Newark's public schools in 2011 created what many saw as an educational impasse, especially after Ms. Anderson launched her school reorganization scheme, known as the "One Newark" plan, in September 2014.
Meant to improve the city's public education system by increasing student options, the plan has left many parents angry, confused and frustrated. A widespread community backlash included vociferous student, parental and teacher protests. Prominent local politicians also spoke out, including state Senate education committee chair Teresa Ruiz, who stated that "the trust is gone" in Ms. Anderson's leadership of the city's schools. Yet Mr. Christie doubled down on his support for Ms. Anderson and her plan, renewing her contract for three more years in June.
Anderson will step down from her post by July 8, according to an announcement by the governor's office last week.
When the state finally decided to pull the needle off of what many observed to be Anderson's scratchy record of achievement in Newark, many felt that the Christie administration was tone deaf by indicating that it was replacing Anderson with former state education commissioner Chris Cerf. Cerf, a close Christie ally, helped hire Anderson in the first place.
Baraka commented on a view often overheard in Newark's streets in the wake of the announced Baraka-Christie agreement: Cerf, and Christie, cannot be trusted to facilitate a clean break between the state and the city's schools.
"The people have a right to not trust these folks. This distrust is not unwarranted. There are things that have happened in this city that people should be held accountable for," Baraka said. "The idea that Christie is scamming us underestimates the ability of our local people to strategize. We are not children. We know what we're doing. We know what we want. And we know how to fight to get it.
"I'm not going to allow myself to be played. That's not going to happen. My number one function is to get local control of the schools back, and that's what we are going to fight for all the way to the end," Baraka added. "I don't know what's in [Gov. Christie's] mind or in his heart, or why he's doing this. But I do know what I want, and what we're going to fight for."
"There are absolutely people who can do the job as well as Mr. Cerf, or even better. I just don't see the governor picking any of those people. I wouldn't have thought that he would have done anything other than what he did," Baraka continued. "We just have to be prepared for whoever is chosen as superintendent, and we've got to use our part of [the schools local control agreement] to make the transition back to local control. Anything other than a return to local control, I didn't sign on for."
The fact that Governor Christie, a Republican, is apparently preparing to declare his entry into the 2016 presidential race in Livingston on Tuesday is on everybody's mind in New Jersey's political universe. Yet Christie found time to praise Anderson's work after her abrupt exit as Newark Schools Superintendent last week.
"I think Cami did a really extraordinary job, under very difficult circumstances," Christie told members of the press on Friday moments after he signed this year's state budget. "I think some of the progress that you've seen made [in Newark], in terms of the performance of students, and reining in the size of that district, will reap benefits going forward."
Asked for his response to Christie's claims, Baraka was blunt.
"Our perspective are totally different about [Anderson's record.] The district is in a shambles, and whoever comes in [after Anderson] is going to see first hand how terrible things were left. I don't think there is anybody in this town who would disagree with that, from any side of the [educational policy] debate. I think she did a horrible job," Baraka said. "It's not a surprise that the governor would say that she did a great job, just like I'm not surprised that Mr. Cerf was his pick. These are things that are to be expected."
The local school control transition panel, designed to develop a specific pathway with appropriate timelines and benchmarks for the return of local control of the public schools will have nine members, – four appointed by Mayor Baraka and five appointed Governor Christie, including Chris Cerf upon his confirmation as Newark Schools Superintendent.
"The panel will immediately begin to solicit input from and engage the local community in its deliberations and provide us with a detailed road map, including benchmarks for return to local control as soon as that can be accomplished but no later than by the end of the upcoming academic year," the joint statement issued by Baraka and Christie on Friday read.
"I think the timetable is realistic," Baraka said. "I'm put some people on the board who will work hard, and who are smart and aggressive enough, to make sure that we put together a transition plan that will put our schools back under our control as soon as possible."
In a nod to the hundreds of student protesters who came out into the streets in recent months to demonstrate against Anderson and the One Newark plan, Baraka specifically mentioned Jose Leonardo, a student at Arts High School in Newark, who has been appointed to the school control transition panel.
"Jose Leonardo is not the kind of kid that is going to stand around for symbolism," Baraka said. "He brings a perspective [to the schools local control panel] that I don't think would be there if he wasn't there. I'm counting on him, actually. Even when we get local control back, we have a lot of work to do, we're nowhere near finished. We have to bring the whole community together – parents, students, teachers, the universities, the business community, the philanthropic sector – everybody has to come together and wrap ourselves around the Newark public school system. We have to get rid of this One Newark plan, which has been very divisive and has destroyed families and communities. We have to think about how we improve education in the city of Newark, now and for our future."
Many Newark residents are now counting on Baraka, given this unforeseen opportunity, to deliver local control of the schools back to the community in Newark as soon as possible, and as completely as possible.
Students of Irish history are aware that the Irish Civil War, fought between 1922 and 1923 closely after the end of the Irish War of Independence, began over the idea that the fight for Irish freedom from British colonial domination was not yet complete. Michael Collins, a key member of the Irish delegation that signed an agreement with the British Empire in December 1921, lost his life not fighting against British soldiers. Instead, Collins was shot and killed in an ambush in August 1922 by another Irishman, a bitter byproduct of a cruel civil war.
But Baraka, now Newark's lead negotiator in the face of Governor Christie and the state of New Jersey, still echoed and paraphrased the words spoken by Collins at the time he was leading the local rebel armed forces in its war of independence against foreign occupation – during another fight for local control: Give us our schools back, to learn in, to grow in, to love.
"Politically, I don't think that [Governor] Christie wants to put a definite timetable down, I know that. But ultimately, that's going to be in our hands," Baraka said. "I don't believe that our fate lies in the hands of somebody else. Yes, Mr. Christie is the governor. But the people of this community have authority and power as well. And we are going to exert it."