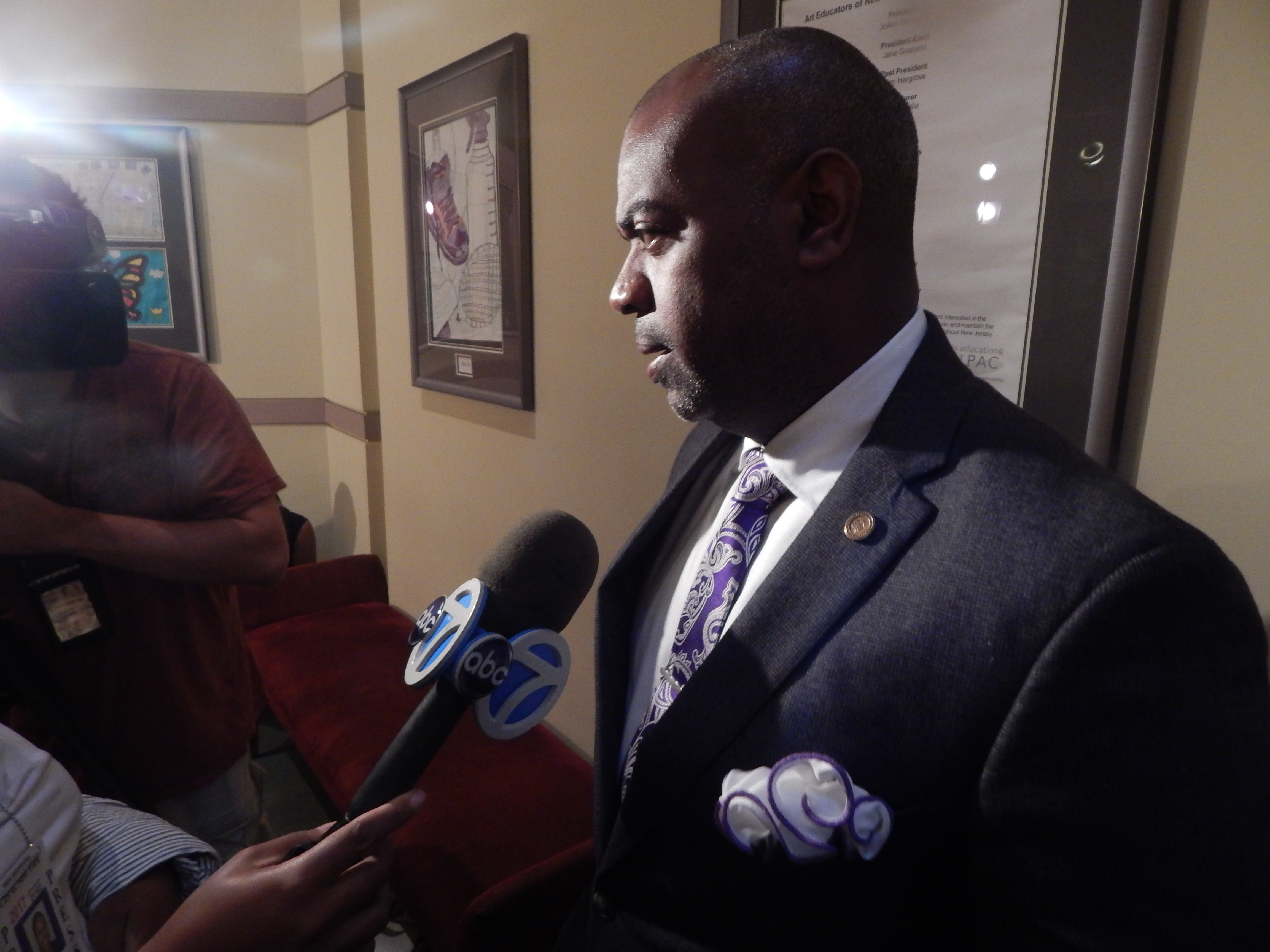 NEWARK – With the harsh spotlight of New Jersey's highly-charged educational politics focused on the state's largest city in the rubble of the end of Cami Anderson's troubled tenure as Newark Schools Superintendent, Newark Mayor Ras Baraka pointed to how he believes the city can now pick up the pieces.
"This is one of many steps we need to take to return to local control," Baraka said. "This is a difficult thing that we have to do. But we're willing to sit down to make sure that we get local control back."
New Jersey Governor Chris Christie stood with then-Newark mayor and current U.S. Sen. Cory Booker, D-NJ, and Facebook CEO Mark Zuckerberg in 2010 when the social media titan pledged $100 million to revamp Newark's schools, which were placed under state control in 1995.
It is unclear whether the dramatic attempt to jump-start school reform in Newark has had any lasting effect. But Governor Chris Christie's decision to appoint Cami Anderson to head Newark's public schools in 2011 created what many saw as an educational impasse, especially after Ms. Anderson launched her school reorganization scheme, known as the "One Newark" plan, in September.
Meant to improve the city's public education system by increasing student options, the plan has left many parents angry, confused and frustrated. A widespread community backlash included vociferous student, parental and teacher protests. Prominent local politicians also spoke out, including state Senate education committee chair Teresa Ruiz, who stated that "the trust is gone" in Ms. Anderson's leadership of the city's schools. Yet Mr. Christie doubled down on his support for Ms. Anderson and her plan, renewing her contract for three more years in June.
Anderson will step down from her post by July 8, according to an announcement by the governor's office on Monday.
When the state finally decided to pull the needle off of what many observed to be Anderson's scratchy record of achievement in Newark, many felt that the Christie administration was tone deaf by indicating that it was replacing Anderson with former state education commissioner Chris Cerf. Cerf, a close Christie ally, helped hire Anderson in the first place.
As Newark residents filed out of a town hall meeting held by Baraka on Monday night at the New Jersey Performing Arts Center, several people clearly felt flummoxed by the move coming from Christie, a potential 2016 Republican presidential candidate.
"This isn't even about out of the frying pan and into the fire anymore. This is about pouring gasoline into the pan," said one irate Newark resident overheard in the crowd, pleased that Anderson is gone. "And then they throw napalm in the mix for extra flavor. What the f*** are they thinking?"
But Baraka, cool like the jazz records played down the block at WBGO radio, played a rhetorical tune that sounded less like "Fight The Power" by Public Enemy and more like "Complete Control" by The Clash in response to PolitickerNJ's posited idea that perhaps the move by the Christie administration to replace Anderson with Cerf was a political smack in the Newark mayor's face.
"Our experience has taught us that we can't focus on individuals. We have to focus on how we get control of our schools back," Baraka said. "That alone is going to help us get out of the situation where we are dependent on others to pick for us who the superintendent is.
"Listen – we don't want anybody appointed by the state, ultimately," Baraka added. "[Christie] didn't have to do anything. [Anderson] could have remained. So something is changing. And whatever it is, Newark needs to be a part of the change. And we're going to make sure that we are."