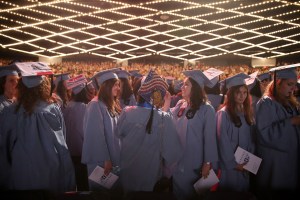 Amidst the buzz surrounding Caitlyn Jenner's Vanity Fair cover, Barnard college took a major step on Thursday in support of transgender rights.
After taking a vote Wednesday June 3, the Board of Trustees have announced that the school, a Columbia University affiliated women's college, will begin admitting transgender women starting in the Fall of 2016.
"Barnard will consider for admission those applicants who consistently live and identify as women, regardless of the gender assigned to them at birth," an admissions policy announcement issued by the board reads. Following the announcement, students who choose to identify as men during their time at Barnard will not be asked to leave and transgender women will navigate the application process with equal opportunity beginning with the school's 2016 applicant pool. The school follows several other women's colleges, such as Wellesley and Smith, in the decision.
Jennifer Finney Boylan, an English professor at Barnard, who is a transgender woman, told the New York Times, "Gender is at the center of a women's college experience in a way that it's not [at a coeducational school] … So if you're a young trans person trying to figure out who you are, and struggling with gender throughout your whole life, of course you'd come to one of these schools, because it's going to help you figure out who you are."
On the occasion of its 125th anniversary, Barnard reaffirmed in the announcement that it "is, and always will be, designed and implemented to serve women, and to prepare our graduates to flourish and make a difference in the world".