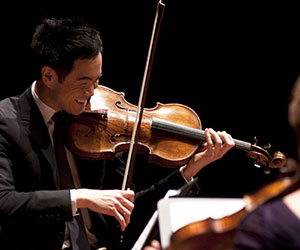 Experience the very best chamber music at Lincoln Center this summer for as little as $20.
Three amazing evenings – featuring beloved chamber repertoire by Beethoven, Mozart, Mendelssohn, Brahms, and more – offer new and longtime listeners the opportunity to connect with The Chamber Music Society of Lincoln Center during the summer. Enjoy the unmatched virtuosity of CMS musicians in the refreshing atmosphere of Alice Tully Hall.
Tickets for Summer Evenings start at only $30, and $20 tickets are available for ages 21-39. Following each concert, audiences will be invited to gather in the lobby to mingle with the artists and enjoy a complimentary glass of wine, courtesy of Millbrook Vineyards & Winery.
Visit www.ChamberMusicSociety.org or call 212-875-5788 to purchase tickets
Observer Content Studio is a one-stop, full-service, in-house creative agency connecting brands to a national, affluent audience. Our team of dedicated Content Studio editors flex proven expertise in tailored, multimedia storytelling, developing sponsored articles, videos, interactive ad units, social media campaigns, events and more. The end result? Deeply compelling custom content that resonates with readers who matter. For more information, contact sales@observer.com