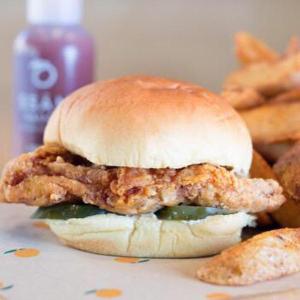 Just as Mayor de Blasio gets tough on sodium, there's a new fried chicken sandwich to stand in line for as celeb chef David Chang's newest addition to the Momofuku restaurant group, Fuku, opens today in The East Village.
Mr. Chang describes Fuku as "our attempt to sort of honor the great fried-chicken places and fast-food concepts out there, to do our version of that, and hopefully, to make it better," which must have the other chic, East Village fried chicken spot, The Bromberg Brothers' Blue Ribbon Fried Chicken, shaking in its boots.
The standing-room-only space on 1st Avenue will feature an eight-dollar, sustainably-sourced chicken sandwich, marinated in habanero puree and coated in buttermilk. Fuku also has a liquor license, giving it a leg-up over Blue Ribbon, which only serves wine and beer. Seeing as everything Mr. Chang touches turns to money, we look forward to sampling his latest venture.
(h/t Grub Street)